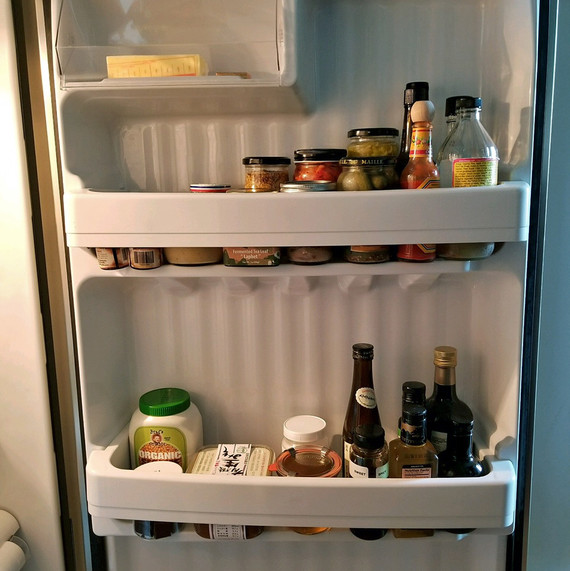 Do you sometimes come home with more food than was on your shopping list? I do. I'm a chef and should know better, but I love trying new foods and get overenthusiastic when grocery shopping. While I take great joy in opening an abundant refrigerator, I don't want a messy, stuffed one.
To keep my refrigerator in order, I turned to a book that has helped me organize other aspects of my life, "The Life-Changing Magic of Tidying Up" by Marie Kondo. Often referred to as "KonMari," her method teaches how to tidy and that the process of tidying has effects on your entire life. Applying the basic tenants of her tidying method to the refrigerator is a great way to regain order on the shelves. Here's what to do.
(READ: How an Editor Used the KonMari Method to Curb Her Collections)
1. See What You Have
Schedule an hour or so to assess what is in your refrigerator. Start by emptying the entire fridge onto your kitchen counter or table. Marie Kondo has you do this with your possessions so you can get a grasp on how much you own.
2. Clean
Once the refrigerator is empty, clean the shelves and drawers.
3. Organize By Category
Divide everything into categories, putting all the condiments, beverages, cheeses, fruits, and vegetables together. When I did this, it quickly became apparent that I like buying vegetables more than eating them, and there was a chance that I was a condiment hoarder. This was good, I was developing awareness. To make the Marie Kondo method suited to the refrigerator, I added an essential step: checking use-by dates and discarding anything that was expired or rotten.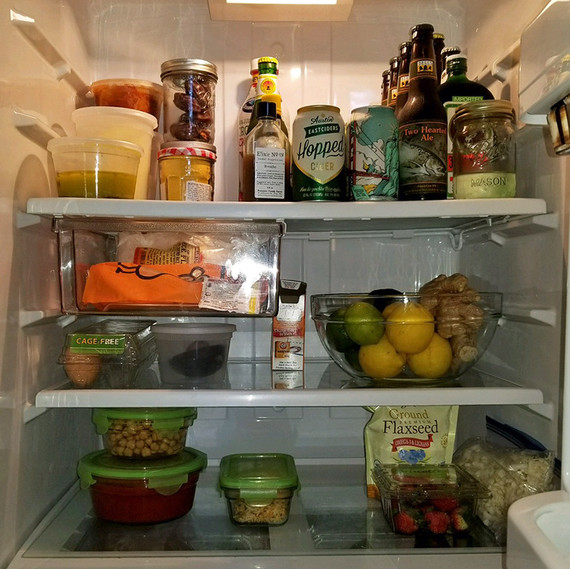 4. Decide What to Discard
Marie Kondo advises that "to truly cherish the things that are important to you, you must first discard those that have outlived their purpose." Her process has you pick up each item one by one and ask "Does this spark joy?" That phrase doesn't seem right for food so ask yourself "Am I going to eat this?" If the item inspires you to cook with it, keep it. If not, discard it.
The first item I considered was an Asian sauce I'd bought months ago and not touched since. It went in the discard pile. The $10 jar of uneaten and mediocre-at-best pickles was fun to try, but now just a reminder of how much I had spent. The homemade jam I never ate made me feel guilty. How about the hot sauce I bought two years ago on vacation and don't use? Discard. The lesson: the refrigerator isn't for storing keepsakes.
Why do we hold onto food that we don't eat? Marie Kondo says that "when we really delve into the reasons for why we can't let something go, there are only two: an attachment to the past or a fear for the future." Before discarding, Marie Kondo says "giving sincere thanks to an item will significantly reduce or even eliminate any guilt you may feel when you decide that you will no longer have it in your home."
PRO TIP: Donate unopened items, compost anything edible, and recycle containers. Then remember that the best way to prevent food waste is at the time of purchase. Take note of what you are getting rid of and be conscious so you do not make the same purchases when you shop.
(LEARN: How to Reduce Food Waste at Home)
5. GIVING EVERYTHING A SPOT PREVENTS FUTURE CLUTTER
Taking a cue from Marie Kondo's clothing organizing method, designate a spot for each category. This way you know immediately where to look for something and where to return it.
(WATCH: This Quick Refrigerator Organzing Video for Tips on the Best Spots for Each Category)
PRO TIP: Always wipe the outside of condiment containers before putting them back in the refrigerator.
Once you have decided which categories go where, arrange each category with taller items in the back and shorter in the front. This looks neat and allows you to see everything in the refrigerator in one glance. Avoid stacking where possible—Kondo is against it. If you do need to build up in the refrigerator, make sure everything remains visible.
PRO TIP: Reduce visual clutter and avoid container chaos by investing in matching containers. Choose a set that stacks well and is clear so that you can see what is inside.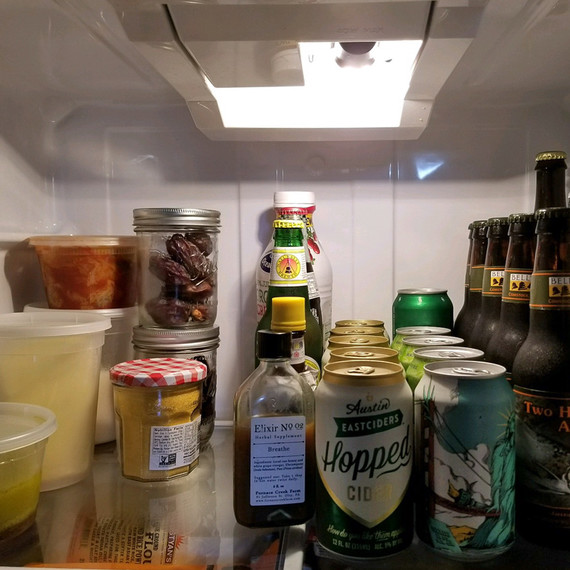 THE RESULT: A DREAM FRIDGE AND INSPIRED MEALS
You know those refrigerators that you see in a commercial? They are so perfectly organized that you think no one could possible live that way. Well, I can say that people do, because that is what my refrigerator looks like now. The food is organized, it looks beautiful, and it works. Freeing myself of unwanted ingredients created space in the refrigerator and inspired me to cook some amazing meals. Implementing the KonMari method has also changed the way I grocery shop. I avoid impulse purchases and buy quality ingredients that get me excited to cook.