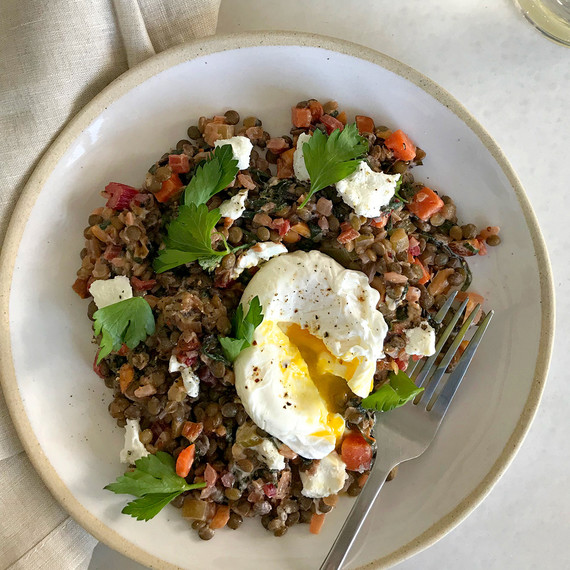 Easy to cook and packed with nutrients, French green lentils are something I always keep in my pantry. They're my favorite lentil because they keep their shape while cooking, and that makes them so versatile. You might think lentils are only for soup, but you can also enjoy them in salad, chilled in the summer or warm in the cooler months. Throw an egg on it and you've got this simple, hearty, goat cheese-spiked lentil salad.
Get the Warm Lentil Salad with Poached Eggs Recipe
If you're new to cooking lentils or new to French green lentils, here are the basics: Rinse 1 cup of lentils (the same way you rinse produce before cooking). Add them to a medium pot and top with about 2 inches of water over the lentil line. Bring to a boil, season with salt, reduce to a steady simmer, and cook until tender, about 18 to 22 minutes. When they're cooked, drain off the excess water.

But why keep it basic? Especially since everything tastes better with some aromatics! I like to finely dice onion, carrots, and celery, saute gently in olive oil, and toss with cooked lentils. To that, add some dark leafy greens. I love pairing lentils with Swiss chard because they both have an earthy minerality. Finely dice the stems of a bunch of Swiss chard then roll the chard leaves into a tight bundle and slice crosswise into thin ribbons. (Martha uses a Japanese cleaver when she chiffonades greens.) Use the Swiss chard that speaks to you: it's available in ruby, pink, gold, orange, and white. Saute the greens until just tender and immediately drizzle with a simple lemon vinaigrette. (Tossing while warm helps the vinaigrette fully season the lentils.) Let this mixture stand for about 10 minutes, then add chopped toasted almonds, fresh goat cheese, and whole parsley leaves.
Serve this salad warm with a poached egg for dinner. (Poached eggs are easy!) Or chill the mixture and enjoy it for a hearty lunch the following day. This wholesome bowl is packed with protein, fiber, dark leafy greens, calcium...and it's delicious.
Get the Warm Lentil Salad with Poached Eggs Recipe
Tune in every Sunday for a new Healthy Appetite video from Shira Bocar.
Watch Shira make your new go-to pantry dinner: