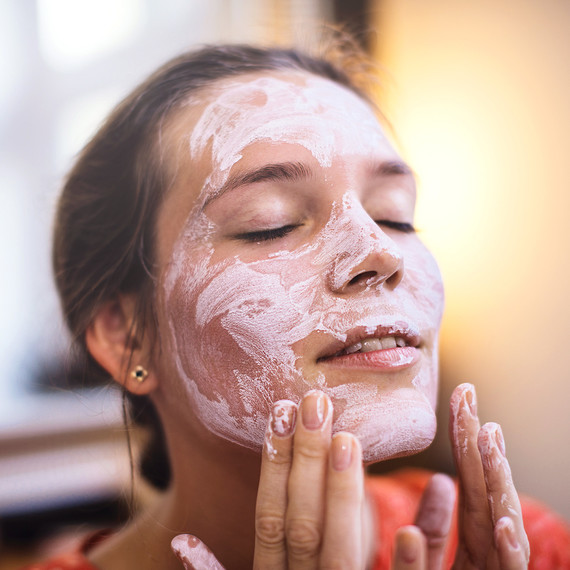 As a pre-teen in the early '90s I spent all of my allowance and babysitting money on masks for my still perfect pre-adolescent skin.  
So I was psyched that the beauty treatment is all the rage again. In the past five years, K-beauty, or Korean beauty, came stateside and we became obsessed with sheet masks, thanks to their instant hydrating benefits (and how fun it is to take a #maskselfie). In fact, in 2017 "masks" were the most Googled skincare trend. And according to The NPD Group, which tracks the prestige beauty market, Americans spent $202.3 million dollars on masks from December 2016 to November 2017. I'm not surprised: Not only are masks perfect to combat dry winter skin, they're a lovely way to pamper yourself at home.
There's even dedicated accoutrements -- like Peter Thomas Roth's applicator and this amazing mask cover -- created to make the process easier. I purchased the latter per a friend's suggestion and it's become essential to keeping a sheet mask secure on my face so I can multitask while I mask -- always the goal.
As for the benefits, Dr. Neal Schultz, NYC dermatologist, host of DermTV.com, and creator of BeautyRx by Dr. Schultz notes that "a mask is a vehicle like a lotion, serum, cream, etc. that delivers active ingredients to improve the appearance or quality of the skin." A couple of examples of active ingredients are kaolin clay, which absorbs oil, or hyaluronic acid, which imparts moisture to the skin.
And a one size fits all mask might not be the answer for everyone.
These days, it's popular to multi-mask, or use different formulas for different parts of the face, such as applying a purifying mask to the T-zone, and a moisturizing mask to the cheeks.
"This way, you can specifically tailor your masks to fit your skin's needs," explains Dr. Joshua Zeichner, the Director of Cosmetic & Clinical Research in Dermatology at Mount Sinai Hospital. Just as we have serums for every skin need, the same is true of masks. "Masks may be designed to treat skin conditions like acne, provide intense hydration, or offer a brightening or rejuvenation effect," he says.
As with any skincare solution, choose your formula carefully. "Oily skin doesn't need extra moisture," says Dr. Schultz. "If [you have] combination skin, then a moisturizing mask in only the dry areas makes sense."
Over the last few weeks, I've been testing what feels like a metric ton of masks, ranging from pore clearing to brightening to firming to moisturizing. To add to the fun, my super has been in and out of my apartment dealing with my saga-long hot water issue, and I've gotten to open the door looking like Michael Myers from "Halloween." Of the 50+ I tried, here are the ones that will make it into my regular routine.
[LEARN: The Secrets to The Perfect DIY Manicure]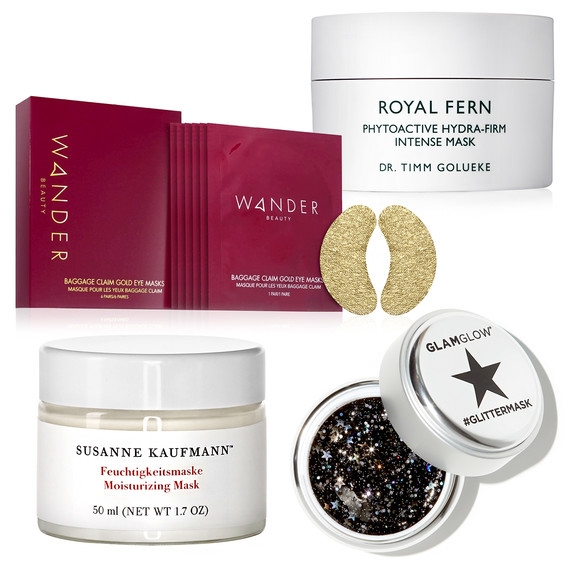 Firming
It's rare that natural formulas can pull off more advanced feats like firming without the help of more science-focused actives, but Royal Fern Phytoactive Hydra-Firm Intense Mask impressed me with its gravity-defying results. It contains chlorophyll, which I predict will be to 2018 what charcoal was to 2017.
 
Sheet Mask
Not only is the packaging of the Medius SOS Water Balm Mask positively delightful, the mask itself infused my skin with just the right amount of moisture, making it an ideal post-flight treatment.
 
Insta Gratification
This is an emerging category in and of itself. Instagram has upped the ante when it comes to the beauty of, not only the effects of your mask, but the mask itself. Launching in January, the Wander Beauty Baggage Claim Gold Eye Masks boasts gold foil, that not only looks cool in your feed, it retains heat ensuring the serum really penetrates into your skin.
For those who crave all the sparkle of the impending life of Meghan Markle, it's all about GlamGlow GRAVITYMUD™ Firming Treatment. This mud-based, peel-off face mask firms, tightens, and lifts. But the best part: it features tiny star-shaped sparkles and glitter -- hurry up and get your phone ready.
For a pop of color while you're purging your pores, it's all about the I Dew Care Ginger Aide Mask. It brightens thanks to exfoliation via yellow clay, ginger, and kiwi seeds. The combination gives your skin a deep cleanse and leaves it glowing.

The Borghese Radiante Revitalize and Firm Mask and the Golden Door Golden Peel-A-Way Masque made my inner Brighton Beach resident happy, thanks to their over-the-top gold-colored formulas. But the smoothing and firming results pleased my inner beauty editor, which is even better.
 
Brightening
If it's post-party brightening you're after, my go-to is the Talika Bio-Enzyme Brightening Mask. This sheet mask blends natural ingredients like Vitamin C, aloe, and essential oils to help you reclaim your glow after a night of overindulging.
Want to feel fancy while you mask? Try the metallic genius of the Pur Quick Pro Holiday Holographic Hydrating Sheet Mask Set. The perfect snow day accoutrement, it hydrates, brightens, and reduces the look of hyperpigmentation.
Straight-Up Younger Skin
And now, the pièce de résistance: Susanne Kaufmann Moisturizing Mask, a product, that, mark my words, will earn a place in skincare lore along with iconic cult favorites like SK-II Essence and Creme De La Mer. Run, don't walk. In a year of testing thousands of beauty products, I can pronounce fewer than five truly transformative. This one makes the cut. Over the holiday break, my 73-year-old mother and I used the product. Within an hour of slathering on this nourishing beeswax and hazelnut oil-infused formula, we both reported insanely effective plumping results, as well as smoothing and hydration that is barely to be believed to the point where both of us eschewed foundation the entire day.
[LEARN: How to Fight Frizz]