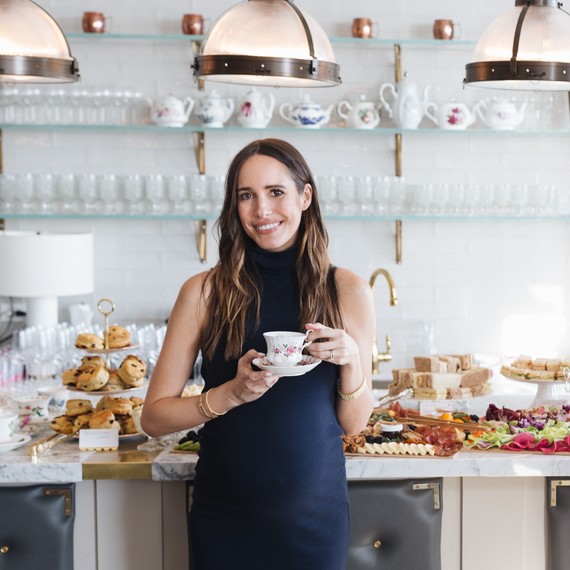 Afternoon tea calls a few things to mind: tabletop elegance, petite pastries, clattering china, and rules of formality.
For Louise Roe, it's a reminder of home — and inspired a sweet baby shower. "It was all a surprise organized by my lovely friends, but they know me well!" says the 36-year-old English fashion journalist and mother-to-be.
[CONSIDER: Baby Shower Planning and Etiquette]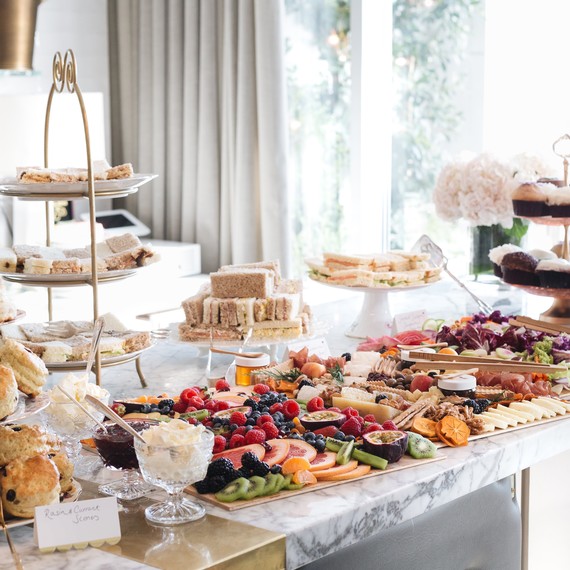 Sweets and Treats
At this tea party hosted at the Hills Penthouse in West Hollywood, the rules of formality were bent for fun. In lieu of formal place settings and tableware, guests were encouraged to snack on a generous treat-yourself-style spread: sliced fruit, berries by the dozen, and bountiful cheese boards courtesy of Lady & Larder. They were, in Roe's words, "almost too pretty to eat." 
The table was piled high with finger sandwiches on tiered stands, buttery scones, and frosted cupcakes from Sprinkles. Although that's nothing to be said of the many homemade treats: "The girls were baking into the night apparently!" Roe says. There were servings of clotted cream and strawberry jam, and sausage rolls — something that she notes as being "a very English tradition, which the Americans loved."
[TRY OUR: Baby Shower Tea Party Recipes]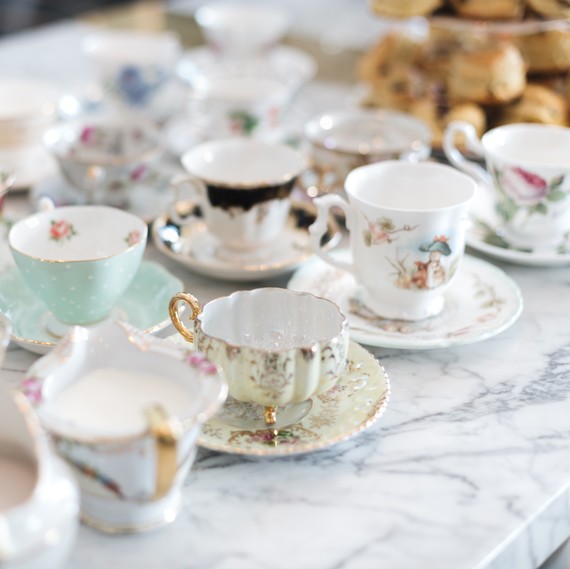 An Inspired Vision
When it comes to entertaining, Roe enjoys a more understated elegance. "I'm not one for over-the-top bright colors and décor," she says. "So I absolutely loved the country garden flowers, the mismatched chintz teacups." Vintage floral china — for serving Earl Grey tea — were found at Sweet Tea Party Rentals. To further evoke the feeling of an English garden, the space was filled with delicate floral arrangements of eucalyptus, baby's breath, white roses, and hydrangeas.
"Going in armed with a vision is very helpful!" Roe says. "My tips for presentation would be to look on Pinterest and feeds like Martha Stewart for ideas first."
[MAKE THESE: Tea-Bag Envelope Party Favors]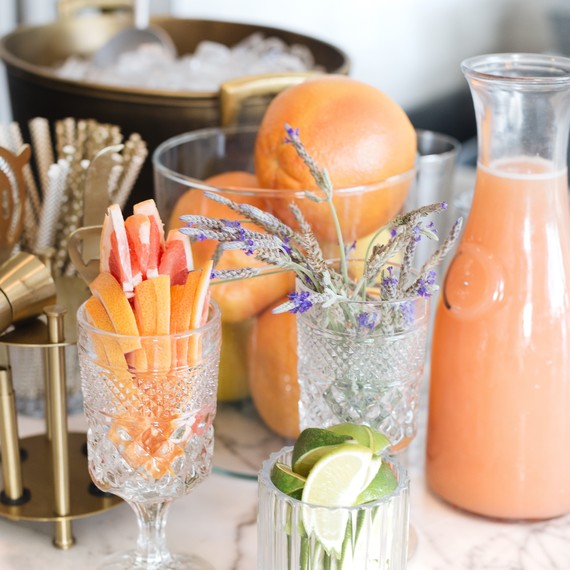 A Toast
Tea wasn't the only refreshments on the menu. Guests were offered grapefruit Champagne cocktails (and mocktails for Roe) garnished with fresh lavender served in vintage cut-crystal glasses.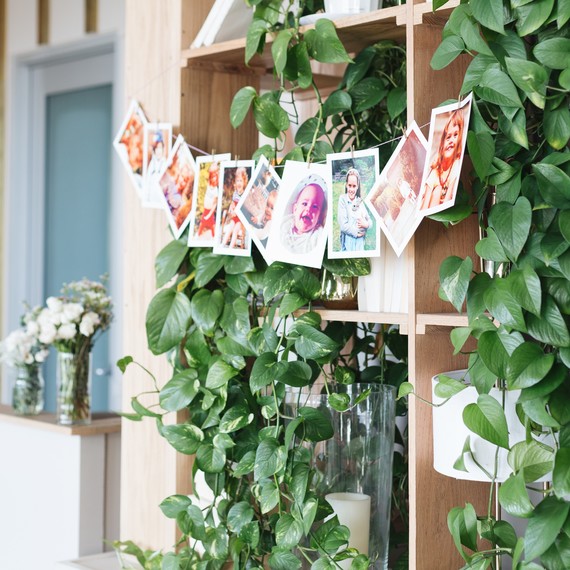 Tokens of Love
And to help inspire a positive future, there was a look into the past: "My mum had also sent photos of me as a toddler, which were enlarged and hung on display." Guests could fill out cards addressed to the baby, including a guess on her name, birthday, and even personality. Lastly, gifted essentials were Roe's Amazon baby registry. Her perfect picks? "Cashmere baby socks, a set of organic neutral onesies, or — and here's my fail-safe favorite — the complete set of Beatrix Potter's Peter Rabbit series. In my opinion, simple and chic is best."
Feeling inspired? Watch this video on ideas for hosting a baby sprinkle: