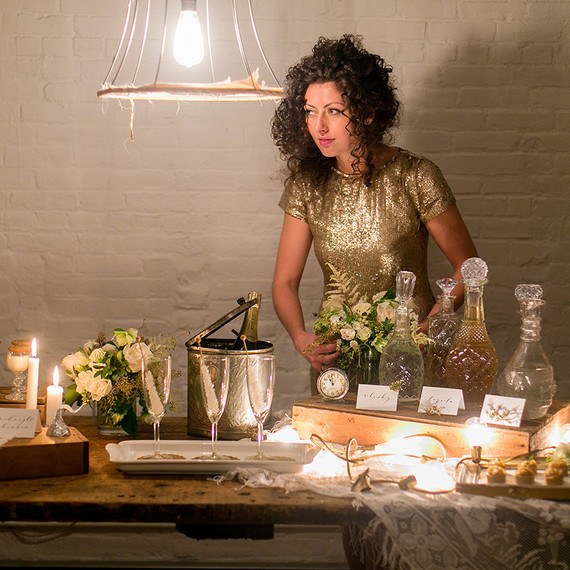 This is my favorite time of year. I love finding creative ways to decorate my home and invite friends over during the holidays. Hosting a New Year's Eve party give me another chance to celebrate. This year I'm hosting a small crowd for canapes and cocktails.
When I'm not offering guests a sit-down meal, I plan for an obvious after-dinner hour to avoid confusion and also make it clear on the invitation what food you will be served: 'Join us at 9pm for canapés & cocktails.' New Year's Eve is a special challenge for a host; guests will likely not leave until after midnight, so having inviting them too early could result in a very long evening.
For the head count, I start with where I am hosting and work backwards from that. If I just want guests in the living room and kitchen I will come up with a comfortable number for those spaces ensuring that there won't be too few people so it feels empty nor too many so it feels cramped.
 
See How Elisa Hosts a Cozy Dinner Party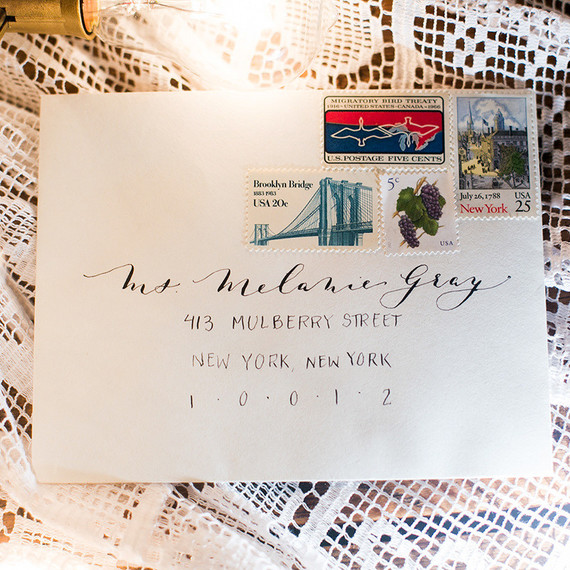 Invitations Are Important 
Though it can be tempting to go the digital route these days, when it comes to invites, it's always handwritten for me. The invitation sets the tone for the event you are throwing and is a great way to get guests in the mood. I love filling  envelopes with handfuls of confetti for a fun surprise on opening. And for me letters and mail are like little gifts so I never skip on the 'wrapping'; hand lettering and a cluster of colorful stamps on the envelope are sure to make an invite stand out in a mail box – and create a beautiful keepsake as well.
Whether to put an end time on your invitation is really a personal preference. If you know you have a big day of clean-up the following morning or activities planned, putting an end time on the invite is a polite way to tell the guests that after the midnight celebration you would like to wrap things up. If you intend (and have the energy) to party into the early hours, then there's no need to put an end time and you can go with the flow until you are the last person standing.
I always ask for RSVP, to be sure to know the correct amount of food and drinks to have on hand. And I always plan for unexpected guests too: My rule is +5 for every 20 people regardless of the event. No one will ever complain about too much food or leftovers, but it would be awful to run out of champagne for the midnight toast!
If guests ask what they can bring, you can never go wrong with a bottle of bubbly. Keeping the bubbly flowing all night can be costly for a large group of people so when offered, it's okay to accept the help.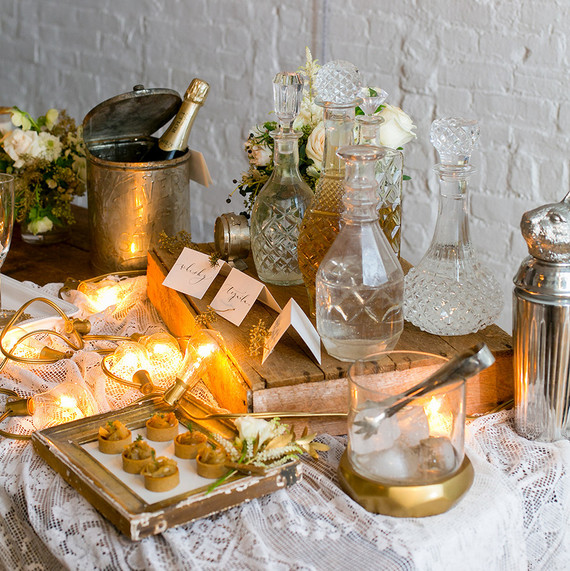 Setting Up
For me the heart of the party is always where the food and drink is. Guests will always gravitate to those spaces. If you want to keep the party within specific rooms, place the bar and food where you want guests to mingle. For the food, I like to create a station on the dining room table, then it's near the kitchen for easy replenishment. The bar I place in the living room to avoid a bottleneck and keep a flow within the space, with a small amount of food there as well,
The Lights
Nothing sets the mood of a cozy holiday party, especially New Year's Eve, like candlelight. I opt for tall, unscented candles in varying heights on the bar and at the food station and use small votives and tea lights to spot around the house on my shelves and other surfaces. Tall candlesticks have more visual impact in a dimly-lit room, and can provide additional lighting for tables. Tea lights provide an ambient glow. To add a little more light and sparkle to the table I love repurposing holiday tree lights; I give them a simple makeover by spray painting the cords with metallic gold paint and drape them over linens and around the bar to reflect light and add additional sparkle!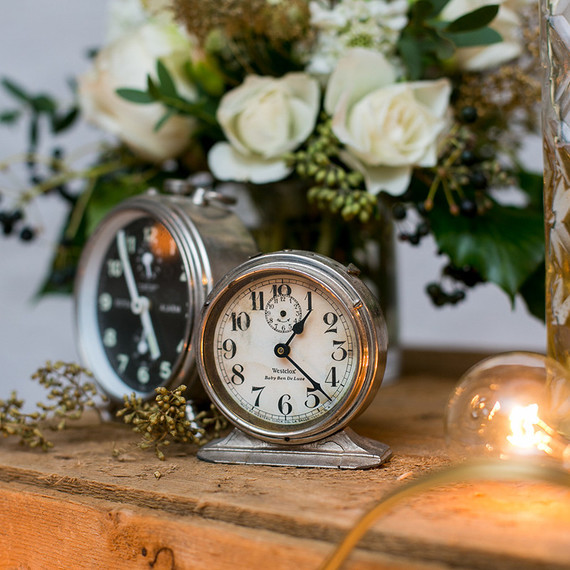 The Look
Repurposing vintage and everyday items is my signature style for party decor. When I'm entertaining, I 'shop' my home for themed decor. The vintage alarm clocks on our nightstand were just the trick for this NYE gathering! Grouped together beside some spray-painted foliage, they give a unique festive touch to the table.
​
The Playlist
Music is one of the best ways to set the tone for your party. If a DJ is not in your budget, there are lots of wonderful Spotify playlists sure to be crowd pleasers. Start the evening with background music and build it up to midnight. I always opt for classics that most guests will know and love; to mark the year's end you can never go wrong with some Stevie Wonder or some of the chart toppers of 2017. If you're playing from your phone don't forget to put notifications on silent so as to not interrupt the party with texts or calls from family and friends!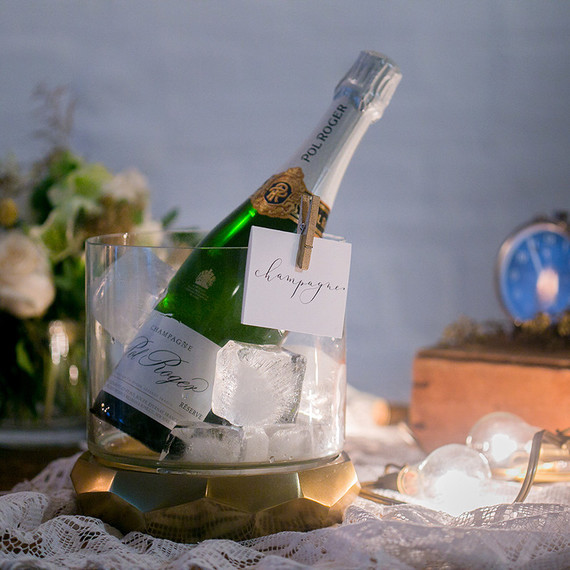 And to Drink?
Typically for events I make and batch cocktails the day before. Seasonal twists on sangria are my go to. NYE though calls for a full bar. To make this easier for the host, my route is to offer a handful of classic crowd-pleasing spirits, an assortment of mixers, and non-alcoholic options too. The bar can be presented beautifully and become a centerpiece of the room. And having the DIY angle takes the stress off of having to make each guest a drink and making sure everyone is topped up. Plus making or even creating their own cocktail is a fun interactive activity for guests. Guests don't have to be master mixologists to pour themselves a vodka soda but those who are can have fun mixing and making drinks for other guests as well.
Get Our Tips for Setting Up the Bar for a Party
Of course you can't forget the champagne! Actually right now I'm into beautiful French sparkling wines that aren't champagne. My current favorite bubbly is Domaine Rolet Père et Fils, Crémant du Jura Blanc Brut 2010.
For those who don't want alcohol, I offer a sparkling drink option to keep things festive. A little sparkling water and fresh fruit juice in a champagne flute makes for a delicious mocktail. 
Learn the Difference Between Champagne, Prosecco, and Cava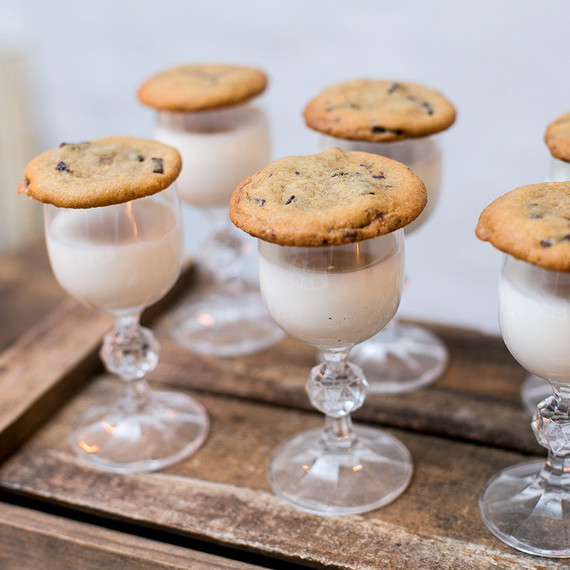 On the Menu
I plan my menu around what can be made the day before, giving me more time day of the party to focus on the decor and details -- because that's what makes it so special! I bake tart shells for the hors d'oeuvres and make batches of cookie dough the day before, then leave the finishing touches for the day of.  
And during the party, I pace the serving so as not put out too much food at the start of the night. At most parties, midnight is usually the last call but on NYE things are just getting started. Make sure you have a sufficient amount of food to last through the evening - especially when guests are drinking!
When hosting a canapés event, remember that guests will likely have a drink in one hand so a plate in the other can be a bit much. I like to keep all the food to two bites or less. Also this makes dishes the next morning much easier!
And I always end on a sweet note! I love to add a seasonal twist to my dessert display, so rather than serving cookies on a traditional platter or tray, I mix and match vintage stemware to create a milk and cookie display or sometimes I slice a small piece from the side of the cookie and have it hang off a champagne flute. Rarely do people drink the milk, but it makes for a fun Instaworthy display.
Get the Bite-Size Dessert Recipes