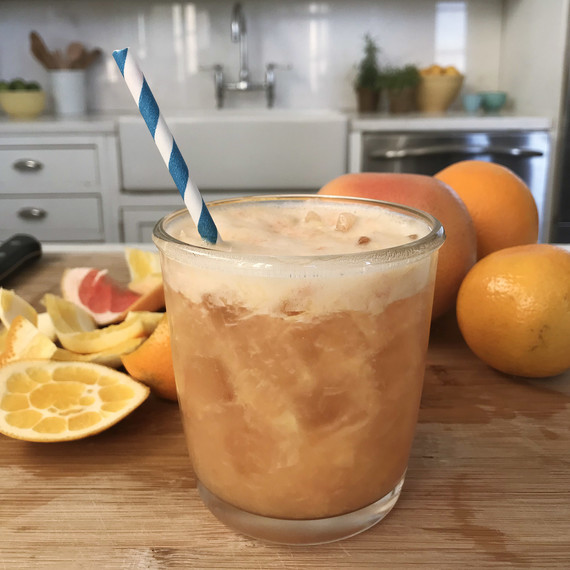 I love fresh-squeezed juice, and I love citrus fruit. But somehow, I can't get with fresh-squeezed orange juice. I prefer a morning drink with a little more dimension and body, and I was absolutely thrilled to discover whole orange juice. It's a juice! It's a smoothie! It's a juice-smoothie! This refreshing glass answers to many names, and delivers incredible citrus flavor and rich texture.
Get the Easy Blender Orange Juice Recipe
Start with 2 pounds of citrus. My favorite blend these days is super-sweet tangerine, juicy navel orange, and ruby grapefruit, which adds a bracing tanginess. You can use a single variety of citrus (if you're going full grapefruit, I recommend adding a bit of honey to round out the edges). With a sharp knife, remove the peel and pith from the fruit and slice into large chunks. Add to a blender and process with 1 1/2 cups of water until smooth. The finished blend has all the flavor of juice and the rich body of a smoothie (plus you get all that healthy fiber). This is my go-to brunch drink because it's super refreshing and a little bit different, and the yield goes a long way. This is also my favorite I-feel-a-cold-coming-on remedy -- way more fun to take than a supplement.
You can make this ahead of time and chill it in the refrigerator. Just give it a good stir or another whir in the blender before serving. Because the texture is so frothy, I like to serve this over ice. Even though this is dairy-free, this drink has a creamsicle vibe thanks to the luscious texture and pastel color. A splash of vanilla extract would make a fun addition.
100 percent whole fruit, vitamin- and mineral-rich, immune-boosting, not to mention thirst-quenching -- this whole orange juice is the perfect way to get your day started.
 
Get the Easy Blender Orange Juice Recipe
Tune in every Sunday for a new Healthy Appetite video from Shira Bocar.
Watch Shira make this quick, satisfying OJ upgrade: