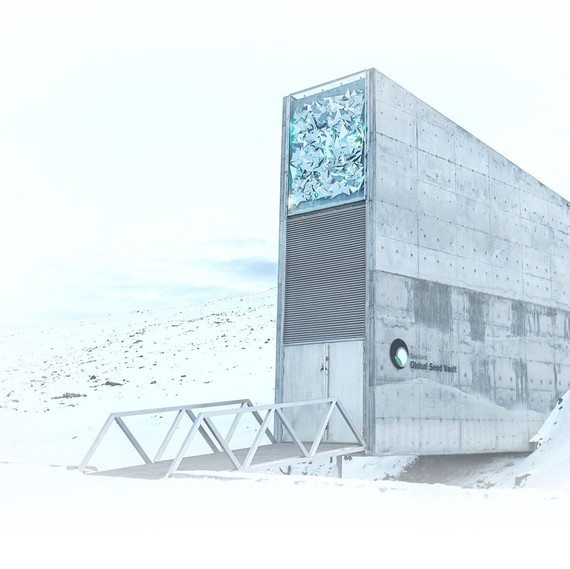 This February, Martha will be packing her bags for a Scandinavian getaway -- new year, new travels -- but she's going for more than just the Northern Lights. In fact, our fearless leader will be paying a special visit to a one-of-a-kind seed bank. 
Home to more than 890,000 seed varieties from around the world, the Svalbard Global Seed Vault is the largest existing collection of crop diversity. Not familiar with seed banks? Think of them as preservation centers for hundreds (or thousands!) of various grain, produce, and plant seeds. The mission of seed banks, a type of gene bank, is to preserve genetic crop diversity by protecting it from threats like natural disasters and environmental degradation. The Vault is part of a larger organization called Crop Trust that works to ensure the world's crop diversity forever.
At the Svalbard Global Seed Vault, tucked 100 meters inside -- yes, inside -- a mountain midway between Norway and the North Pole, you can find thousands of seeds hailing from Uzbekistan and Honduras to Senegal and Denmark. Each variety is stored and sealed in its own custom-made foil packages. With the vault's thick rock construction, together with its surrounding permafrost and low-humidity, these seeds are guaranteed safety and security for years to come. 
And now's your chance for a once-in-a-lifetime opportunity to travel with Martha to the Svalbard Global Seed Vault!  You could be the one lucky winner who will win:
An Exclusive Expedition to the Svalbard Global Seed Vault with Martha Stewart
A Private Tour of the Svalbard Global Seed Vault
Intimate Dinners and Discussions with Leading Food Scientists and Policy Makers
Arctic Adventures such as Polar Bear Tour, Dog Sledding, Snowmobiling & Glacial Cave Adventures
For full entry details and rules click here.