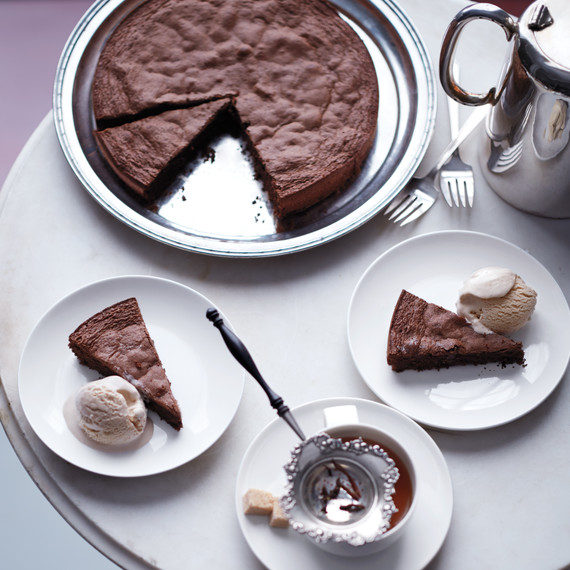 Instead of going big with your holiday dessert, why not try something understated this year? While we love an elaborate buche de noel as much as the next person, a simple ending to a rich Christmas feast can be just as effective. Enter this chocolate buckwheat torte from Martha's book "A New Way to Bake." Good-for-you buckwheat flour and ground almonds give it a lighter texture than the traditional flourless chocolate cake, buckwheat brings out the earthiness of the dark chocolate, and a touch of cinnamon adds just the right amount of spice. Another plus: buckwheat is ground from a seed, not a grain, which means this torte is also gluten-free! Serve slices with your favorite store-bought vanilla ice cream, or for bonus points, our homemade chai ice cream.
Get the Buckwheat-and-Chocolate Torte Recipe
Joining Martha in the kitchen this week on "Martha Bakes" is Don Lewis, the founder of New York's Wild Hive Farm, which grows and grinds heritage grains by stone in small batches. He takes Martha through the different styles of heirloom oats produced by Wild Hive and extols the virtues of baking with the grain. If that's not enough to entice you, Martha's also whipping up two more cakes that are as delicious as they are wholesome: an oat roulade with berry cream and a zucchini-almond cake (you're going to want to bookmark this for next summer's zucchini glut!).
Get the Zucchini-Almond Cake Recipe
"Martha Bakes" season 8 airs on PBS stations nationwide (check local listings).