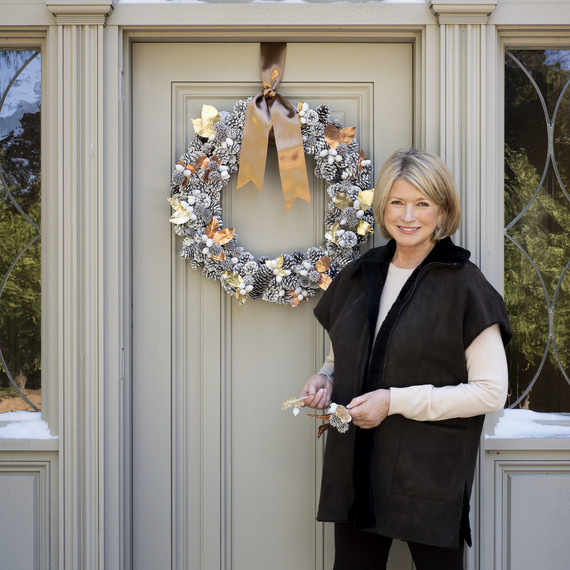 Whether you've been playing Bing Crosby's album since Thanksgiving Eve, or you're more of a "no jingling bells until December, please!" type, there's something we can all agree on: the holidays just aren't complete without the perfect soundtrack. 
Of course, you may know all the words to every classic. But do you know the most covered Christmas song of all time? It's "Silent Night." The German carol, written by Joseph Mohr and composed by Franz Xaver Gruber in 1818, has a whopping 26,000 some variations performed and recorded by thousands of different musicians. On the flip side, "We Wish You a Merry Christmas," which dates all the way back to the 1500s, has only been covered by artists around 7,400 times. Imagine how many batches of cookies you could make while listing to all those versions.
Luckily, we've rounded up a merry mix of our favorite holiday songs to keep your home feeling festive. From cozy classics like Eartha Kitt's "Santa Baby" (one of Martha's go-to tunes) and Andy Williams' "It's the Most Wonderful Time of the Year," to modern day diddies from Pentatonix and The Tenors, it's time to press play! 
[LISTEN TO: Martha's 12 Favorite Christmas Songs of All Time]
1. "White Winter Hymnal" by Fleet Foxes
2. "It's Beginning to Look a lot Like Christmas" by Harry Connick, Jr.
3. "It's the Most Wonderful Time of the Year" by Andy Williams
4. "Merry Christmas, Happy Holidays" by Pentatonix
5. "Gather Close" by SHEL
6. "Harvest for the World" by The Isley Brothers
7. "What Christmas Means to Me" by Stevie Wonder
8. "Do You Hear What I Hear" by Jennifer Nettles
9. "Santa's Wish (Teach the World)" by The Tenors
10. "The Christmas Waltz" by Leslie Odom, Jr.
11. "Shake Up Christmas" by Train
12. "God Rest Ye Merry Gentlemen" by Jennifer Nettles and Andra Day
13. "Glow" by Brett Eldredge
14. "When My Heart Finds Christmas" by Harry Connick, Jr.
15.  "Holly Jolly Christmas" by Micheal Buble
16.  "Show Me The Magic" by Jamie Cullum
17. "White Christmas" by The Drifters
18. "Someday at Christmas" by Stevie Wonder and Andra Day
19. "My Favorite Things" by Kelly Clarkson
20.  "Christmas Dream" by Andreas Weise
21.  "Cool Yule" by Kurt Elling
22.  "Sleigh Ride" by Amy Grant
23. "Buon Natale" by Nat King Colr
24.  "Baby It's Cold Outside" by Willie Nelson (feat. Norah Jones)
25. "Santa Baby" by Eartha Kitt
26. "What Are You Doing New Year's Eve" by Ella Fitzgerald
27. "Have Yourself A Merry Little Christmas" by Sam Smith
28. "Sleigh Ride" by SHEL
29. "The Christmas Song (Merry Christmas To You)" by Nat King Cole
30. "Silent Night" by Gwen Stefani
31. "White Christmas" by Bing Crosby, Ken Darby Singers, John Scott Trotter and his Orchestra
32. "This Christmas" by Donny Hathaway
33. "Carol of the Bells" by Caroline Pennell
34. "Winter Wonderland" by The Sweeplings
35. "I've Got My Love To Keep Me Warm" by Ella Fitzgerald and Louis Armstrong
36. "Santa Claus Is Coming To Town" by Frank Sinatra and Seal
37. "Mistletoe" by Colbie Caillat
38. "Baby, It's Cold Outside" by Brett Eldredge (feat. Meghan Trainor)
39. "Underneath the Tree" by Kelly Clarkson
40. "Wonderful Christmastime" by Paul McCartney
41. "Keep You Warm" by Sam Tsui and Kina Grannis
42. "Dear Santa" by Mr Little Jeans
43. "Baby, It's Cold Outside" by She & Him
44. "Christmas (Baby Please Come Home)" by U2
45. "Let It Snow! Let It Snow! Let It Snow!" by Frank Sinatra
46. "I'll Be Home For Christmas" by Bing Crosby
47. "Little Saint Nick" by The Beach Boys
48. "Jingle Bell Rock" by Lindsey Stirling
49. "Nothin' New for New Year" by Harry Connick, Jr. and George Jones
50. "Happy Christmas (War is Over)" by Maroon 5