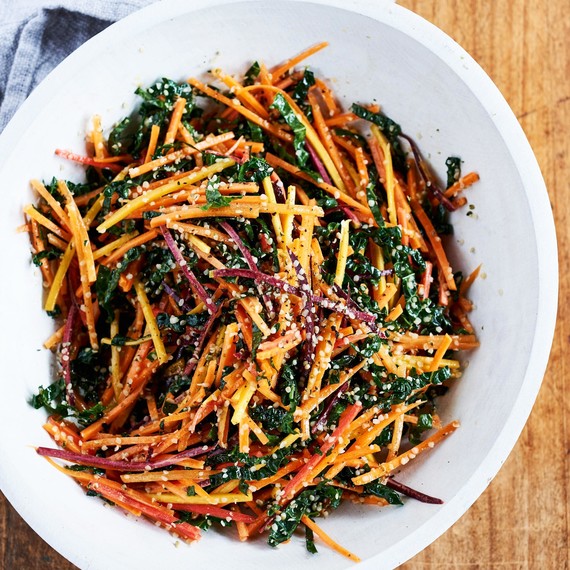 The French classic, carottes râpées, or grated carrot salad, is hard to beat. What's more satisfying than a pile of simply dressed raw carrots? How about adding a couple of handfuls of thinly sliced kale and a sprinkle of crunchy hemp seeds. 
Get the Julienned-Carrot and Kale Salad Recipe
Let's get slicing. I prefer carrots julienned by hand (there's beauty in imperfection, right?). This is a great time to break out a mandoline. Slicing planks of carrots helps move things along -- stack two or three planks and slice lengthwise for the julienne. If time isn't on your side, use the julienne disk of a food processor. I love using a bunch of rainbow carrots for a hit of color and variation in flavor. Next up: kale. Feel free to use either lacinato or curly kale as long as it's thinly sliced. Save the baby kale for another time -- it's too delicate for the carrots and becomes stringy. 
The vinaigrette is a honey-Dijon dressing: squeeze one lemon (apple-cider vinegar would be great here, too), and whisk with a dab of Dijon and touch of honey to round out the flavors. Insider tip: honey helps bring out the natural sweetness of the carrots. Drizzle with a steady stream of extra-virgin olive oil and season with salt and pepper. With a light hand, toss the vegetables with the vinaigrette. The idea is to really, really coat every single piece of salad with vinaigrette without beating up the kale. 
Shelled hemp seeds are the finishing touch here; they add a wonderful nutty flavor (somewhere between a pine nut and pumpkin seed) and crunchy texture. Plus they're clingy, in a good way. What else can you do with your bag of hemp seeds? Definitely store them in the freezer to keep them fresh. I like to add a spoonful to smoothies or yogurt for a quick serving of omega-3 and omega-6 fatty acids. Hemp seeds are also a great source of protein and fiber. 
You can serve this cozy salad straightaway or tuck it in the fridge for a few hours. Sometimes simple is best!
Get the Julienned-Carrot and Kale Salad Recipe
Tune in every Sunday for a new Healthy Appetite video from Shira Bocar.
Watch Shira make the oh-so-simple (and oh-so-delicious!) Julienned-Carrot and Kale Salad: