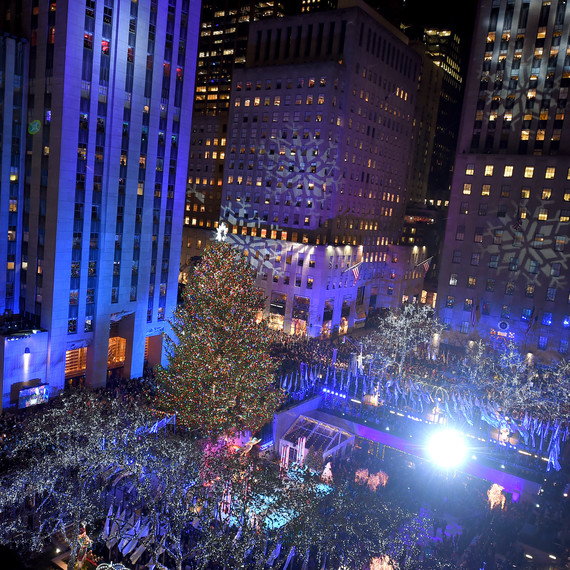 Last night, tens of thousands of people crowded the streets for the annual Rockefeller Center Christmas Tree Lighting Ceremony. It's a world-wide symbol of the holiday season, particularly in New York City. Here's how it stacks up to trees of previous years, plus a behind-the-scenes look at the technology and traditions that bring it to life.
1. How was the tree discovered?
This year's chosen tree for Rockefeller Center was donated by Jason Perrin of State College, Pennsylvania. In September 2010, Rockefeller Center's head gardener Erik Pauze was attending a football game held near Penn State University with his son when he noticed a towering Norway Spruce. "Erik came to the door, he explained who he was and he started talking about the tree in my backyard. At first, I didn't believe him. I have quite a few friends who I thought might have been pulling a prank on me," Perrin says. "After I figured out it wasn't a prank, Erik told me my tree looked like it was tall and wide enough, and full enough, and he thought that in a few years it might ready to be the Rockefeller Center Christmas tree." In the years to follow, Pauze returned to Pennsylvania to visit the tree and check its condition until it was ready for its reveal this year. "I know that this tree that lived in my backyard for so many years will bring joy to a lot of people while displayed at Rockefeller Center," Perrin continues, "and will also benefit a family in the future, through the donation to Habitat for Humanity."
[LEARN MORE: This Year's Chosen Rockefeller Center Christmas Tree]
2. How does it compare to past ones?
This year's 80-year-old tree towers over Rockefeller Center at 75 feet tall and 50 feet in diameter, weighing between 12 and 13 tons. Over the years, trees have ranged from 50-foot pines to 100-foot Norway spruces. (Last year's tree was a 94-foot Norway spruce.) 
3. Who makes the star topper?
This is the fourteenth year in a row that a custom Swarovski crystal star topper shines over midtown Manhattan. Measuring at 9.5 feet in diameter and 1.5 feet in thickness, the star is adorned with 25,000 crystals and one million facets. It features energy-efficient LED bulbs and a state-of-the-art computer program to create that twinkling quality atop the tannenbaum. This lighting enhancement took three months to design and customize the 1,024 programmable channels that control light movement.
4. How many lights decorate the boughs?
The tree is trimmed with more than 50,000 multi-colored energy-efficient LED lights strung over 8 kilometers of wire. (That's five miles!) Hundreds of solar panels atop the Rockefeller Center buildings will help power the lights throughout the season.
5. Where does it go after the holidays?
In the true spirit of the season, the Rockefeller tree gives back. After the new year, it will be milled into lumber to benefit Habitat for Humanity.
Feeling inspired? Watch how to decorate a tree at home: