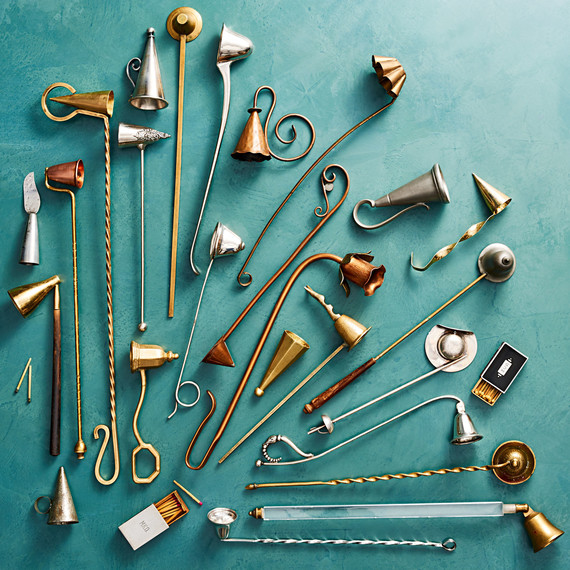 A few candles give any winter evening that magical, flickering glow. To complete the picture, keep a vintage snuffer at the ready.
The snuffer was said to have been developed by English innovator Christopher Pinchbeck, and patented in 1776. His device was pretty as it was practical: A snuffer could extinguish a burning flame and simultaneously prevent hot wax from splattering onto the tabletop as well as keep the room smoke-free.
Soon thereafter, a snuffer could be found in every home. It became so popular that the poem "Ode to Mr. Pinchbeck, Upon His Newly Invented Candle Snuffers" was penned by Malcolm MacGreggor.
[LEARN: Collecting Vintage Christmas Ornaments]
Copper and pewter versions like these are easy to find at flea markets for just a few dollars (sterling silver ones are slightly pricier), and look pretty set on a mantel or coffee table, or hanging from a hook. Whimsical styles can spark conversation: Consider the musketeer helmet with sword (fifth from bottom right), an example of the novelty snuffers produced from the 1920s to midcentury; or the tiny horn (bottom left), which takes after a Colonial design. It would have sat on a matching chamber stick to guide people (clad in stocking caps, of course) from room to room at night — and was perfect for sneaking a glimpse of Old Saint Nick.
Feeling inspired to start a collection of your own? Watch here as Martha Stewart Living's collectibles expert Fritz Karch offers his tips for new collectors: