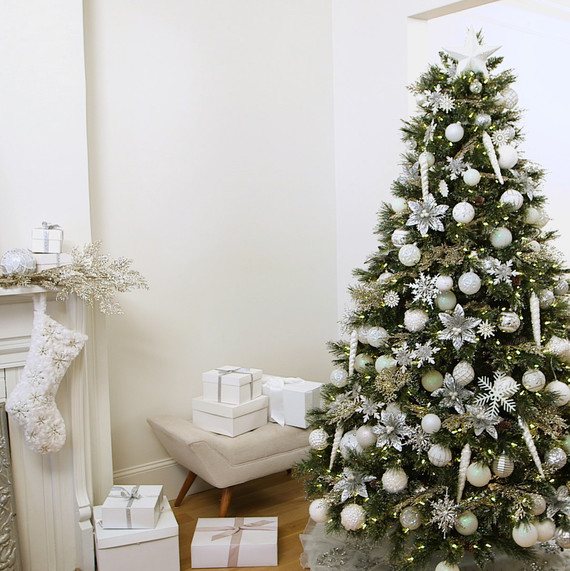 Think back to your first memory of snow fall: snowflakes aflurry in the air, icicles catching the sunlight, and all the world blanketed in white. Magical, right? With this in mind, we envisioned a Christmas tree that captures the feeling of a white Christmas. And believe us, this idea will turn even the warmest of the house into a winter wonderland.
One of the most beautiful effects of snow is the way light plays across its surface. You can recreate that effect indoors by nestling string lights deep into the boughs of your tree, enough to give off a subdued luminosity but placed to shine off of reflective ornaments. This sparkling pine with its lightly flocked needles has a subtle iridescent shimmer that adds the look of glistening snow. 
[MAKE THIS: White Glittered Star Tree Topper]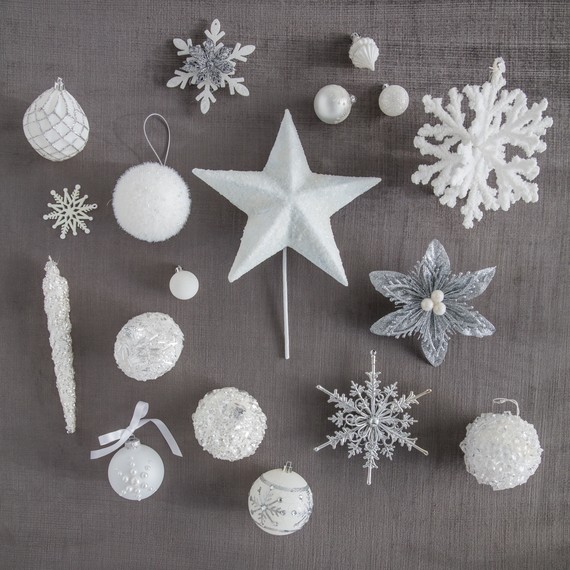 We sought to recreate that first snow feeling with our selection of ornaments as well — a blizzard's worth of glittered snowflakes (both oversized and small), sequined icicles, beaded and pearly-white baubles, silvery poinsettias, and a brilliant white star topper. 
A flurry of snowflakes is a must for this tree. We selected a cohesive collection in textures, shapes, and sizes. You can do the same, or make them yourself! Fold and cut them out of paper and — for extra sparkle — add glitter. Hang flakes on loops of monofilament to cascade from the boughs, and then simply let it snow.
[MAKE THIS: Pearl Snowflake Ornament]
Feeling inspired? Watch this video for some behind-the-scenes magic of our Winter White tree: