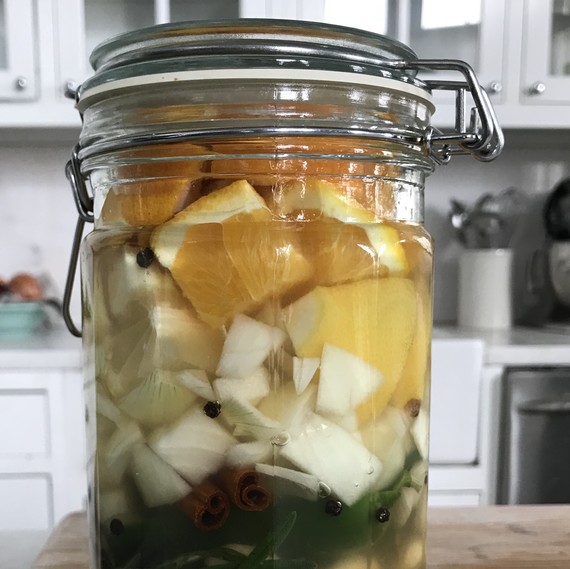 Thanksgiving kicks off my favorite season of eating, but come January, I'm ready to scale back the decadent celebrations and return to a fresh, healthy routine. The anti-inflammatory, digestion-stimulating fire-cider tonic is just the ticket to help you feel your best. Good things come to those who wait: put this up now, and it'll be ready for you in three to six weeks -- perfect for a New Year's Day toast!
Get the Fire-Cider Tonic Recipe
What is Fire Cider? It's an energizing apple-cider vinegar and honey tonic that has been used as a folk remedy to help boost circulation, lower blood pressure, and ease a hangover. We have herbalist Rosemary Gladstar to thank for this cure-all -- read her great interview.
Everyone has their favorite formula, but it all begins with infusing raw apple-cider vinegar with pungent vegetables, fruit, and aromatics. My go-to includes a combination of garlic, hot peppers, onions, herbs, citrus, and spices. Layer ingredients in a large glass jar and top with vinegar. If you have a metal lid, cover the top of the tonic with a sheet of parchment to avoid a reaction with the lid. (I like to use all glass jars with tops that seal with a rubber gasket for this project.) Let the jar hang out in a cool, dark place to infuse, ideally turning it over once a day.
During this time, the garlic cloves will likely turn blue. Don't worry; that's just pickled garlic doing its thing (an enzyme is released when the sulfur present in garlic comes in contact with acid, and a blue pigment is produced.)
After at least three weeks, preferably longer,  strain and discard the aromatics and transfer your winter elixir to a fresh jar. Enjoy as a healthy shot in the morning, cut with seltzer for an afternoon drinking vinegar, or replace regular vinegar in a vinaigrette. You'll wake up your taste buds, any way you take it.
Get the Fire-Cider Tonic Recipe
Tune in every Sunday for a new Healthy Appetite video from Shira Bocar.
Watch Shira make the wonderful anti-inflammatory and digestion-stimulating Fire-Cider Tonic: