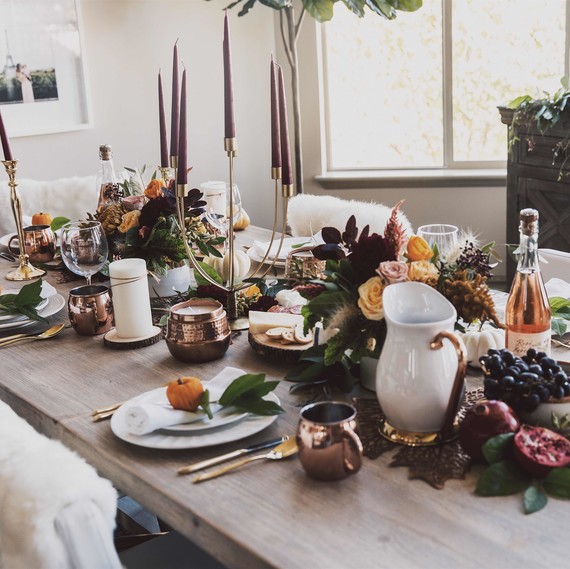 You've rallied the family together and finally nailed down your Thanksgiving checklist. But what about table décor? From dinnerware to centerpiece do's and don's, figuring out your tablescape can seem like another chore. To help streamline the process and wow your guest this holiday season we've turned to design experts for tips and tricks on creating an inviting yet elevated holiday table (that won't break the bank).  
1. Map Out Your Table 
Before ordering the dozen candle holders sitting in your shopping cart, figure out your decor real estate. Short answer: You may not even have as much space as you think to decorate. "Determine how many guests you'll be having and how much space your place settings will take up," says New York based event designer and party planning expert, Jung Lee. "Then, map out where your dishes will be and what your table must-haves are." Do you plan on making your bird the star? Will you be serving dinner family-style? These questions will help you set a stunning-yet-comfortable table.
[FOLLOW: Our Guide to Proper Thanksgiving Etiquette]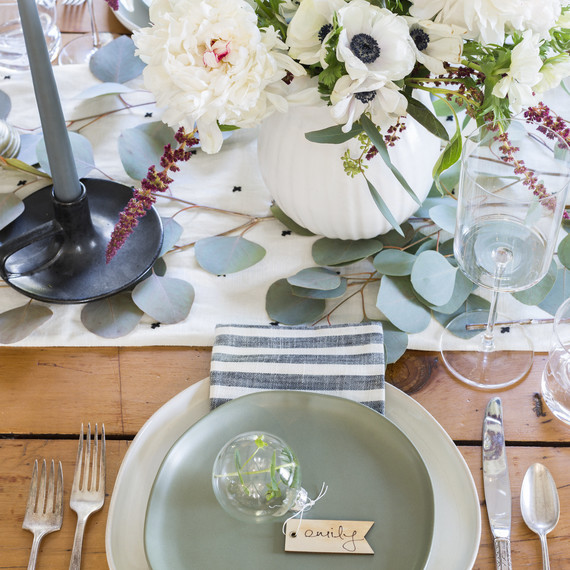 2. Add Personalized Touches Like Place Cards
You don't need to buy a whole new set of fine linens to spruce up your table. LA-based stylist Emily Henderson suggests a simple DIY swap for cloth napkins: "Get the [linen] look for less and head to your local fabric store," she says. "Buy a few yards of fabric and rip them into 18" squares leaving the hems frayed. It feels homespun, but also upscale." Another bonus: "They are easy to machine-wash and will soften with age." 
Place cards are another simple way to add a sophisticated and personalized touch to your table. "There is nothing that makes someone feel more special than arriving to a dinner party and seeing their name assigned to a seat," says Henderson. Try one of our favorite DIY place card ideas at your next gathering.
[SEE: How "Queer Eye's"" Design Expert Bobby Berk Decorates His Holiday Table]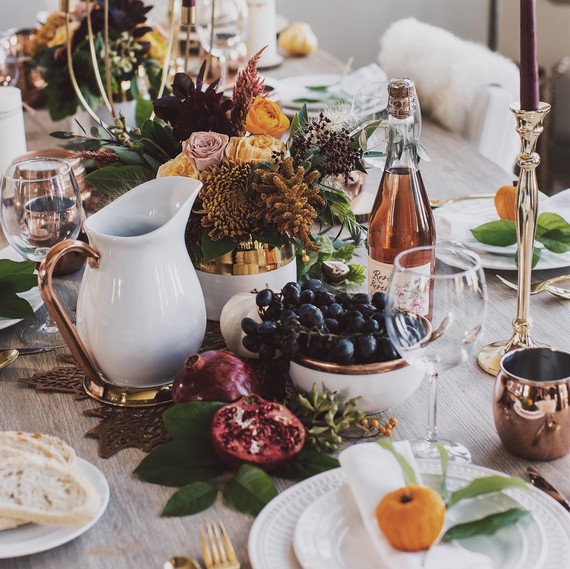 3. DECORATE WITH SEASONAL ELEMENTS
Chances are your beautiful bird and array of savory side dishes will double as their own décor. So why not embellish with more fall-hued foods? For Christine Andrew, style blogger behind Hello Fashion, it can be as easy as jazzing up your table with some fresh produce from your local grocery store. "Adding a spread of cranberries or pomegranates to your centerpieces, along with a small pumpkin or oranges to place settings is a beautiful and inexpensive way to enhance your layout."
4. MIX AND MATCH
Gone are the days of perfectly coordinated pieces and color schemes. For a homier look—that's equally chic when done correctly—Andrew reminds us: "Don't feel like everything needs to match perfectly!" Instead, she suggests playing with different metals, dishes, and stemwhere to help bring a variety of textures, heights, and sizes to the table. For Andrew, it's a tie between golds and copper-bronze tones. "I can never decide between the two so I'm always excited to tie both metals into a tablescape design." 
[TRY: These 4 Easy Ideas for A Modern Thanksgiving Table]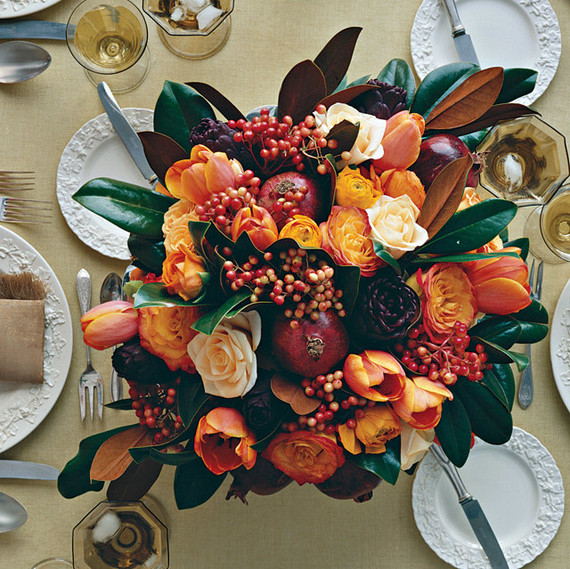 5. Complete the Look with Flowers
While taper candles and linen napkins are simple ways to add a bit of elegance to your dining space, if you can only opt for one design addition, Henderson says, add flowers. "Adding something fresh on the table can change the entire look of your tablescape and elevate the entire setup." Pick a variety of fall blossoms within the same color palette and arrange them in a handful of smaller bouquets rather than one large one, suggests Henderson. (Party Tip: Mini arrangements can double as charming take-home gifts for your guests.)
6. CONSIDER YOUR GUESTS
Before you put out your vintage glass candleholders, think about who you'll be having around the table. "If you'll be having kids, consider how many and how old they are before setting out closed candles," says Lee. A simple decorating solution? "A beautiful tablecloth or an elegant runner—plus, it can help cover up any scratches or nicks you might have!" 
Henderson also suggests a craftier alternative: A large roll of natural butcher paper. "It can act as not only a tablecloth, but somewhere for the kids to entertain themselves with crayons.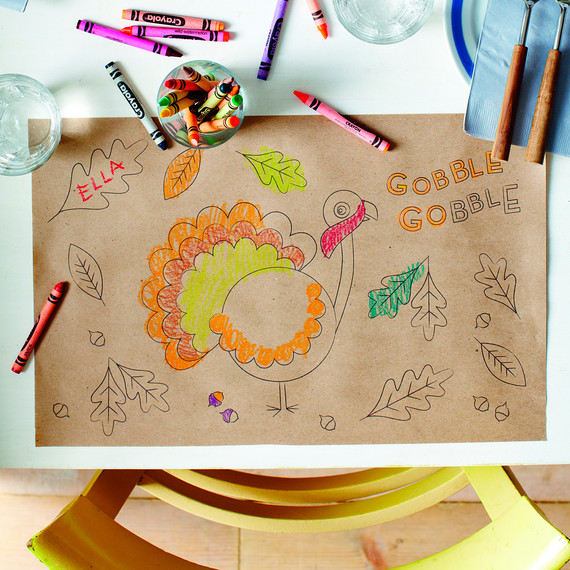 7. THINK DOUBLE-DUTY
Make sure there's enough room for guests to reach across tables and pass around dishes. If you're looking for beautiful pieces with a purpose, Lee suggests seeking out a gorgeous gravy boat or a pretty set of salt and pepper shakers. That way, your guests can both use and admire.
Feeling inspired? Jazz up your holiday table with these 3 simple-yet-impressive ways to fold a napkin: