We took a cue from Mother Nature's winter wardrobe for this gem of a tabletop tree, all dressed up in shades of icy blue, pale pink, and citrine. If you can string a bead, you can borrow her look with these jewelry-esque ornaments made from geodes, quartz, and shiny glass spheres.
[FIND INSPIRATION: Creative Christmas Tree Decorating Ideas]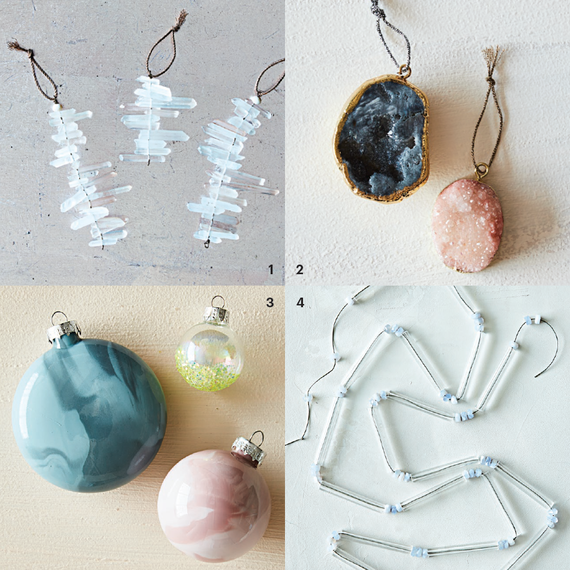 1. Chic Icicles
Make shimmery, dangling strands by grouping clear and light-pink quartz points on jewelry wire, adding a loop to each end, and attaching metallic cord.
[MAKE THIS: Quartz Icicle Ornaments]
2. Earthy Geodes
Snip off an agate pendant's jump ring and thread gold cord through the remaining loop for an instant ornament (or an extraspecial gift tag).
[MAKE THIS: Agate Pendant Ornaments]
3. Swirled Stones
For the marbled ornaments, remove the top, add a teaspoon each of two paint colors mixed with marbling medium, swirl, and dry. For the flashy one, brush glue on the bottom and roll in glitter.
[MAKE THESE: Marbled Ornaments]
4. Delicate Garland
To mimic icy branches, use a saw to cut clear acrylic tubing into three-inch pieces, then string them on gray cord with crystalline chalcedony beads.
[MAKE THIS: Crystal Bead Garland]
Feeling inspired? Now, watch how to pot your Christmas tree: