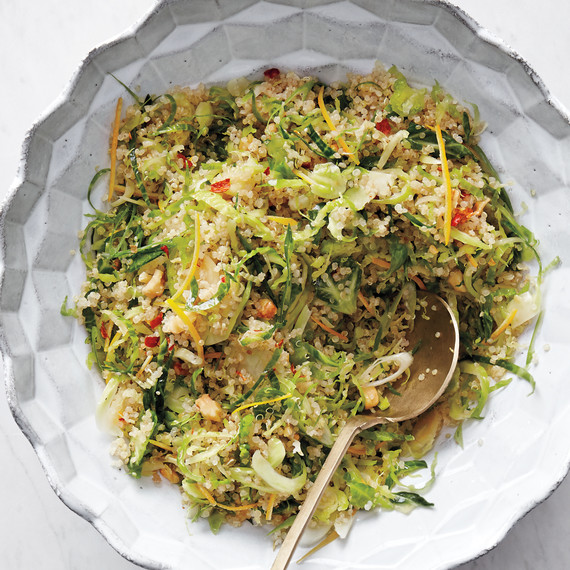 When the temperatures start to fall and daylight is in short supply, I often look to my meals for a burst of brightness. This fresh quinoa salad is a winter staple not only because it highlights some of my favorite, seasonal ingredients (Meyer lemons! Brussels sprouts!) but also because it's cheerful on the palate.
Get the Shaved Brussels Sprout, Meyer Lemon, and Quinoa Salad Recipe
I'm a huge advocate of preparing big batches of whole grains at the beginning of the week. My fridge is usually stocked with cooked quinoa, short grain brown rice, and millet. These grains are on-call for any number of quick meals: whole grain pancakes, vegetable burgers, or quick stir-fry. Same goes for this easy salad. Start with 3 cups cooked quinoa and add 8 ounces of thinly-sliced brussels sprouts. Have you tried brussels sprouts raw? They're wonderful. When thinly shaved (a Japanese Benriner mandoline is the tool for the task) the sprouts become crisp and delicate, much like a cabbage slaw. The vinaigrette and a good stir further tenderizes the leaves.  
For the Meyer lemon (you know, those really floral, smooth-skinned wonders), use a Y-peeler to peel small strips of zest, then thinly slice into a julienne. These little strips add a nice crunch along with a bright hit of lemon oil in every bite. Squeeze the fruit to make use of the fresh juice and whisk with a little olive oil for a simple vinaigrette. Sliced scallions represent the allium section of this dish and a handful of toasted walnuts brings an earthy crunch as well as heart-healthy fats. Give the whole salad a stir, enjoy straight away, or tuck it into the fridge to let the flavors meld. (This also makes my roster of favorite travel snacks.)
Can't wait for you to try this simple, refreshing salad. It's something to look forward to on a cold, grey day! 
Get the Shaved Brussels Sprout, Meyer Lemon, and Quinoa Salad Recipe
Tune in every Sunday for a new Healthy Appetite video from Shira Bocar.
Watch Shira make this bright, fresh quinoa salad: