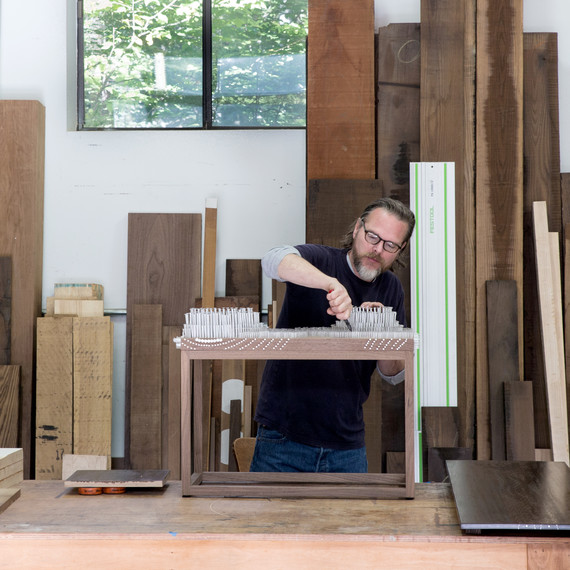 What has changed since Sandback was named an American Made winner?
I've continued to enjoy creating the nail tables, but I'm expanding my drum table line and creating a table based off the Bavarian pub style table. It will be indigo blue in color with a nail design on the top. This table along with a few pieces of upholstery will be shown at ICFF 2017.

How did you find your passion? When did you know it was time to turn it into a business?
I have always enjoyed making things. Out of necessity, I made a table for my wife and I. We had no money and no furniture, but I had wood and a table saw. That need led to a long series of links, guidance, and hard work.
 
What was the hardest part about starting your own business?
In the early days I ran my wood shop out of an old chicken barn. Whenever it rained a stream would form and run through the middle of it. The early days can be unsettling.
[READ: What to Know About Starting Your Own Business]

How do you keep a work/life balance? This is something that a lot of budding entrepreneurs worry about.
When I was younger I worked much longer hours than I do now. When you're first getting established and mastering your skills these long hours are often necessary in order for your business to be successful in the future. Knowing this and planning accordingly has proven very helpful in my life. My wife and I have even gone so far as to plan a child around a product release and cross country move. Everything went very well!

What resources, organizations, groups do you turn to for support?
We have a few very old friends who are furniture makers, designers, etc and a few newer friends who are also furniture makers, designers, etc. When we attend design shows I often meet people who share my interests.
What has been the biggest surprise since you started your business?
When the economic crisis hit the phone stopped ringing and I had just finished designing an entire line that I then had to entirely scrap. I redesigned the line and managed to come back from that.
What keeps you going when you want to give up?
I enjoy making things.
What is the one thing you would tell somebody trying to start their own business?
Address all the moving parts before committing. If you decide to go forward, start small, grow slow, and stay focused.