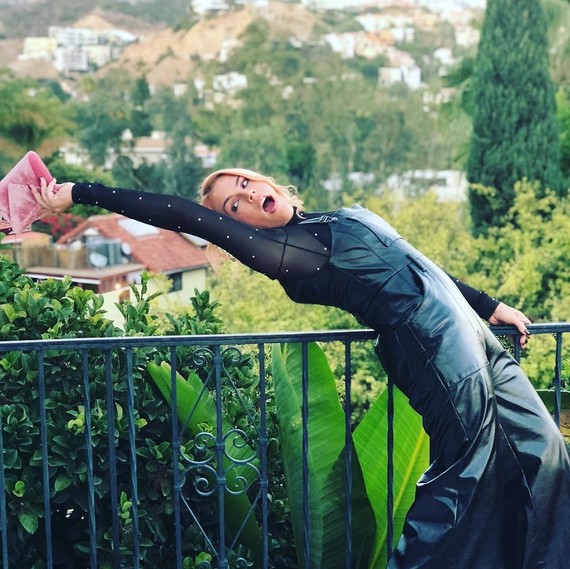 "'Mom' is the biggest compliment you can get from a millennial, did you know that?" says Busy Philipps.  
The actress isn't just schooling us on internet-speak -- she's describing a recent (very flattering) run-in that showcases the range of followers, from young moms to hip twentysomethings, who are addicted to her Instagram. 
"Emma Roberts came up to me and she was like, 'My friends and I all watch your Stories and we all call you mom.' I was like, 'What?!'"
It's true -- Philipps is having a social-media moment. Last year, the spunky 38- year-old actress -- known for roles on Judd Apatow's cult hit "Freaks and Geeks" and the Courteney Cox-led comedy "Cougar Town"-- landed the perfect, career-making role: being herself. Using Instagram's Stories feature, she unabashedly lets us into her everyday, where she creates fun art projects with her daughters Birdie, 9, and Cricket, 4 (some using old boxes as a way to upcycle); is a doting best friend to actress Michelle Williams (she recently dyed Williams' hair pink while on a girls' trip to Paris); and makes sure to get in some me time and take care of herself. Philipps is a loyalist to her grueling LEKfit workouts and signed on to the Whole30 Program (oh, you know she found a way to make healthy nachos).
And people love it. The actress has amassed close to 800,000 followers on the social-media site, and The New Yorker even labeled her "the breakout star of Instagram Stories" in a recent profile.
We caught up with Philipps at an event for LG, where she's a spokesperson for the SideKick -- it's designed to tackle small loads and anyone who followers her sees the daily gym clothes that need washing -- to talk about being a crafty mom in the age of Pinterest, and, of course, her epic Elf on the Shelf setups.
[LEARN: The Right Way To Wash Your Favorite Clothing Items]
You have a blast with your daughters. What are some of the creative things you do together? 
We do a lot of Martha baking projects, truthfully, especially around the holidays! [The site is] my go-to for recipes and things -- sugar cookies, specifically. We do a lot of painting projects. I save a lot of stuff -- boxes that come into the house -- and then we make stuff. It's not anything I'm going to put on Pinterest. Like, we spent two weekends making an apple juice factory. It's literally a cardboard box that we painted. It's a creative, pretend-play thing.
Your Elf on the Shelf setups are infamous. Can you tell us a little bit about them.
The Elf on the Shelf game is a very big deal in my house for Christmas. I do crazy scenes. Last year, my elves starred in "Hamilton"; they did "Chopped." They had a cooking competition in our kitchen. I love dioramas, so for me, it's the perfect application of my crafting and creativity. At night, I love thinking of different things. [Our elves] go to the beach. I make a beach with kinetic sand. You can look on my Instagram -- it's pretty intense. I've gotten some feedback from moms that you're making us look bad. But it's the one thing I do. And I make really fancy cakes.
Speaking of your Instagram. Why do you think your Stories resonate with people so much?
None of it is contrived at all. I just very organically was feeling at odds with my career and my life and what was happening in the world, and it was almost a year ago, and I started talking into the void. It turns out people were like, "Oh, wait, we're listening now." I've been very open in sharing how life can be very messy, how things aren't perfect for anyone, even if you're an Hollywood actress.
[MAKE: These Fun Crafts With Your Kids]
What are some of your tips that make being a mom easier?
[Laughing] I try to keep my cool with my children. It's really hard. I share a lot with my friends and my family and try to get other people's perspectives. Everybody's been through something that you're going through, right? I don't believe that it's a one-size-fits-all thing with parenting. 
Who do you turn to for this advice? Who's in your inner circle? 
I have some really close girlfriends. I have a tendency to make friends and then keep them forever. I always go to my core group of girlfriends -- we all have children at this point. I ask my mom about some stuff, because she raised two difficult girls.
Feeling Inspired: Watch 3 More Elf on the Shelf Ideas.