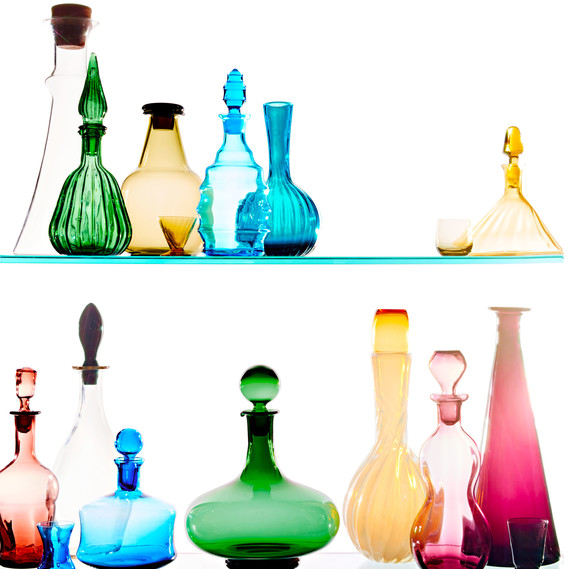 End your holiday meal with a retro flourish by pouring guests after-dinner drinks from an elegant decanter. Dating to the early 20th century, colorful vintage decanters were originally used to bring up alcohol from cellar barrels -- or to disguise inexpensive varieties -- and often came in a set with tumblers or goblets and a matching tray. Their shape and size speak to what they may have contained and where they're from. Cordials like sherry would have been poured into the small ones, while large ones generally held wine.
(LEARN: Why Sherry Is Always in Our Liquor Cabinet)
Collectors tend to stock up on red or orange glass -- the raw materials for production are more expensive and therefore more valuable (upwards of $100). Simple designs, such as the tall purple decanter (bottom right) made by Blenko Glass, in Milton, West Virginia, are typical of American manufacturers; Italian versions, like the green vessel with the finial stopper (top left), tend to be more ornate.
Look for bottles with their original tops, and pop them off to elevate a dinner, whether or not alcohol is on the menu: These eye-catchers make equally stylish containers for chilled water or a handful of long-stemmed flowers. If you want to display these beauties on the daily, decant shampoo and bubble bath into them to take your shower to spa-level.
(GET: 7 Bubble Bath and Wine Pairings That Will Make You Want to Stay In Every Night of the Week)