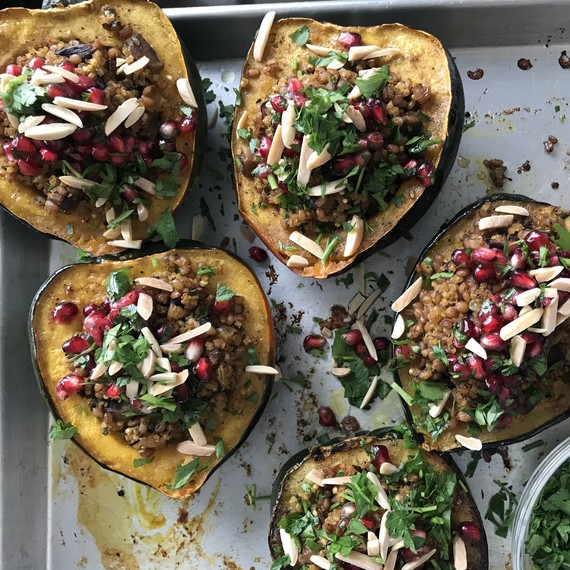 I get to celebrate the holiday season twice. Once in the summer when we're producing our November and December issues of the magazine, and then again at actual Thanksgiving and Christmas. By the second time around, I'm tired of turkey, and the last few years I've enjoyed a mostly vegetarian plate. So that means lots of sides -- aka: the best part of Thanksgiving. This whole grain-stuffed acorn squash was a hit in the test kitchen in July, and I know my family's going to love it as part of our Thanksgiving feast.
It's such a satisfying main course or a wholesome side (go halfsies: slice each squash for smaller portions), and the best part is that it's make-ahead. The hearty, chewy stuffing is built around simmered wheat berries and millet. Add to that sauteed cremini and shiitake mushrooms and a good sprinkling of Middle Eastern spices like cumin, coriander, and saffron. This stuffing tastes even better when it's made in advance, so knock this out at the beginning of Thanksgiving week and hold it in the fridge. (The stuffing alone makes a killer breakfast paired with a fried egg.)
Get the Acorn Squash with Mixed-Grain Stuffing Recipe
I used acorn squash here, but those adorable honeynut squash would also work -- they look like mini butternut squash but are even sweeter in flavor. Simply slice the squash in half, remove the seeds (roast them later), and sprinkle with kosher salt, ground cumin, and coriander. Lay the squash cut-side down on an olive oil-brushed sheet pan and roast until tender. You can scoop the stuffing into the squash, cover, and refrigerate overnight. Or you can return them to the oven and bake until heated all the way through.
To serve, dollop with a simple Pomegranate Relish for a vibrant hit of color and flavor. Toasted slivered almonds add crunch, and chopped parsley keeps everything fresh. This satisfying dish will please everyone at the table!
Get the Acorn Squash with Mixed-Grain Stuffing Recipe
Tune in every Sunday for a new Healthy Appetite video from Shira Bocar.
Watch Shira make this whole-grain-stuffed squash that's sure to become a must-have at your holiday table (and other meals too):