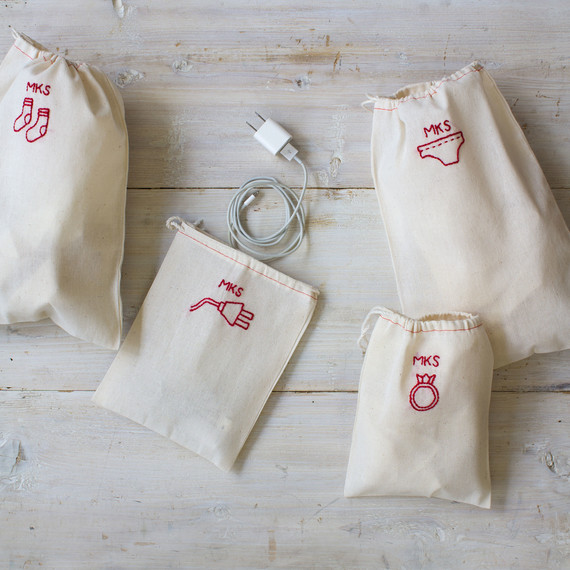 Handmade gifts are always the ones you remember most. Knowing the care and dedication that goes into creating that one-of-a-kind, customized item makes it even more cherished. We're getting you ready for your holiday gift-giving with an easy craft that can be made for everyone on your list. These personalized embroidered muslin bags are easy and affordable to make, and serve as unique stocking stuffers and gifts. Make one for each family member, personalizing the bags to suit their tastes and preferences. 
We love using them for traveling, making them a great gift to bestow right before a holiday trip or other adventure. Use them to easily group together items like socks, chargers, accessories, toiletries or souvenirs within your suitcase. Beyond traveling, these handy muslin bags can also help organize closets, craft supplies or a child's doll clothes. And they even make great gift bags. Place your present inside, and the bag itself serves as a surprise extra gift.
We've provided a template with four embroidery designs and letters for monogramming. However, feel free to go your own route. We particularly love the idea of stitching something that has special meaning to the recipient. However, try not to attempt anything too complicated unless you're an embroidery wizard. Draw something ahead of time on paper and then follow the directions to trace, or freehand using a pencil directly on the muslin. A great idea for children's bags is to take some of their own simple drawings and tracing them right on the bags before stitching. So whether you stick with one of our template designs or head in a completely unique direction, it's all about making these bags just the way you want.
[GET INSPIRED: With 30 Of Our Favorite DIY Gift Ideas]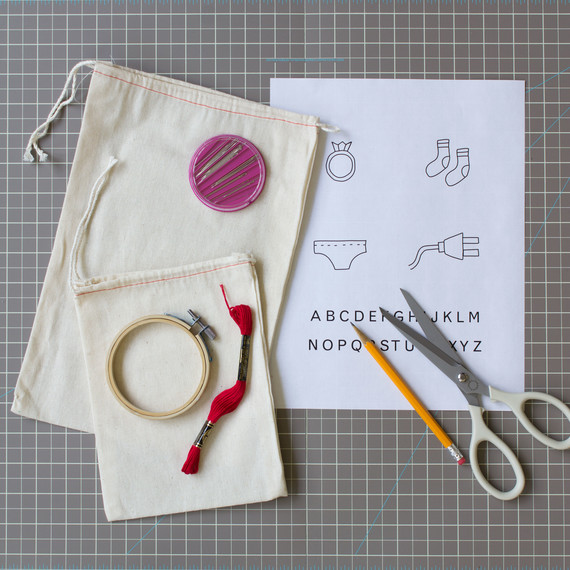 Materials:
Drawstring muslin bags
Embroidery thread
Embroidery hoop
Sewing needle
Scissors
Pencil
Step 1
After you've printed the template cut out the design you'd like to make. Slip the paper inside the bag and trace the motif with a pencil. If your bag is not translucent enough, hold over a bright window to trace. You can cut and trace the letters as well if you'd like to include a monogram. Alternatively, you can use your own design.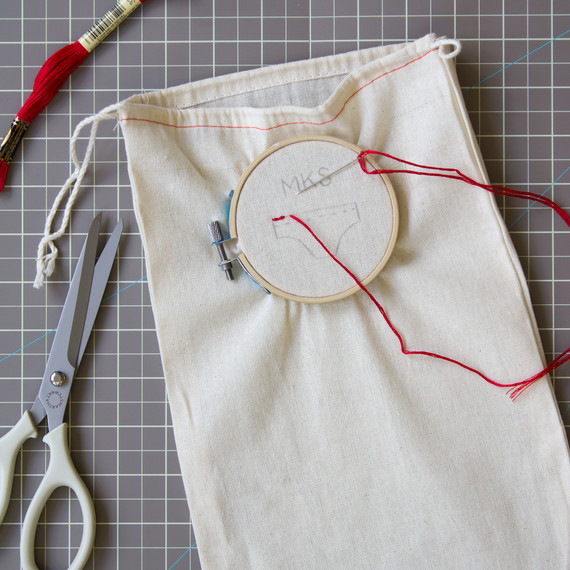 Step 2
Thread approximately 15-inches of embroidery thread on a needle and add a knot to the end. Secure the traced design in an embroidery hoop, making sure you've held just one side of the bag. Starting in one corner, sew a small ⅛-inch stitch. To make a backstitch, move your needle a ⅛-inch space away and stitch backwards, inserting the needle into the hole you finished the last stich in. Continue until you've covered the entire pencil design. Tie off the thread at the back and cut off any excess thread. 
Feeling inspired? Here's a scented holiday candle to pair with your bag: