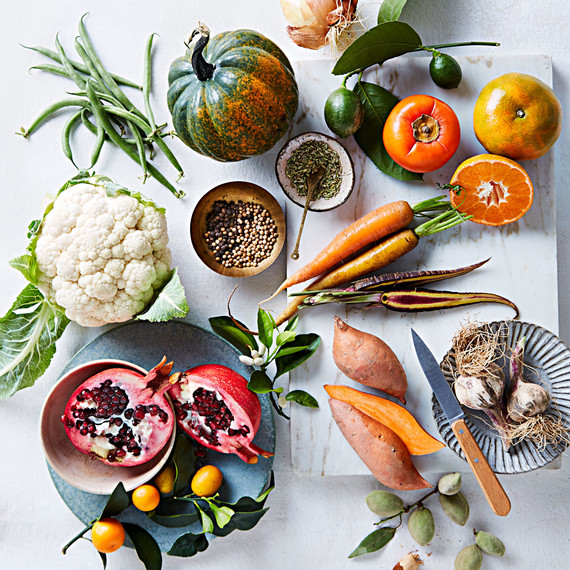 Bright and colorful, with plenty of herbs, hits of citrus, and lively textures -- that's how you like to cook. So why not treat your Thanksgiving meal the same way? Other than the turkey, which roasts in just two hours using our trusted technique, our entire mouthwatering menu can be made ahead, and much of it served at room temperature. And because we know how stressful trying something new at Thanksgiving can be, we've got you covered every step of the way, with a printable shopping list and a comprehensive plan starting two weeks before Thanksgiving.
Check Out Our Modern Thanksgiving Menu
Get the Printable Shopping List
The Prep Plan
Two Weeks Out
Order your turkey. We prefer organic birds, and local ones, if possible.
Replenish pantry staples (check spices, grains, olive oil, vinegar, nuts, flour, and sugar).
Order or buy wine, drinks, and cocktail essentials, like vodka and ginger beer for the spritz.
One Week Out
Make the cranberry-ginger simple syrup.
Pickle the chiles. (This can also be done up to a month before, or as late as 24 hours in advance.)
The Sunday Before Thanksgiving
Pick up your turkey and, if it's frozen, let it defrost in the fridge. General rule: A bird defrosts four pounds per day, so a 13-to-15-pound turkey needs up to four days. Remember to leave time for brining overnight, too.
Buy produce and other perishables.
Get out serving dishes and utensils, and wipe them clean.
Iron the linens.
One or Two Days Out
Buy or prep extra ice.
Break down and dry-brine the turkey.
Make turkey broth from the backbone and wings (optional), relish, stuffing, crunch, and big cookie. (Store in airtight containers.)
Peel and clean the carrots and parsnips; chop the Brussels sprouts; wash and dry the herbs (but don't chop them yet) and store them in resealable plastic bags.
Cook the green beans and refrigerate (covered).
Defrost the puff pastry and mix the filling for the tart.
Set the table.
The Morning Of
Bake the tart.
Roast the carrots, parsnips, and stuffed acorn squashes.
Make the yogurt sauce; chop the herbs and zest the citrus; set aside the garnishes for the turkey.
Cut the big cookie.
Get the turkey out of the fridge an hour and a half before it will go into the oven (i.e., about five hours before you plan to serve it).
Fill the coffeemaker with grounds and water, so it's ready to turn on after the meal; set out coffee cups.
An Hour Before Guests Arrive
Make the sweet-potato-and-cauliflower mash; dress the Brussels sprouts; toss the green beans.
Transfer the sides to serving dishes and garnish with herbs.
Mix a pitcher of cranberry-blood orange spritz.
Prep the chocolate and fruit for dessert.
Just Before Serving
Make the gravy, carve the turkey, and pour yourself an aperitif!