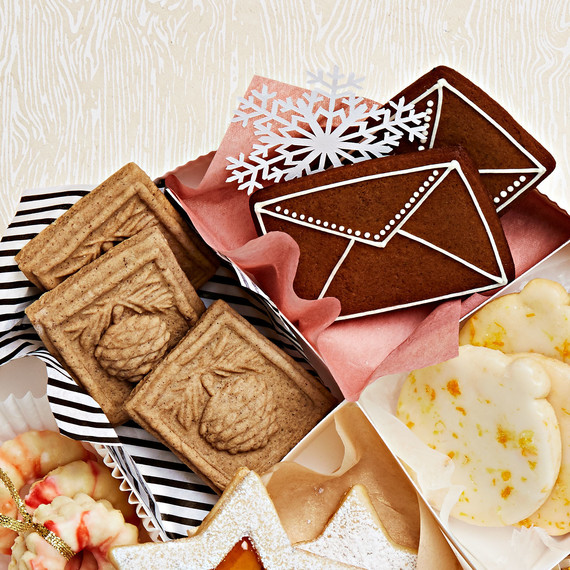 If there's anything we've learned from baking over the years, it's that you can never have too many cookies! Whether you package them to give or take a page out of Martha's entertaining playbook and set up a buffet table at your holiday party with an assortment of baked goodies, the key is balance. Mix and match cookies with different flavors, textures, and decorations. We always make sure to include one kid-friendly cookie and one fancy-schmancy cookie -- when else are we going to show off our baking prowess??!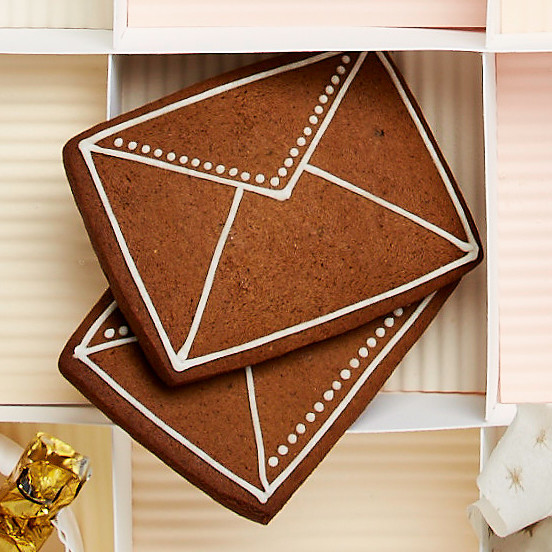 First up are our latest, greatest gingerbread cookies -- they're shaped like letters to Santa! They call for a textbook dough -- brown sugar, molasses, and plenty of ginger, cinnamon, and cloves -- and royal icing. The best part? You don't even have to dig out your use-once-a-year cookie cutters from the back of the cupboard! All you need is a sharp knife to cut the rolled-out dough into rectangles. Once the cookies are baked, pipe an envelope design or address the letter to Santa in the North Pole.
Get the Gingerbread-Cookie Letters to Santa Recipe
Next, bake a batch of what we like to call grown-up gingerbread cookies -- speculaas cookies. The traditional European treats have a sandier texture and a bigger dose of warm spices, including nutmeg, cardamom, mace, and white pepper. Now comes the fancy part: the dough is pressed into springerle molds -- carved wooden blocks -- before being baked. This year we imprinted the cookies with a festive pinecone, but you can use any shape you like -- evergreen trees, doves, acorns, walnuts, you name it. Whichever mold you choose, the intricate cookies are guaranteed to impress.
Get the Speculaas Cookies Recipe