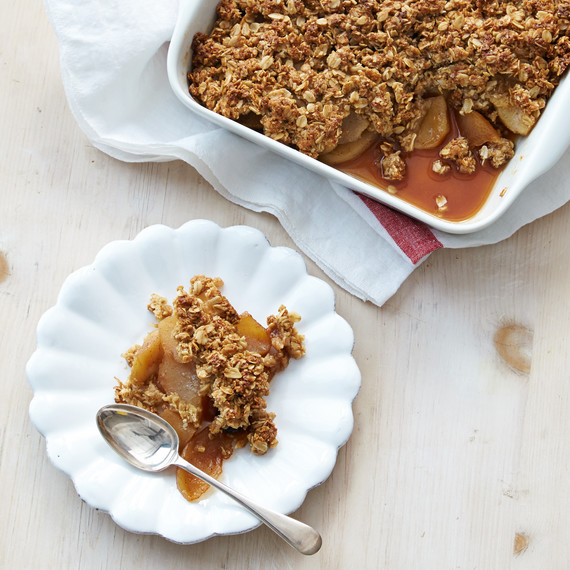 I don't know about you, but my fridge is overflowing with apples this time of year. My local farmers' market sets out sliced apples to sample, making it impossible to leave with less than a couple of pounds. Add to that weekend apple-picking missions, and I'm left trying to think of creative ways to use up the bounty. Sure they're perfect for snacking. Of course, there's applesauce to be made (my daughter is particularly fond of this pink version that gets its colorful hue from red skins.) And there's my favorite creamy kale salad. But this vegan apple crisp is the thing I look forward to most when the leaves start changing.
Get the Vegan Apple Oat Crisp Recipe
It's a pretty straightforward crisp: peel, core, and slice tart apples such as Braeburn, Golden Delicious, Cameo, or Gala, then toss them with light brown sugar, a bit of salt, cinnamon, and dried cherries. The vegan topping features extra-virgin coconut oil, light brown sugar, a dash of salt, and old-fashioned rolled oats -- both whole and ground into flour (if you use certified gluten-free oats, you've got a crowd-pleasing GF option). Brush an 8-inch square pan with coconut oil, add the apples, sprinkle with topping, and cover tightly with parchment-lined foil. Bake for half an hour until the apples have softened slightly, then uncover and continue baking until the apples are all the way tender and the topping is crisp and golden, another 30 minutes. Your kitchen will smell like heaven for about an hour.
I'm a fan of serving this crisp with something creamy, and to keep the coconut party going, I like to add a dollop of vegan coconut-milk yogurt. This crisp is a sweet finish to dinner, and it also makes a killer brunch addition. I can't think of a tastier way to knock out two pounds of apples from your harvest.
Get the Vegan Apple Oat Crisp Recipe
Tune in every Sunday for a new Healthy Appetite video from Shira Bocar.
Watch Shira make this super easy, totally irresistible Vegan Apple Oat Crisp: