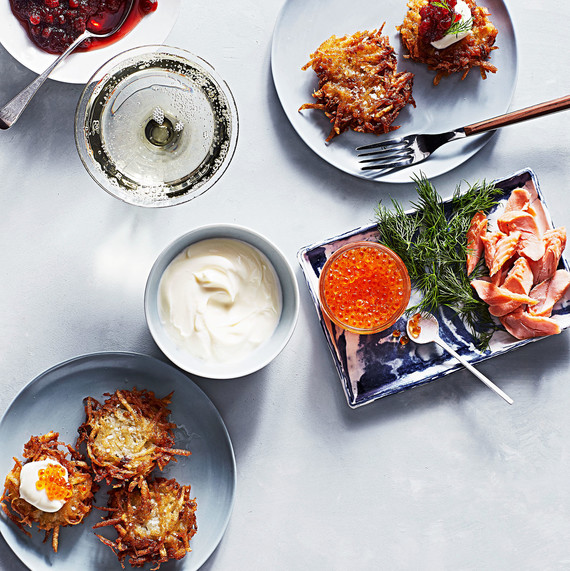 It's not a Hanukkah celebration without these fried-to-perfection potato pancakes, an Ashkenazi specialty that dates back centuries. Our go-to recipe renders them creamy on the inside and extra-crispy on the outside, and inventive toppings pile on more mouthwatering flavors. We went with creme fraiche, trout roe, smoked trout, and lingonberry jam for our traditional latkes, but sour cream, sambal oelek, horseradish mustard, and even thinly sliced pear would be wonderful.
Get the Classic Latkes Recipe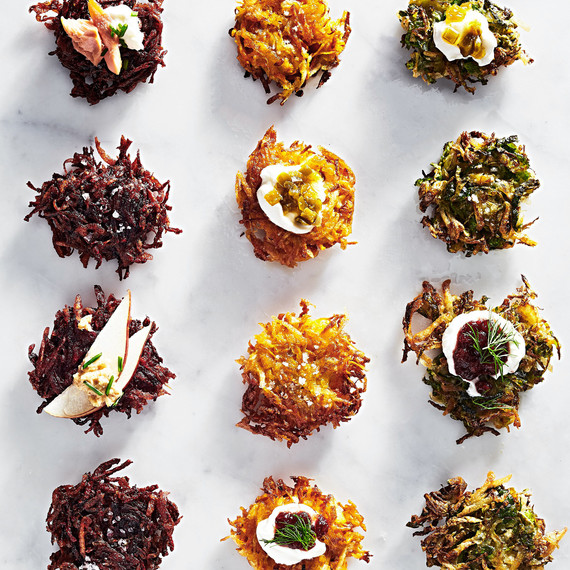 Our Test Kitchen's Secrets for Latke Success
For gold-standard potato pancakes, follow these easy steps.
1. Use russet potatoes. Their high starch content equals crispy latkes that won't fall apart.
2. A neutral oil with a high smoke point, such as safflower, is a must.
3. Add schmaltz (rendered chicken fat) to the oil for more flavor. Buy it online or at the butcher, or make your own.
Learn more about the wonder that is schmaltz, plus the easiest way to make it!
4. Three tools are essential. A box grater -- while a food processor makes quick work out of shredding potatoes, we found that the large holes of a box grater create the best texture; cheesecloth, to remove as much moisture from the potato mixture as possible -- key for crispy latkes; and a cast-iron skillet for browning. 
5. Alternating between onion and potatoes when grating keeps the potatoes from discoloring.
6. Toss latke mixture together just before frying; the longer it sits, the more liquid will release from the potatoes. Stir latke mixture in between batches to ensure even coverage of starch and leave behind any accumulated liquid as it sinks to the bottom of the bowl.
7. To test oil heat, flick a little of the latke mixture into the pan. If it sizzles immediately, start frying. Oil should be hot but not smoking.
8. Ideally, you should only flip the latkes once. Use the spatula to gently lift and check browning progress underneath pancakes.
9. Scoop the burnt bits out of the oil between batches, so they don't stick to the next latkes.
10. If making multiple batches of latkes, replenish oil as it gets lower than 1/4 inch, and let oil come to temperature (about 5 minutes).
3 Fresh Takes On Cakes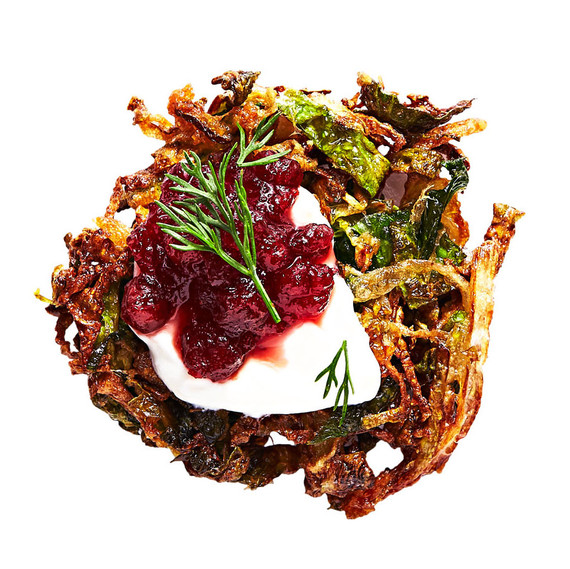 Go Green
Replace half of potatoes with 1 pound Brussels sprouts, trimmed and shredded (5 cups). Increase potato starch to 1/3 cup; use 3 eggs rather than 2. Let mixture stand 10 minutes before frying. Since Brussels sprouts brown more quickly, fry for just 3 minutes per side. Top with sour cream, lingonberry jam, and fresh dill.
Get the Brussels-Sprout Latkes Recipe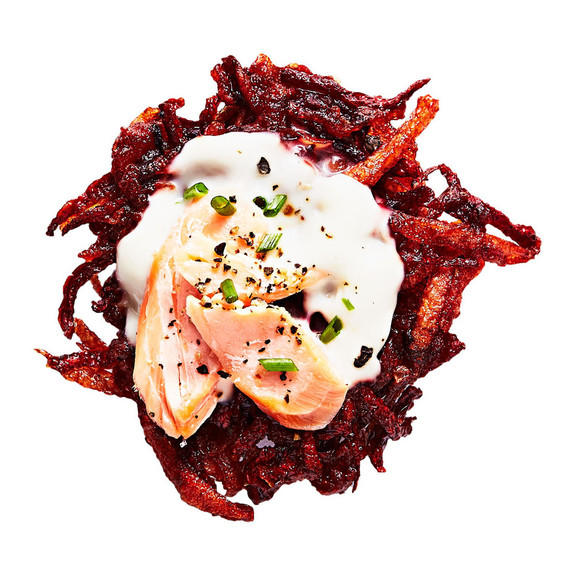 Beet It
Replace half of potatoes with 1 pound peeled beets (about 2 large or 4 small), shredded (4 cups). Increase potato starch to 1/3 cup. Top with creme fraiche, smoked trout, chives, and black pepper.
Get the Beet Latkes Recipe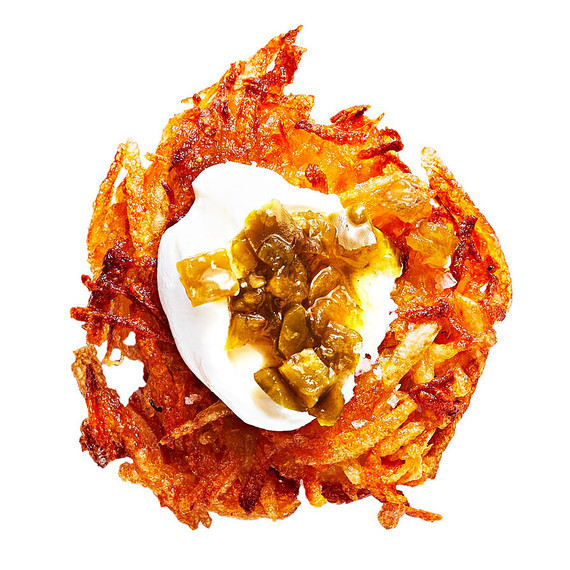 Cue the Carrot
Replace half of potatoes with 1 pound carrots (about 4 large), shredded (4 cups). Increase potato starch to 1/3 cup. Top with labne and jalapeno relish.
Get the Carrot Latkes Recipe