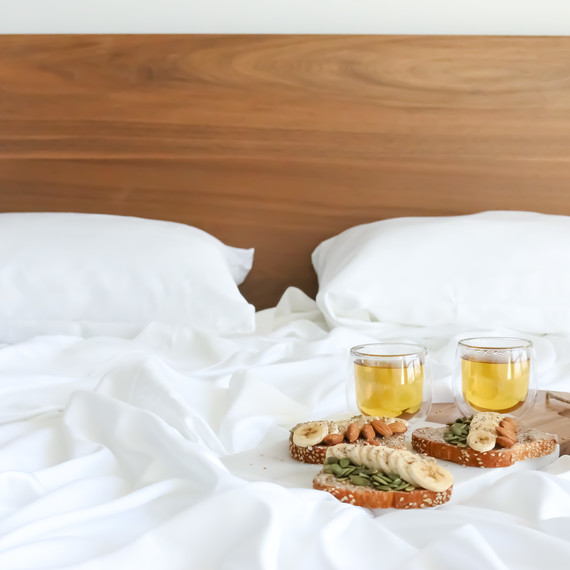 From plants that bring you luck to beautiful, earthy kitchenware, there's so much to love about bamboo both aesthetically and environmentally. As one of the fastest growing plants in the world -- with little to no need for fertilizers or pesticides -- bamboo is a great sustainable alternative to many conventional materials, like plastic and conventionally grown cotton. One of our favorites? Bamboo sheets. They're breathable, lightweight, and silky-soft to sleep on. But not all bamboo-based fabrics are "greener" for you or the planet. 
"Knowing a product is bamboo-based is nothing to brag about," warns Linda Greer, Senior Scientist for the Natural Resources Defense Council. "It's important to also look at where it comes from and how it's manufactured. Some bamboo is processed with so many chemicals, creating huge amounts of air pollution, that it's not really sustainable at all." Here's what to know and look out for before you buy -- plus one company that's changing the game for sustainable sheets.
How exactly does bamboo become a fabric? 

In its purest forms, fabric made from bamboo -- commonly known as bamboo linen -- begins with the stalks being crushed and broken down by natural enzymes. Once it resembles a pulpy substance, natural fibers are mechanically combed out and spun into yarns which then are woven in various textiles. This process is similar to that for flax and hemp-based fabrics. 
What does bamboo fabric feel like? 

Bamboo-based fabrics most closely resemble the texture of silk. Thanks to the plant's natural properties, it is also a very breathable fabric, drying 50% faster than most cottons. It is also more resistant to absorbing odors and naturally thermo-regulating. (Basically, they'll keep you cool and dry while sleeping, especially during the hottest seasons.) On the other hand, though durable, many bamboo-based fabrics do not use formaldehyde-based chemicals that help keep them wrinkle-free. Have your iron handy or simple embrace the wrinkle!
[LOVE: Bamboo? Watch Martha Make a Beautiful Bamboo Serving Tray]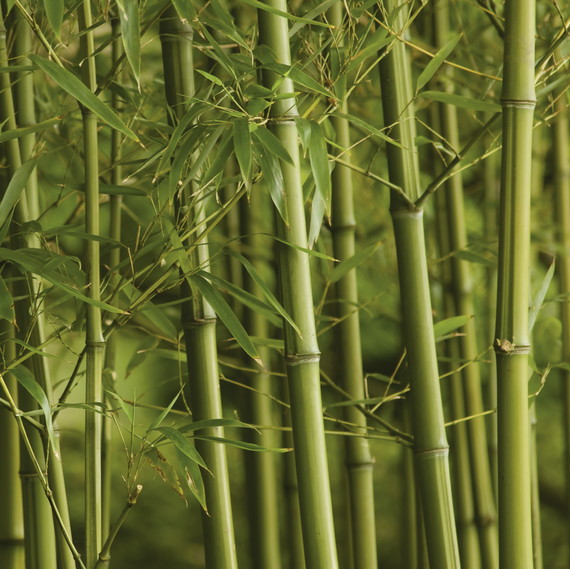 Are all bamboo-based fabrics the same? 

No. One commonly seen bamboo-based fabric is "bamboo rayon." Rayon is a man-made fiber using regenerated cellulose found in plants and trees; bamboo rayon uses cellulose from the bamboo plant. However, processing the fibers for bamboo rayon requires the use of many harsh chemicals, like carbon disulfide, that can strip the plant of most of its natural benefits and sustainable qualities. According to the FTC, when bamboo becomes rayon, there is often no sign of the original bamboo plant in the final product. 
Another commonly found bamboo-based fabric is bamboo viscose which is similar to bamboo rayon in texture and in manufacturing process. The two are often mentioned interchangeably. 
Bamboo Lyocell (commonly branded as Tencel) is a greener alternative that involves a similar cellulose process without all the toxic solvents. The Lyocell process is also "closed-loop" meaning it strives to produce minimal waste and emissions while consciously conserving water.
[CLOSE: The Loop At Home With Our 8 Easy Ways to Go Zero Waste!]
Are bamboo-based fabrics better than cotton? 

Bamboo-based fabrics often have the feel of a higher thread count while using a fraction of the fabric. For example, a bamboo-based fabric with a 320 thread count could pass for a cotton equivelant with a 500 thread count! 
From an environmental standpoint, unless you're using 100% organic cotton, most conventional cotton products -- from clothing to pillow cases -- require an enormous amount of water to harvest and produce. Compared to bamboo, which uses an average of 12 gallons of water to per pound of fabric, cotton requires 200 times more, partly because it is so sensitive to drought. Harvesting conventional cotton also accounts for 16% of the world's food and fiber insecticide use. 
I want to switch to bamboo sheets! Where should I start? 

Recently launched Canadian-based company, Kyoto Threads, sustainably manufacturs sheet sets through the Lyocell process. Made from FSC-certified organic bamboo, the sheets are ensured no harmful substances end up in the final product at the end of the manufacturing cycle. Not only are the sheets naturally moisture-wicking, antibacterial, and free of harmful chemicals -- even the plant-based coloring process is all-natural. The final product is ideal for people with sensitive skin or anyone who finds themselves overheating in their sleep. Talk about the dreamiest sleep ever!