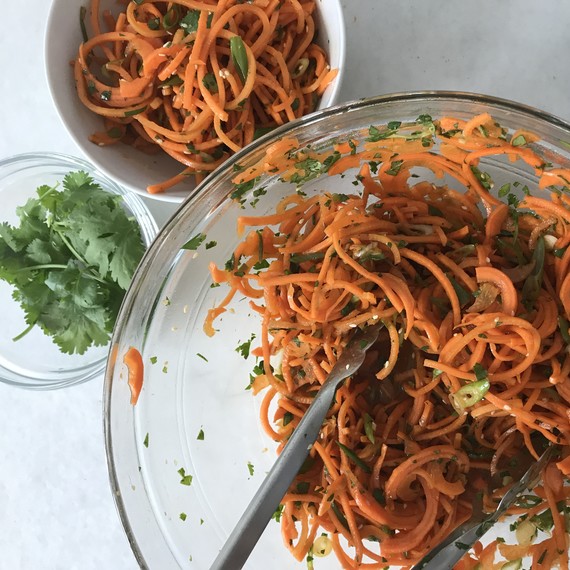 I do a fair amount of grocery shopping for my job and for home, and the one thing I keep spotting in the produce section of almost every store, small specialty shops all the way to large chains, is packaged vegetable noodles. Carrots! Beets! Zucchini! Sweet potatoes! Vegetable noodles are such a versatile ingredient, and a great way to add vibrant color and nutrients to dishes at home. And now they're widely available sliced and ready to go home with you.
Get the Spicy Sesame Carrot Noodles Recipe
I love these spicy sesame carrot noodles because of their simplicity. With just a handful of ingredients, you can enjoy an incredibly flavorful, crunchy, wholesome meal. Start by making a rich dressing: in a large bowl, whisk sesame oil, soy sauce, fresh lime juice, chili sauce, and a touch of honey. (The honey gives the dressing body and amps up the natural sweetness of the carrots.) For the carrot noodles, there are a few routes. If you didn't grab them pre-sliced at the store, you can cut carrots on a table spiralizer or handheld version. You can thinly slice the carrots into a julienne if you want to practice your knife skills. 

Toss carrot noodles, sesame seeds, scallions, and cilantro with the dressing. Really get in there with a pair of tongs to make sure every strand is evenly coated. The dressing not only seasons the carrots, it also helps tenderize them. You can serve this salad straightaway or tuck it away in the fridge for an hour to let the flavors meld. I love this salad for a simple dinner (bonus: it's a no-cook affair). You can also round it out with a soft-cooked egg, grilled shrimp, or a handful of steamed edamame. 
Get the Spicy Sesame Carrot Noodles Recipe
Tune in every Sunday for a new Healthy Appetite video from Shira Bocar.
Watch Shira take carrot noodles to the next level: