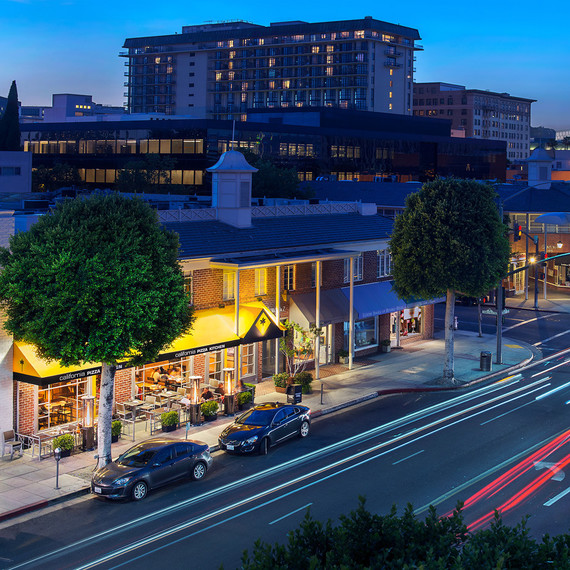 When associate food editor Lauryn Tyrell was developing a BBQ chicken pizza recipe for marthastewart.com, of course we discussed California Pizza Kitchen. The Los Angeles-based restaurant chain did invent the dish after all, at its original location in Beverly Hills. BBQ chicken pizza was the brainchild of former Spago pizza chef Ed LaDou, who consulted on CPK's first menu in 1985 and turned everything from a BLT to Peking duck into pizza toppings.
Get Spago's Wild Mushroom-and-Pesto Pizza Recipe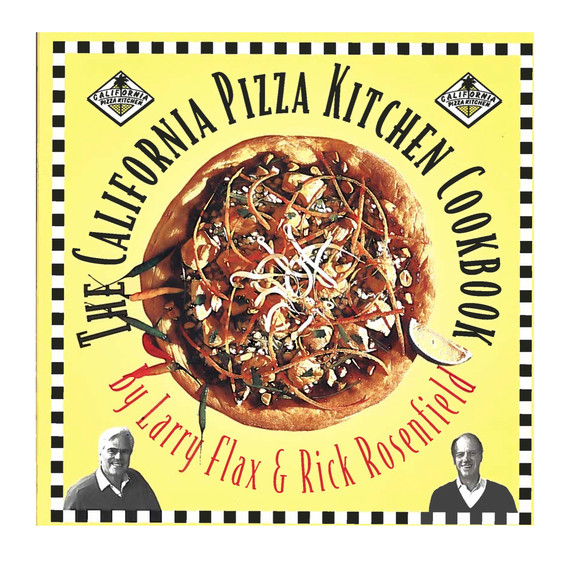 CPK has become quite the California export since its launch 32 years ago. There are now nearly 300 CPKs, in 30 U.S. states and 16 countries, and their brand of frozen pizzas can be found in grocery stores nationwide. There have even been multiple cookbooks published with recipes for their greatest hits. And through it all, the BBQ chicken pizza has remained CPK's crown jewel.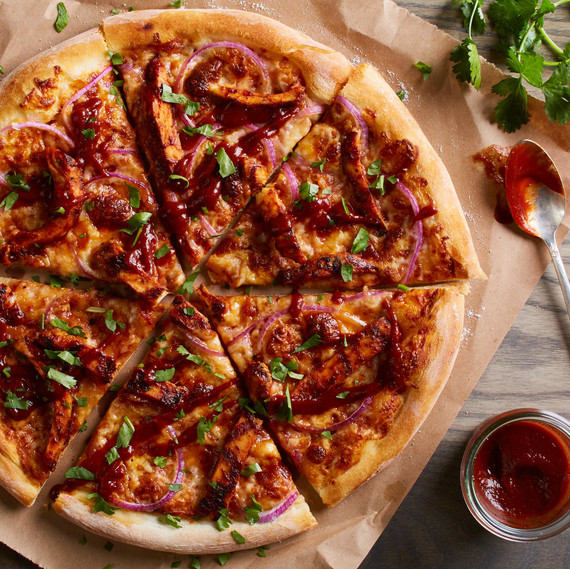 Brian Sullivan, CPK's senior vice president of culinary innovation who has been with the company for 29 years, says, "The BBQ chicken pizza is still the king. It's always the number-one selling pizza. It has stood the test of time. It's magical in the way it was created and still holds that same magic. The recipe hasn't changed; the pizza's gotten a little bigger since 1985, but the actual ingredients haven't changed. It's so iconic that we can't -- the BBQ sauce is still our custom BBQ sauce, and it's still got mozzarella, smoked Gouda, red onions, fresh cilantro, and BBQ chicken on it." While pizza purists might turn up their noses at the dish, there's no denying that it's delicious. For Lauryn and me, it's also an exercise in nostalgia.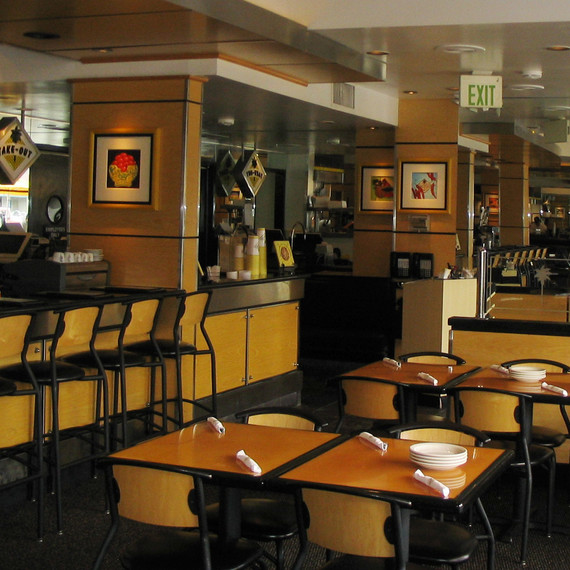 Despite its ubiquity today, CPK had a special-occasion aura to it when Lauryn and I were growing up in the '90s and early '00s. We both lived in a sprawling area of northern Los Angeles called the Valley, which at least back then, was a bit of a dining desert. But we could always count on that stalwart strip-mall restaurant with something for everybody: CPK. Lauryn says, "We always went there for my brother's birthday, after soccer games…we were there all the time."
CPK also factored into our food education. It was where Lauryn first tried blue tortilla chips -- in their spinach-and-artichoke dip. Where she first had two soups in one bowl -- perfect for indecisive kids! It was where I learned what an Arnold Palmer was and had my first taste of jicama -- in CPK's second-most popular dish, the BBQ chicken chopped salad.
Get Our BBQ Chicken Salad Recipe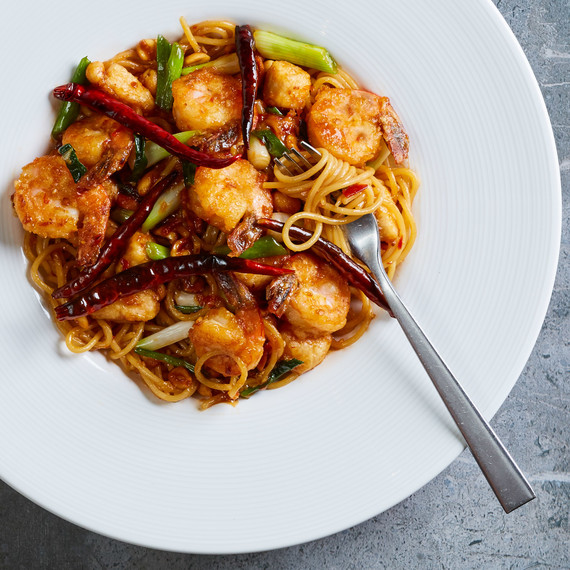 It was also where I first encountered "Asian fusion," a concept that had and still has its naysayers, but dishes like Kung Pao spaghetti and Szechuan chicken dumplings only made my family warm up to CPK faster. What was perhaps intended as "exotic" for Americans at the time, my immigrant family simply found approachable. Sullivan says, "The beautiful thing about our menu is that we're not pigeonholed into one cuisine. We incorporate global flavors and techniques across every cooking platform. We have Thai, Vietnamese, Chinese, Mexican, and Italian cuisine mashing up in all these different ways. When I think about California, I think about innovation. California's cool, it's this place you can be free -- those attributes to this day are reflected within our menu."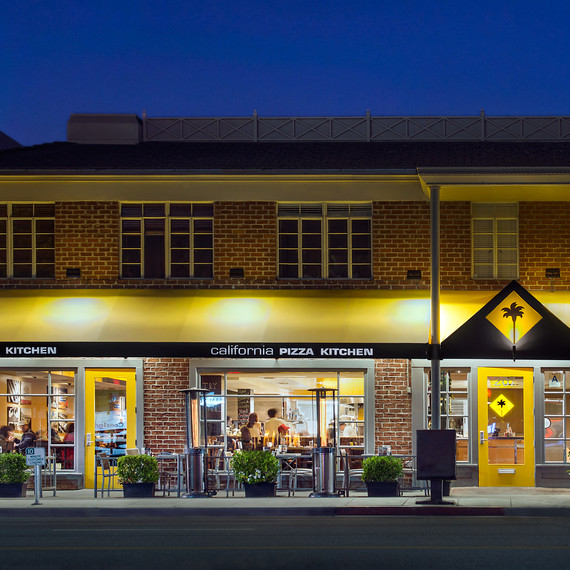 The problem with so many restaurant chains is that there's no sense of place, but for CPK, it's right there in the name and the sunny yellow, palm tree-emblazoned logo. There might not be a distinctive neighborhood feel at any of their outposts, but each one boasts the same veneer of California that's comforting all the same. Plus, there's that BBQ chicken pizza -- a taste of Los Angeles from a specific time that has truly endured, and for Lauryn and me, a taste of home that takes us back to our childhoods.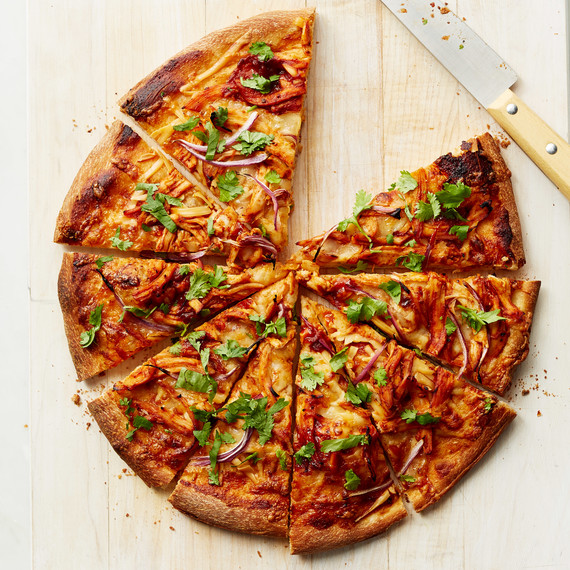 CPK's menu has of course adapted to the times over the years, thanks to Sullivan and his innovation kitchen in Los Angeles. There are now small plates, grain bowls, and zoodles available, all infused with the aforementioned "global" influence. But unsurprisingly, the pizzas were and are still the main event. Lauryn says, "They were so flavorful and delicious, at least to my palate as a kid. CPK is of course where I first had BBQ chicken pizza, and in my opinion, there's no other BBQ chicken pizza to be had. I definitely used the memory of it as the inspiration for our recipe."
Her tips for getting our riff just right? Use a classic barbecue sauce -- nothing with too much flair. Consider adding pickled jalapenos for some heat. And most importantly, while it might be more controversial than pineapple on pizza, don't leave out the cilantro topping. Lauryn says, "For this pizza, you have to. The cilantro makes it. I don't want even want to talk to the people that don't add it!" I of course include the cilantro -- not only does it totally work on the pizza, but also, if I didn't, who else would I talk to about CPK??!
Get Our BBQ Chicken Pizza Recipe