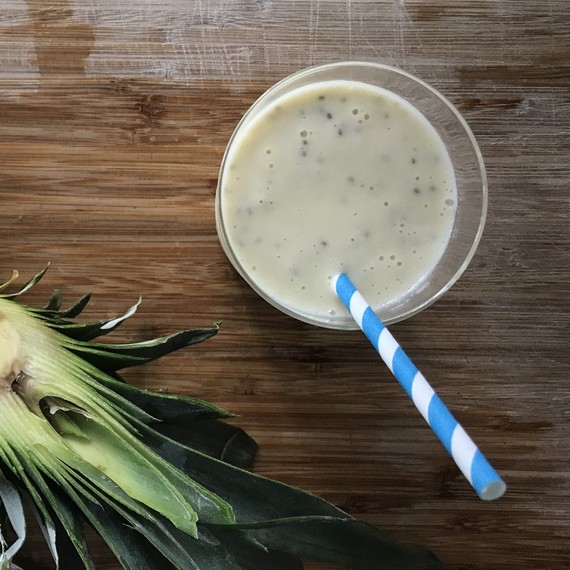 Wake up your morning smoothie routine with the vibrant flavors of fresh pineapple, bananas, and coconut. Bonus: this pina colada-inspired blender drink is ready in under five minutes. 
Get the Pineapple-Coconut Smoothie Recipe
Let's start with the pineapple. You can pick up a bag of frozen chunks to cut down on prep time, but I like all the extras you get with chopping up a whole fruit. Wash the fruit well, chop off the sharp fronds on top, and remove the tough skin with a serrated knife. Switch over to a chef's knife to quarter the fruit and remove the woody core. (If you picked up an organic pineapple -- drop the skins and core in a pitcher and cover with water to infuse. Then quaff that pineapple water when you're thirsty.) Chop up the rest into bite-size chunks. Freeze extras in a single layer on a parchment-lined baking sheet. Once they're firm (that usually takes a couple of hours), transfer the chunks into a resealable plastic bag. This way you can retrieve a few pieces at a time versus a giant frozen pineapple iceberg. It's homemade IQF (Individually Quick Frozen). 

For the bananas, you don't have to start with frozen; if fresh is what you have, use them. I always seem to end up with frozen, overripe bananas in my freezer because I'm a fan of smoothies. Remove peels from bananas and store them in resealable plastic bags. Greek yogurt adds a pleasant tanginess and a shot of protein. I've long been a fan of adding a spoonful or two of coconut oil to smoothies for the intense boost in flavor. (Looking for ways to use up your jar of extra-virgin coconut oil? Check out this avocado toast.) You can add chia seeds straight to the smoothie for an omega-3 boost, or you can use soaked seeds for more body. 
Rich in vitamin C, healthy fat, and fiber, this smoothie will keep you energized all morning. 
Get the Pineapple-Coconut Smoothie Recipe
Tune in every Sunday for a new Healthy Appetite video from Shira Bocar.
Watch Shira make this dreamy morning drink: