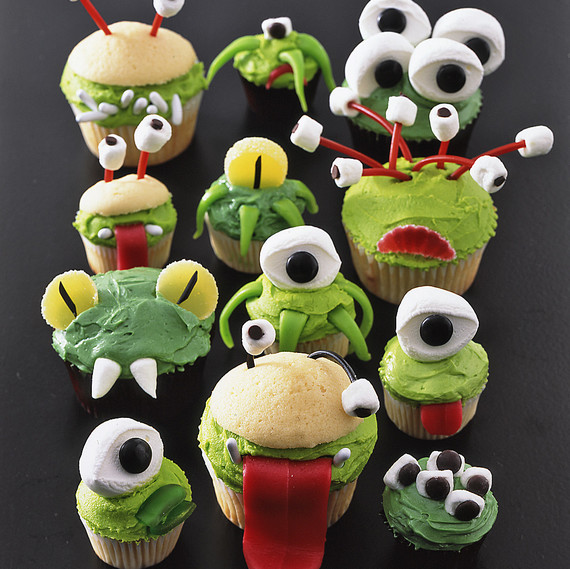 Close encounters of the sweet kind are coming soon to a kitchen near you. Though you might expect frosted cupcakes to have sugary personalities, don't be fooled. These desserts have a dark side, which we've coaxed out with common candies. In fact, candy stores are breeding grounds for tasty but gruesome goodies.
Find out how licorice, marshmallows, gumdrops, and more can mutate into sharp fangs, bulbous eyes, and other freaky features. Just don't turn your back on the finished cupcakes; they've got some sneaky tricks up their sleeves -- er, liners. Start with any cupcake and frosting recipes you please, such as our One-Bowl Chocolate Cupcakes and Swiss Meringue Buttercream, then use candy to create their monstrous features.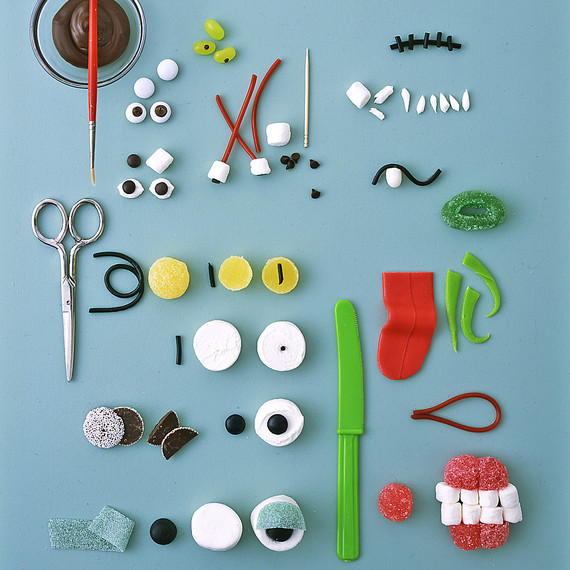 Toppings
Candy-coated chocolates with melted chocolate or mini marshmallows
Jelly beans with melted chocolate
Marshmallows with licorice and mini chocolate chips
Licorice laces
Mini marshmallows
Licorice and jelly beans
Gummy rings
Licorice with gumdrops or marshmallows
Marshmallows with candy-coated chocolates or gummy tape and licorice drops
Taffy tape
Gumdrops and marshmallows
Decorating Techniques
Eyes
Use marshmallows and candy-coated chocolates for whites of eyes; jelly beans or gumdrops for peepers with an eerie glow. For pupils, paint on melted chocolate (microwave 1/2 cup chocolate chips for 1 minute). Or use candies whole: candy-coated chocolates will stick to marshmallows sliced to expose their stickiness; for our aliens' eyes, we pushed chocolate chips, tip down, into marshmallows, then made a hole in the other side with a toothpick and inserted a licorice lace. Cut gummy tape for an eyelid.
Mouths
Sandwiched between halved gumdrops, marshmallows form a toothy grin; snip irregular pieces for fangs. Bend licorice or gummy rings into grimaces, or cut taffy tape for a tongue or tentacles.
Ready to decorate? Check out all of our creepcakes, including aliens, spiders, mummies, and more!
Watch this throwback video of Martha making a batch of creepcakes: