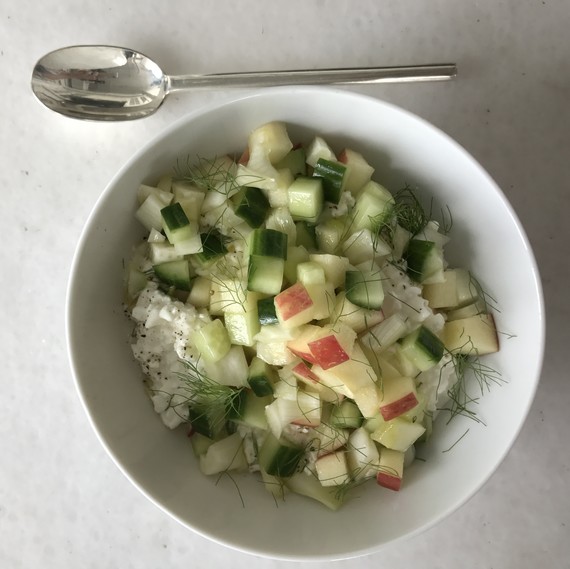 As​ ​a​ ​kid I​ ​was​ ​always​ ​fascinated​ ​with​ ​the​ ​'Diet​ ​Delights​' ​section​ ​of​ ​the​ ​pancake​ ​house​ ​menu​.​ ​It featured​ ​a​ ​photo​ ​of​ ​a​ ​scoop​ ​of​ ​cottage​ ​cheese​ ​on​ ​a​ ​bed​ ​of​ ​iceberg,​ ​flanked​ ​with​ ​sliced​ ​melon​ ​or strawberries.​ ​"Why​ ​would​ ​anyone​ ​want​ ​to​ ​eat​ ​that​ ​for​ ​breakfast?" ​I​ ​would​ ​ask​ ​the​ ​table.​ ​Flash forward​ ​a​ ​few​ ​years,​ ​and​ ​I've​ ​found​ ​a​ ​much​ ​improved​ ​version​ ​of​ ​this​ ​salad,​ ​and​ ​I'm​ ​having​ ​it​ ​for lunch.
Get the Chopped Salad with Cottage Cheese Recipe
This​ ​cottage​ ​cheese​ ​combination​ ​hits​ ​all​ ​my​ ​favorite​ ​notes​;​ ​it's​ ​a​ ​perfect​ ​balance​ ​of​ ​savory, crunchy,​ ​tart​, ​sweet,​ ​and​ ​creamy​. ​(Also,​ ​you​ ​had​ ​me​ ​at​ ​"chopped​ ​salad.")​ ​I'm​ ​using​ ​chopped fennel,​ ​apple,​ ​and​ ​cucumber​ ​here,​ ​but​ ​there's​ ​lots​ ​of​ ​room​ ​for​ ​improvisation.​ ​Radishes,​ ​celery, carrots,​ ​bell​ ​peppers,​ ​and​ ​quick​-​blanched​ ​green​ ​beans​ ​or​ ​asparagus​ ​would​ ​all​ ​be​ ​at​ ​home.​ ​On the​ ​fruit​ ​front,​ ​apples​ ​are​ ​my​ ​favorite​ ​option​ ​because​ ​they​ ​bridge​ ​the​ ​world​ ​of​ ​savory​ ​and​ ​sweet. Use​ ​different​ ​varieties,​ ​like​ ​Honeycrisp​ ​for​ ​a​ ​bright​ ​sweetness​ ​or​ ​Granny​ ​Smith​ ​for​ ​a​ ​tart​ ​hit.​ ​(If you​ ​enjoy​ ​another​ ​type​ ​of​ ​crunchy​ ​fruit,​ ​I'd​ ​love​ ​to​ ​hear​ ​your​ ​ideas!​ ​Leave​ ​comments​ ​below.)
Make​ ​a​ ​simple​ ​vinaigrette​ ​using​ ​rice​-wine​ ​vinegar​ ​(white​-​wine​ ​or​ ​apple​-​cider​ ​would​ ​work​ ​too) and​ ​extra-virgin​ ​olive​ ​oil.​ ​Season​ ​with​ ​salt​ ​and​ ​pepper​ ​and​ ​toss​ ​diced​ ​fruit​ ​and​ ​vegetables.​ ​You can​ ​use​ ​this​ ​mixture​ ​straight​ ​away​ ​or​ ​tuck​ ​it​ ​in​ ​the​ ​fridge​ ​for​ ​a​ ​couple​ ​of​ ​hours.​ ​(I​ ​think​ ​the​ ​flavor improves​ ​as​ ​the​ ​fruit​ ​and​ ​vegetables​ ​marinate​ ​in​ ​the​ ​dressing.)​ ​Serve​ ​spooned​ ​over​ ​a​ ​scoop​ ​of cottage​ ​cheese​ ​and​ ​garnish​ ​with​ ​fennel​ ​fronds​ ​or​ ​chopped​ ​parsley.​ ​
If​ ​you're​ ​packing​ ​this,​ ​I recommend​ ​spooning​ ​the​ ​vegetable​ ​mixture​ ​into​ ​the​ ​bottom​ ​of​ ​your​ ​container​ ​and​ ​topping​ ​with cottage​ ​cheese​ ​--​ ​this​ ​keeps​ ​the​ ​juices​ ​at​ ​the​ ​bottom.​ ​Cottage​ ​cheese​ ​is​ ​a​ ​rich​ ​source​ ​of​ ​protein, so​ ​this​ ​salad​ ​will​ ​keep​ ​you​ ​feeling​ ​full​ ​and​ ​energized​ ​all​ ​afternoon.​ ​I​ ​like​ ​to​ ​eat​ ​this​ ​with​ ​hearty, nutty​ ​crackers​ ​such​ ​as​ ​Raincoast​ ​Crisps.​ ​If​ ​I've​ ​got​ ​tender​ ​greens,​ ​I'll​ ​throw​ ​those​ ​on​ ​top​ ​too. Get​ ​your​ ​knife​ ​work​ ​out​ ​of​ ​the​ ​way​ ​at​ ​the​ ​beginning​ ​of​ ​the​ ​week,​ ​and​ ​enjoy​ ​this​ ​salad​ ​all​ ​week​ ​-- it's​ ​great​ ​for​ ​a​ ​quick​ ​dinner​ ​or​ ​late-afternoon​ ​snack.
Oh,​ ​looking​ ​for​ ​ways​ ​to​ ​use​ ​up​ ​the​ ​rest​ ​of​ ​your​ ​cottage​ ​cheese​ ​container?​ ​Great​ ​options​ here​.
Get the Chopped Salad with Cottage Cheese Recipe
Tune in every Sunday for a new Healthy Appetite video from Shira Bocar.
Watch Shira make this easy, versatile chopped salad with cottage cheese: