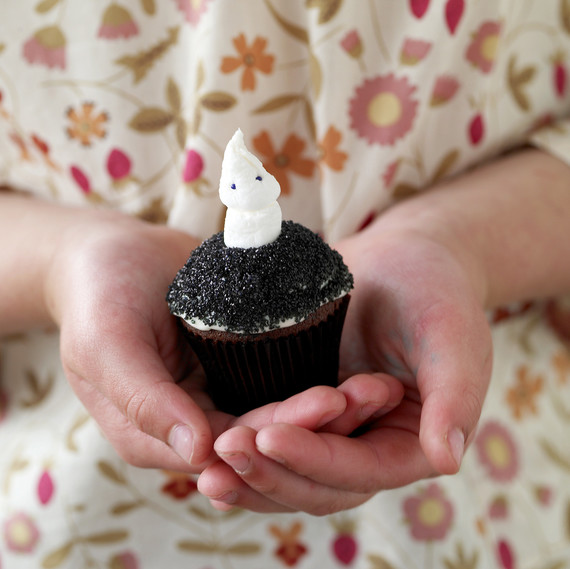 We love playing with candy this time of year. It's colorful, and its soft stickiness makes it perfect for crafting. And the licorice, marshmallows, and gummy candies that work best can be found at your supermarket, drugstore, or local candy store. With a few simple tricks and techniques, you can make all sorts of monsters and creatures -- they're just the thing for decorating a batch of Halloween cupcakes. Any cupcake or frosting recipes will work as the base, but our One-Bowl Chocolate Cupcakes and Cream Cheese Frosting are a tried-and-true combination.
A couple rules of thumb: When you snip, slice, or poke candies, you expose a stickiness that helps adhere them to one another. The bigger the exposed part, the stronger the bond will be. When you use a toothpick to scrape away the sugar coating on gumdrops, you make spots for adding small features. The toothpick's tip will get sticky too, so you can use it to pick up tiny nonpareils. Dabs of "gumdrop goo" can also be used as glue.
Marshmallows and gumdrops (and their smaller siblings, spice drops) are perfect for heads and bodies. Sprinkles, nonpareils, bits of licorice laces, and other tiny candy or cake decorations make great features. Browse the candy aisle and you're likely to find even more body parts. Then grab toothpicks and kids' scissors for tools, and you're ready to have a monster-making party.
Any child over age 5 can join in the fun (hard or gummy candy can be a choking hazard for younger ones). Kids can cut the marshmallows and gumdrops using scissors and squish them together. Older kids or grown-ups can use toothpicks to poke the candy and stick on features. Once the creatures are assembled, rest them on frosting and experiment with different sprinkles and colored sugars to make them stand out. You may never look at sweets the same way!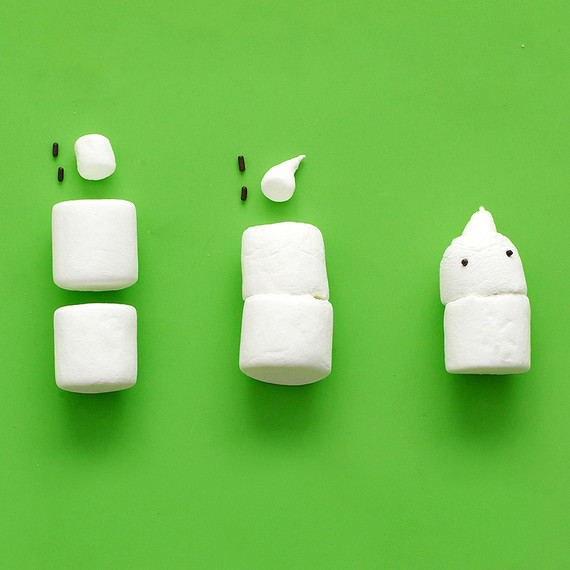 1. Ghost
Ingredients
1 miniature marshmallow
2 regular marshmallows
2 chocolate sprinkles
Directions
Twist top of miniature marshmallow into a point by rolling it between your thumb and index finger. Trim all 3 marshmallows, and stick together. Twist top 2 slightly to shape. With a toothpick, poke holes, and insert sprinkle eyes. You can pair the topper with any cupcake and frosting you like, but might we recommend black sanding sugar on vanilla frosting? The combo makes our marshmallow ghost really shine.
Rather make a full cake? Use these toppers to decorate our Chocolate Marshmallow-Ghost Cake instead!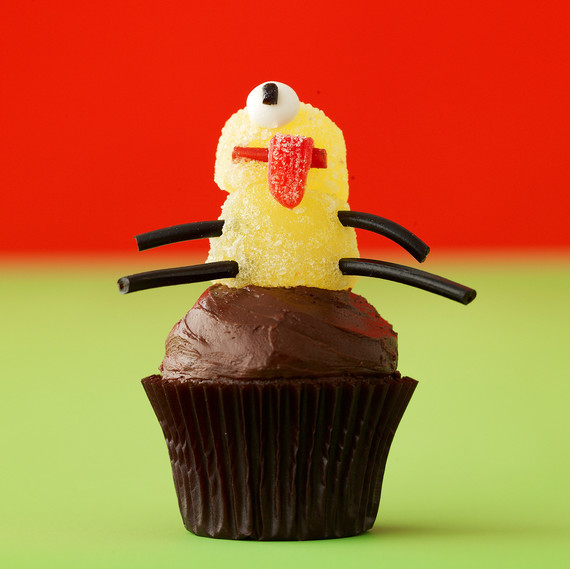 2. Cyclops
Ingredients
1 red sour belt
2 yellow gumdrops
Black and red shoestring licorice
White candy cake decoration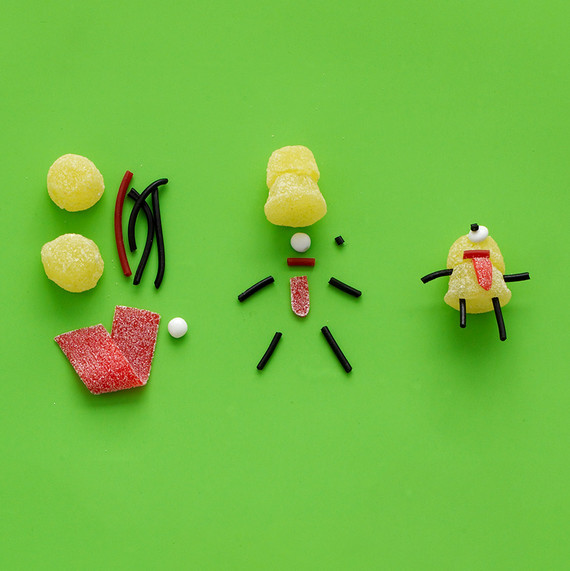 Directions
Cut sour belt into a tongue. Trim gumdrops and stick them together for head and body. Snip black licorice for arms, legs, and pupil and red licorice for mouth. Poke holes for eyeball, arms, and legs, and scrape away sugar for mouth and tongue; place those pieces. Use tiny dabs of "glue" from a gumdrop to secure pupil to eyeball.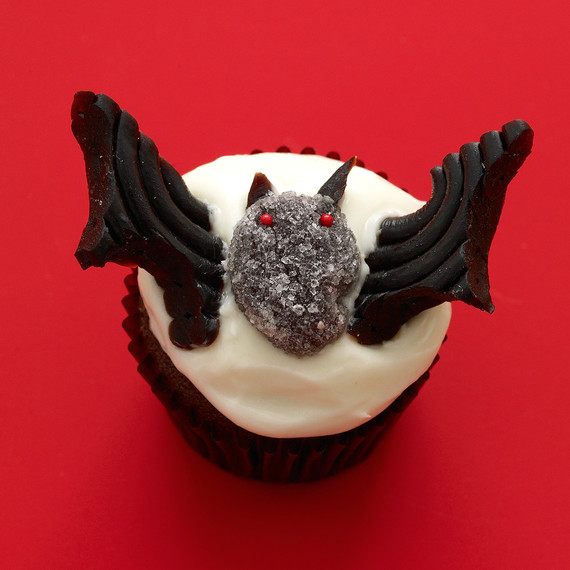 3. Vampire Bat
Ingredients
1 black licorice wheel
1 black gumdrop 
2 red nonpareils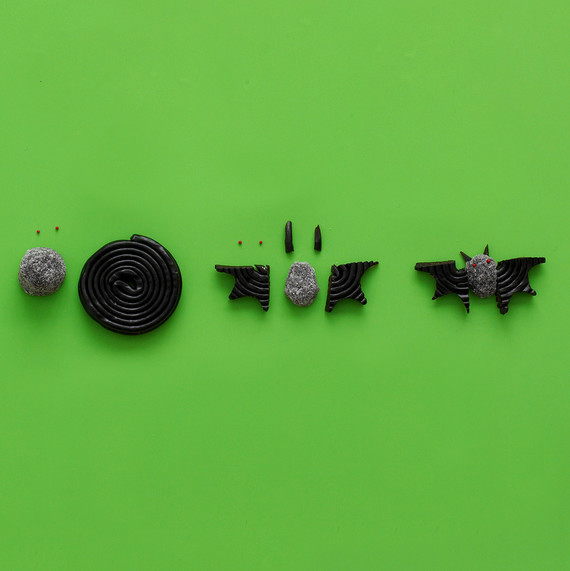 Directions
With scissors, cut licorice wheel in half and then into 2 wing shapes. Cut off sides of gumdrop for body, and press wings to sticky parts. Cut ears from remaining licorice wheel. With a toothpick, poke holes, and insert ears and nonpareil eyes.
Now use these techniques to make the creatures below or to fashion your own creepy -- or cute -- sweets!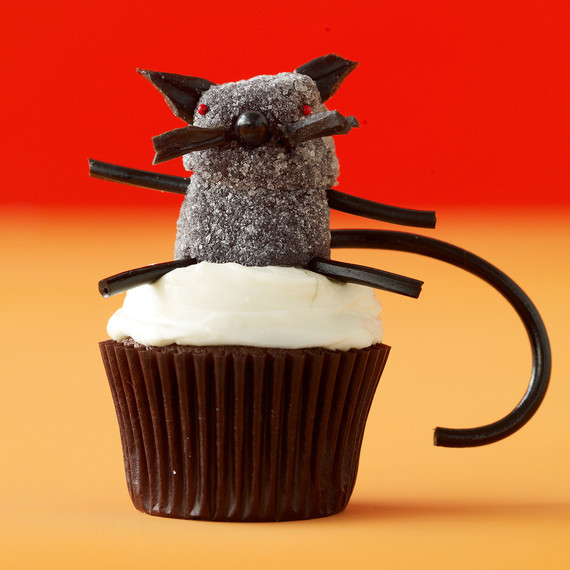 4. Black Cat
Two black gumdrops adorned with licorice limbs, tail, and ears form a devious black cat. Two red sprinkles give him a devilish stare.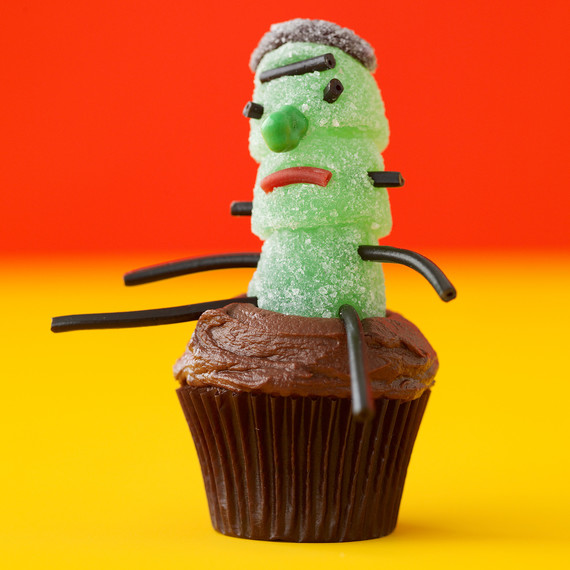 5. Frankenstein
Three green gumdrops stacked on top of each other form Frankenstein's face and body. You'll need black licorice for his limbs and forehead, and a black gumdrop for the hair. A small piece of red licorice forms a grim mouth. Complete your monster by giving him two black sprinkle eyes, plus a green mint nose.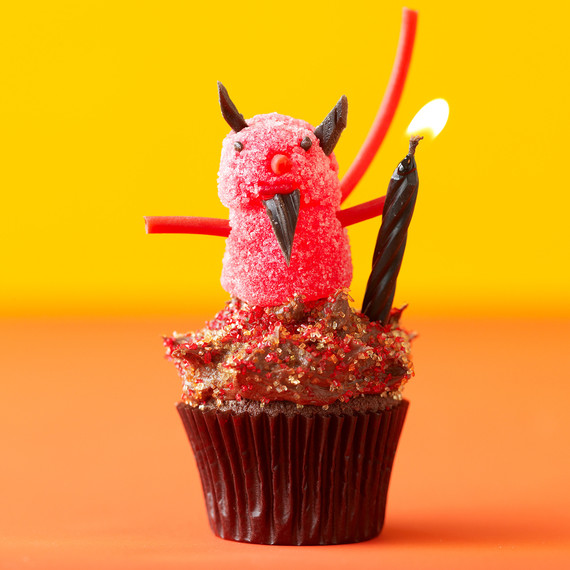 6. Little Devil
To make this delicious devil, you'll need two red gumdrops, red licorice for his arms and tail, black licorice for ears and beard, and two black sprinkles for the eyes. A black candle serves as this trickster's flaming staff. Red, orange, and yellow sanding sugars on peaked frosting look like flames beneath our devil.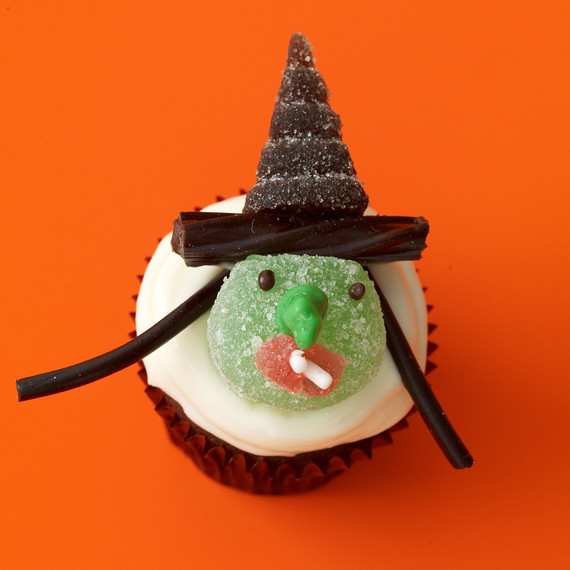 7. Wicked Witch
To make this candy witch, use a green gumdrop for a face, a piece of red gumdrop and a white sprinkle for the mouth, licorice for her hair and hat brim, and a black gumdrop molded into a triangle for the pointy witch's hat. Add two black sprinkles for the eyes, and a green mint for a nose.