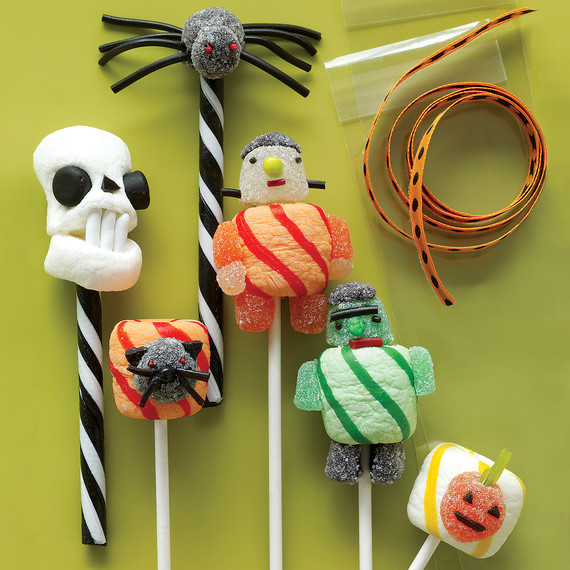 Looking for something fun to do with the kids this Halloween? Try making these candy creatures together -- they may be small, but they're mighty delicious. The spooky monsters and skulls are built around a lollipop or a striped candy stick and make excellent party favors or classroom gifts when slipped into tall cellophane bags tied with decorative ribbon. You can also modify the easy techniques below to make pops that star black cats, spiders, or jack o'lanterns.
Whichever creatures you or the little ones choose, you'll only need two tools to bring them to life (and you probably already have them on hand!): kids' scissors to cut the candy, and toothpicks to poke the candy and stick on the features. Hosting a Halloween party? Consider setting up a lollipop-making station for the kids -- it's the perfect exception to the don't-play-with-your-food rule.
Monster Lollipops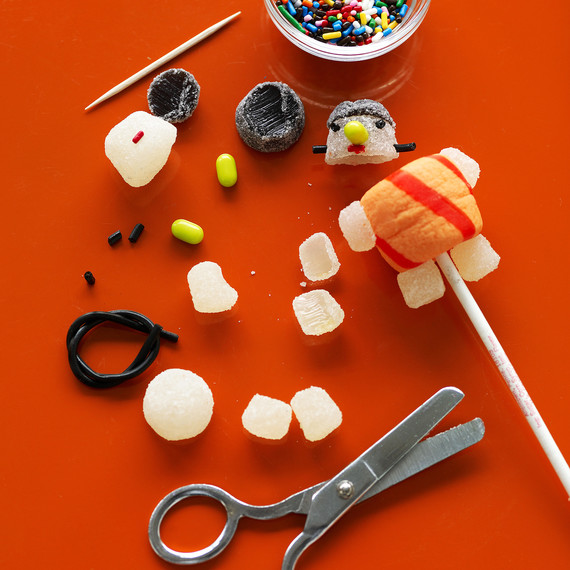 Ingredients
White and black gumdrops
Lollipops
White spice drops
Green candy mints
Black shoestring licorice
Red sprinkles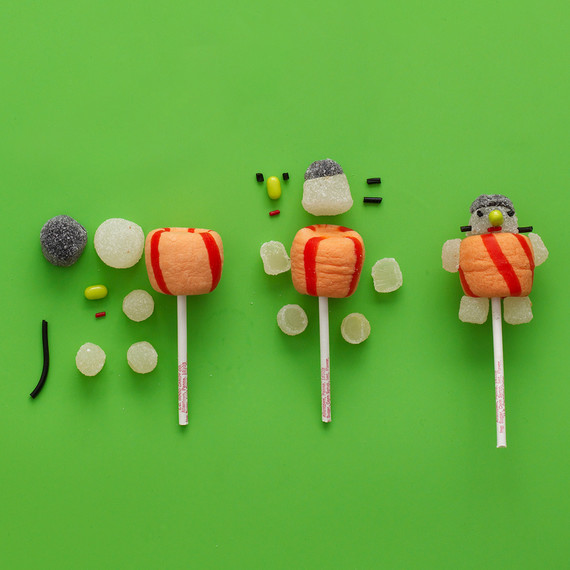 Directions
1. Cut top and bottom off white gumdrop and press to top of lollipop. Cut top off black gumdrop and add for monster's hair. Cut a white spice drop in half lengthwise for arms, and cut tops off 2 more to use for legs; press limbs into place on body.
2. Poke holes on face and add mint nose, snipped licorice eyes and neck bolts, and red sprinkle mouth.
Skull Lollipops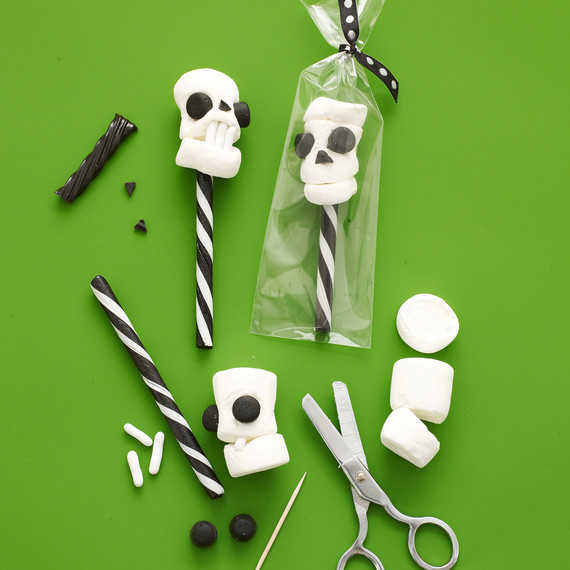 Ingredients
Marshmallows (regular, not mini)
White candy-coated licorice pastels
Black licorice drops
Black licorice
Candy stick
Directions
1. With scissors, cut one marshmallow widthwise to expose stickiness and make pieces for the head and jaw.
2. Poke holes with a toothpick to make sticky spots for eyes, teeth, and nose. Poke white candy-coated licorice pastels into jaw for teeth, and press in black licorice drops for eyes. Snip a piece of black licorice, twist into a small triangle for the nose, and press into place.
3. Poke a few times with the toothpick into marshmallows to make a large hole for a candy stick. Push candy stick into hole, through jaw, and into skull. Wrap in cellophane bag if desired.