Mom was having a milestone birthday and requested that, instead of a party or present, I accompany her to Paris. I was already a passionate Francophile and wanted her to see, and eat, the best of the best. But while I was standing on Boulevard Saint-Germain, fidgeting with carefully preserved travel articles and guidebooks so that I could find the most pluperfect piece of cheese in the sixth arrondissement, she would simply accost strangers, smile pleasantly, and ask, "Fromage?" 
Neither of us need have worried. There are culinary wonders to be found in every corner of the city, as David Downie notes in his new book, "A Taste of Paris: A History of the Parisian Love Affair with Food."
Like me (and Mom), Downie fell in love with the foods of Paris at first taste: the gazillion varieties of oysters, the blackened chestnuts hawked by street vendors, the crusty perfection of the baguettes and croissants. Delicious memories can be made not only in prestigious multi-star establishments but in a croque monsieur at the French version of a greasy spoon with its oxblood-red vinyl banquettes, or an ice-cream cone at the mother ship of Berthillon on the "sauceboat-shaped" Ile Saint-Louis. (It is practically a law, or should be, that every visitor to Paris taste at least five flavors, although while you are making your decision, the impatient and imperious scoopers may remind you of Seinfeld's Soup Nazi.)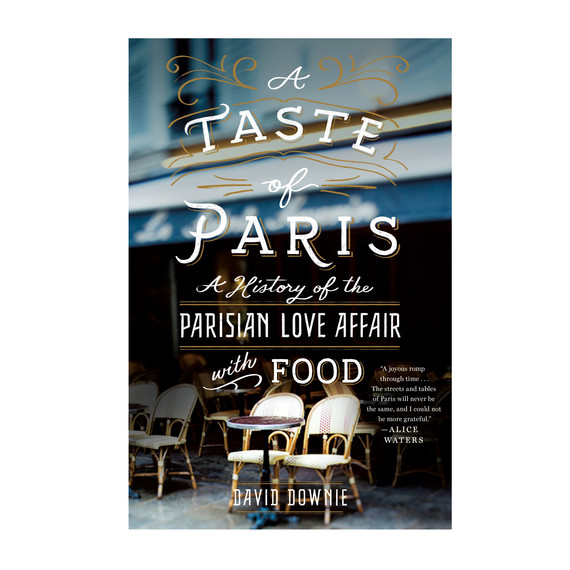 Ah, the French: They actually put pigs on trial after Prince Louis fell to his death in 1131 when a panicky porker darted in front of his horse. Thinking about a pain au chocolat or the molten cocoa served at L'Hotel (the former home of Oscar Wilde, where he supposedly said "either the wallpaper or I must go," and then he did), it's hard to believe that the French didn't care for chocolate until Maria Theresa, the Spanish wife of Louis XIV, introduced it. As for that perfect piece of fromage that is my goal any time I'm in Paris, the word comes from the Latin forma, or round wheel, and it turns out that the French owe a debt to the Romans for Dijon mustard too.
Given the French influence over the way we eat and cook (or aspire to do so), the historical details in Downie's book are fascinating (who knew that Charlemagne loved arugula?), even though it's unlikely that you'll be motivated to prepare the recipe of the famous 14th century chef Taillevent for roast peacock or swan.
Unlike Downie, I have never cruised the back alleys of Paris, checking the garbage cans of brasseries and bistros for wholesale frozen food packages or empty tubs of industrial sauce, but I admire his ingenuity in seeking out the best. (One useful tip: If you hear microwaves peeping, head elsewhere.) 
I love reading and thinking about the foods of Paris almost as much as I love eating them. But until my frequent flyer miles accrue, I just might head into my own kitchen to approximate an apricot tarte or macaron. Bon appetit.
If a trip across the Atlantic isn't in the cards right now, console yourself with some French pastry. Watch how to make delectable Parisian macarons: