Now that it really feels like fall, we're cooking up some heartier recipes. Let us help you get a  delicious dinner on the table. The weeknight recipes here take less than an hour of mostly hands-off time, many cook much quicker than that but may require constant stirring. These are meals the whole family can enjoy. Yes, there will be pasta. So join us every week for dinnertime inspiration.
Monday: Lentil Cakes with Feta-Yogurt Sauce and Cucumber-Cress Salad
Like falafel, only better -- truly. These lentil patties are made with raw lentils and take just 30 minutes (soak them ahead of time!), and are made on the stovetop -- no deep frying needed. Serve with our lovely feta-yogurt sauce and crunchy, spicy salad of cucumber and cress.
Get the Lentil Cakes with Feta-Yogurt Sauce and Cucumber-Cress Salad Recipe
TUESDAY: Eggplants Stuffed with Lamb, Rice, and Currants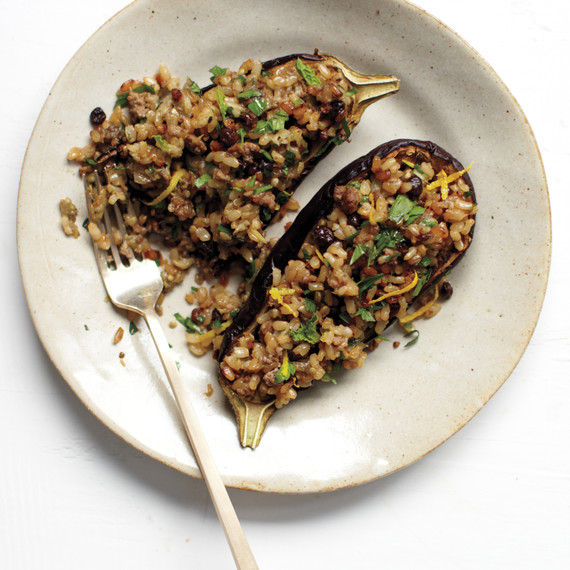 Meaty eggplant and just a little ground lamb makes for a tasty and economical dinner. Hearty brown rice plus plenty of fresh mint and parsley rounds out the filling for this most delicious Middle Eastern inspired entree. Add a green salad and you're done.
Get the Eggplants Stuffed with Lamb, Rice, and Currants Recipe
WEDNESDAY: Turkey Chili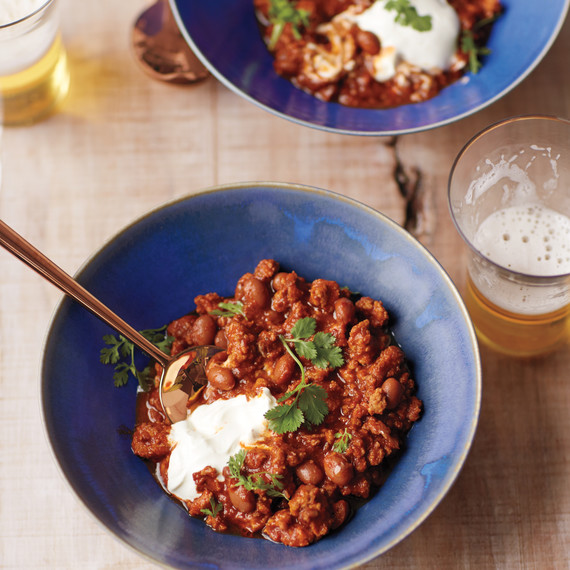 A quick-to-cook turkey chili that's just as flavorful as the beefy original -- and is all made in one pot. Learn more about our shortcuts to real-deal chili.
Get the Turkey Chili Recipe
THURSDAY: Sausage-and-Fontina Pizza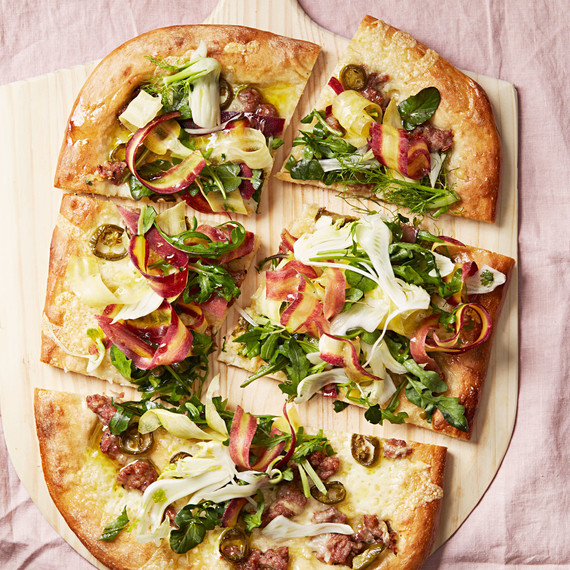 Somehow Thursday-night dinner seems more of a chore than say, Wednesday-night dinner. Comfort yourself with pizza. No, not takeout but this satisfying, veg topped pizza that's a step up from mozzarella and tomatoes. If you never tried fontina cheese on pizza before, we think you'll really like it.
Just remember to take defrost the pizza dough ahead of time!
Get the Sausage-and-Fontina Pizza Recipe
FRIDAY: Broiled Striped Bass with Tomatoes and Fennel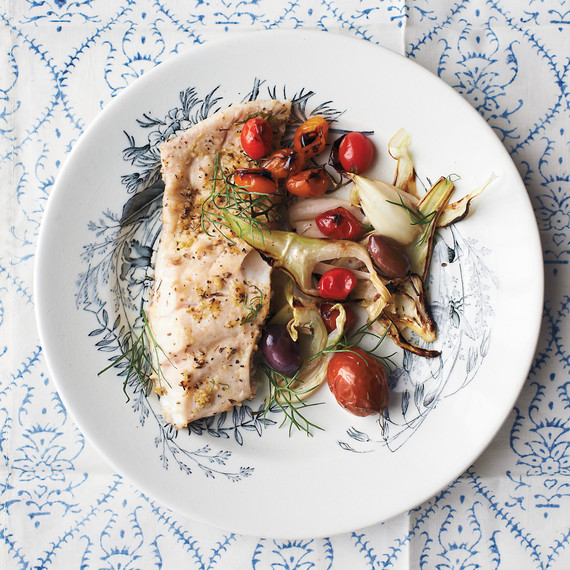 Reminder: The broiler is a quick route to dinner. And this is an easy Mediterranean-accented meal that looks and tastes like restaurant fare.
Get the Broiled Striped Bass with Tomatoes and Fennel Recipe
SATURDAY: Make Orecchiette and Eat It for Dinner
Make orecchiette -- yes, we are suggesting a food project, and a most soothing one at that. See how to make orecchiette step by step. Then serve your creation for dinner.
Get the Orecchiette with Broccoli Rabe and Tomatoes Recipe
SUNDAY: Pasture-Raised Pork with Couscous and Vegetables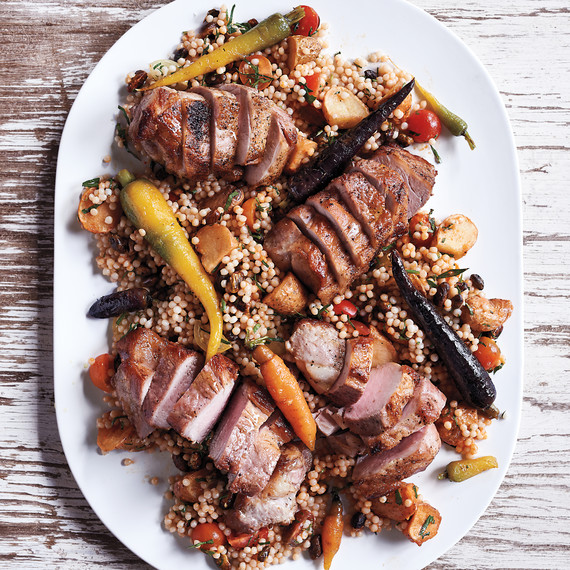 For a superb Sunday dinner, try this recipe we adapted from our friends at Wyebrook Farm. Roasted pork tenderloin is served with a warm vegetable salad, Israeli couscous, and homemade harissa paste.
Get the Pasture-Raised Pork with Couscous and Vegetables Recipe