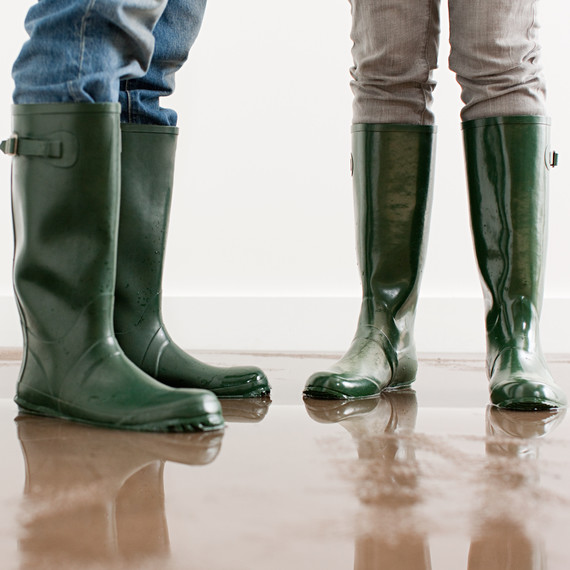 If your basement has ever flooded, you know how challenging and stressful the cleanup can be. From soaked carpets to ruined personal items, water damage is a notorious homeowner headache. But unfortunately, the flooding experienced from a hurricane is a far more serious matter.
"I can't stress this enough -- hurricanes are so much different than your day-to-day flooding," says Alex Klymochko, project manager at Rapid Dry Services, a New York-based water removal company that was on the scene in Long Island after Hurricane Sandy. 
As communities in Texas, Florida and Puerto Rico recover from the recent hurricanes, homeowners have a long road ahead. 
 
[LEARN: The Dos and Don'ts Of Renovating A Home]
A Lot Must Go
Hurricanes aren't ordinary storms -- and the water they bring isn't ordinary water. 
"There's so much bacteria inside of that water," says Klymochko. "It starts in the ocean, and then it picks up everything on land. It's absolutely filthy water -- we recommend anything porous that it comes in contact with is discarded."
Porous, unfortunately, covers quite a bit: dry wall, insulation, carpeting, flooring, mattresses and most furniture.
Additionally, all electrical lines must be inspected and possibly replaced, notes Klymochko. 
Protect Yourself
Before attempting to clean or salvage anything from a flooded home, make sure you're protected. Do not walk around a flooded area unless the electricity is off.
The EPA advises wearing long pants, a long shirt, boots, goggles, gloves and a N-95 respirator to protect against dangerous mold.
What Can Be Saved?
A widely shared Facebook post encouraged those in the paths of Harvey and Irma to store valuables in their "waterproof" dishwashers. Although clever, this strategy has been debunked -- dishwashers keep water inside, not necessarily out. 

When it comes to personal items, Klymochko recommends taking anything priceless or precious with you when evacuating. As far as what's salvageable, he says plastic or metal belongings can be saved, as can some furniture.
Solid wood pieces can be easily cleaned using wood alcohol or turpentine to remove white mildew, then a cream containing lanolin to restore the wood. (See the Red Cross' guide to repairing flooded homes for more tips.) 
What About Your Clothes? 
For clothing, it's best to use common sense. Clothing is meant to get wet -- you don't throw out your bathing suit after going in the ocean, after all -- and it can be laundered if it hasn't been soaking in contaminated water for a prolonged period of time. The CDC recommends using hot water and detergent and taking all clothing and linens to a laundromat until your home's waste-water system can be professionally inspected. It's also a good idea to run the items in a couple of rinse cycles to make sure all contaminants are out.
 
[LEARN: How to Wash Everything In Your Closet]
Mold Matters
Not all mold is cause for panic. As Klymochko notes, the mold used to make penicillin is often found growing in homes, and you breathe in mold spores simply walking down the street. For minor flooding, it may be enough to remove porous materials and sterilize hard surfaces on your own using soap, clean warm water and a sanitizing bleach solution. (The CDC has a handy guideline of bleach-to-water ratios, as well as safety precautions.)
 But hurricane Waters Are A Different Story

"We see black mold after hurricanes," says Klymochko. "It's absolutely terrible for your heath, and you 100 percent need a professional."
If you choose to use a contractor or other cleanup service, it's important that they have experience in mold removal and comply with government regulations, which vary from state to state. For all work performed, you should receive documentation itemizing what was done and how the problem was safely remedied.
Insurance Is Crucial
Costly and rarely used, flood insurance can be tempting to skip. However, if you live in a vulnerable area, it's worth the investment. 
"Most people don't have flood insurance because it's extremely expensive -- but then you have a situation like these hurricanes," says Klymochko. "If you don't have $50-$100,000 in your bank account, well, you're in trouble. You don't want to rely on being lucky."
To ensure that your claims go as smoothly as possible, take photos and videos of your home before any damage occur.