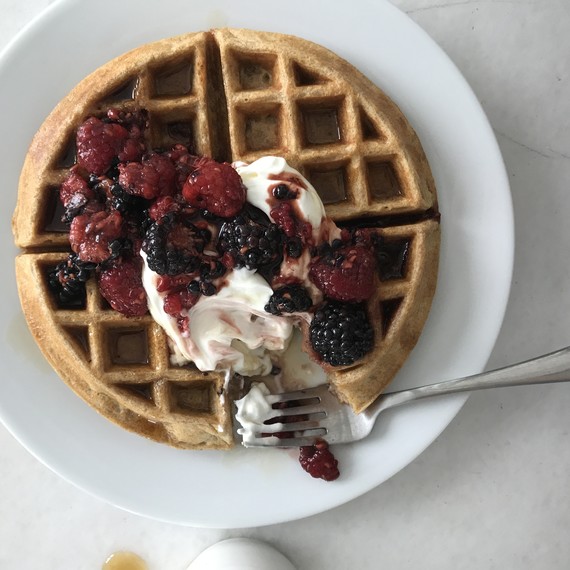 Homemade weekday waffles?! They can be yours. Prepare a big batch at a leisurely clip on Sunday, and freeze the leftovers for the hustle of Monday to Friday. This whole-wheat waffle recipe is courtesy of a dear test kitchen colleague, Jennifer Aaronson. She's mastered the art of balancing a busy work schedule with getting healthy, nourishing food on the table. (It's all about strategy.) 
Get the Whole-Wheat Waffles with Greek Yogurt and Berries Recipe

These waffles taste great fresh off the iron or frozen and reheated for a few minutes in a toaster. You're getting 100 percent whole wheat either way, and starting the day with whole grains gets you off on the right foot. Add to that a good amount of healthy fat found in extra-virgin olive oil. (If you like a hint of coconut flavor, substitute extra-virgin coconut oil. Trust me, your kitchen will smell amazing.) The rest of the batter contains the usual suspects: leavener, salt, eggs, and a low amount of sugar. That's what really sets this recipe apart from many store-bought freezer waffles -- if you look closely, there's often a surprisingly high amount of sugar per serving. 

What's a waffle without toppings? Skip the pats of butter and deluge of syrup; go for a dollop of Greek yogurt instead. Creamy and protein-rich, this addition is a healthy upgrade from a whipped cream smiling face. Yogurt needs a buddy, and that friend is macerated berries. I like to use coconut sugar for a complex, nutty flavor. Turbinado sugar adds a pleasing crunch thanks to the large sugar crystals. Whichever one you choose, combine the sugar and berries and lightly mash with the back of a spoon. This helps the berries release their juices (think berry pie filling). Spoon this flavorful mixture on top of the yogurt and waffle. To knock it out of the park, lightly drizzle the whole thing with maple syrup. Breakfast is served! 
Get the Whole-Wheat Waffles with Greek Yogurt and Berries Recipe
Tune in every Sunday for a new Healthy Appetite video from Shira Bocar.
Watch Shira make the waffles that are sure to become part of your morning routine: