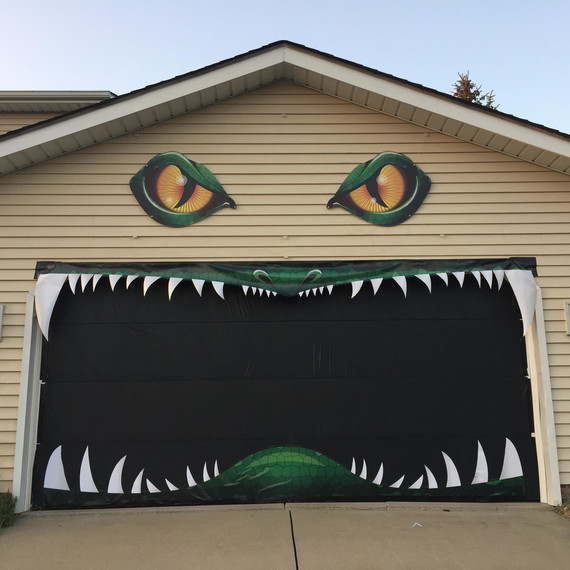 During the month of October as Halloween quickly approaches, there is always that one house that inspires chills and thrills with new outdoor decorations. You can say Amanda Destro Pierson's home is one of those homes in the very best way. Pierson, a professional graphic designer and face painter, is no stranger to getting into the Halloween spirit. Last year, her video of her animated monster painted garage door garnered over 25 million spook-tacular views.
This year, Amanda is at it again: same garage, but a different design. At Martha Stewart Living, we asked her about her graphic designs, work, and process. While, it will be hard to top the 2016 design of a car crushing monster door, her new garage artwork, a sneering green dragon does a pretty mean job.
"This year, I made my door a Dragon," Pierson exclusively tells Martha Stewart Living. "Now that I knew what I was doing I was able to work on designs for different faces and then create them digitally. It gave me a lot more time to work on making a really intense face!"
[FIND INSPIRATION: Our 30 Best Pumpkin Ideas of All Time]
The drawing process may seem like the most challenging part, but it's actually adhering the image to the door that's tricky. "Hanging it still took about three hours total, but last year I had spent two days making all the pieces so it was a three-day long process," she says. "This year was a lot easier since I had more time in advance to make a face."
And on October 31, it gets even better: "For Halloween, we plan on having a fog machine and roaring noises to make the dragon look really cool. For now, we have him lit up with red lights at night."
Luckily for us, she is in the works to begin selling kits where others can replicate her seasonal creativity. "After last year's insane viral video roller coaster, I ended up licensing the product with a company who is working on selling the kits to retail stores now," she shares with us. "Nothing is available for this year, but hopefully, they'll be out next year for sale. Fingers crossed!" All season, Pierson will be sharing details on her Facebook page, My Monster House.
Until then, we'll just have to marvel at her skills and pretend that we're not scared (okay, maybe a little).