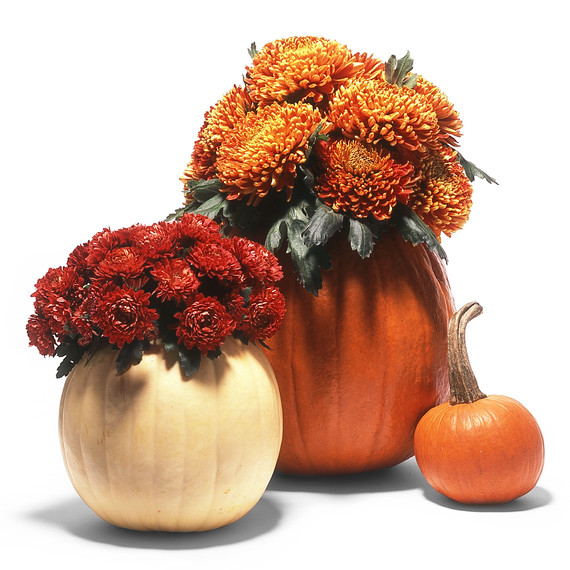 It's an age-old question: how do you decorate for the fall season? Pumpkins, gourds, and other decorative squashes are in abundance this time of year, so why not use it as inspiration for your next decorative idea? Bring the blooms, houseplants, and succulents of summer into autumn — with a gourd-geous twist!
After you've picked the perfect pumpkin (or squash, it's up to you) it's time to transform it into a vessel. You will need a jar (an inch or so shorter than your pumpkin), large spoon, a paring knife or serrated steak knife, and a permanent marker. Position the mouth of the jar upside-down over the stem of the pumpkin, centered on the top. Use your marker to trace a circle (this will be the opening). Cut hole, using your traced circle as a template. Scoop out flesh, pulp, and seeds with a spoon. Place your jar into the pumpkin, fill with water, and arrange with flowers.
Really, it couldn't be simpler than "bibbidi-bobbidi-boo." Here are some more ideas:
The Traditional Look
Rusty reds, deep oranges, and glowing auburn hues are the official colors of fall. Add even more autumnal colors to your decorative pumpkin patch by creating pumpkin cachepots. You can never have too many mums and certainly never too many pumpkins.
[GET THE INSTRUCTIONS: Pumpkin Cachepots]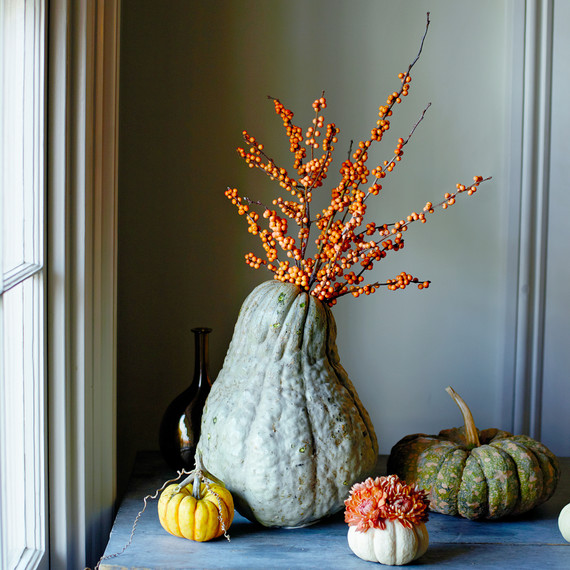 The Mix and Match Arrangements
Tthe harvest season makes for the prettiest vases: squashes, gourds, and pumpkins — especially heirloom pumpkin varieties. Use them to mix and match with different flowers. Our display pictured here includes a large greenish Hubbard squash paired with bittersweet branches and a white "Baby Boo" pumpkin with bright orange mums.
[GET THE INSTRUCTIONS: Squash-and-Pumpkin Flower Arrangement]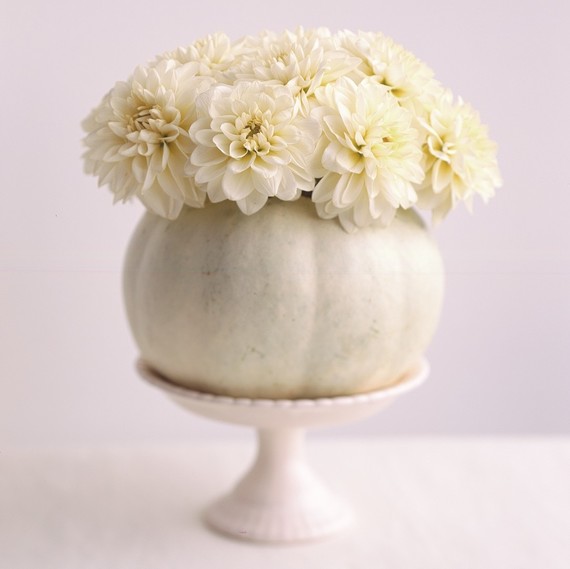 The Monochromatic Look
Honestly, there's nothing more alluring than a crisp white pumpkin. Okay, maybe a crisp white pumpkin that has been transformed into a homemade vase budding with white chrysanthemums. Yes, so pretty.
[GET THE INSTRUCTIONS: Pumpkin Vase with Flowers]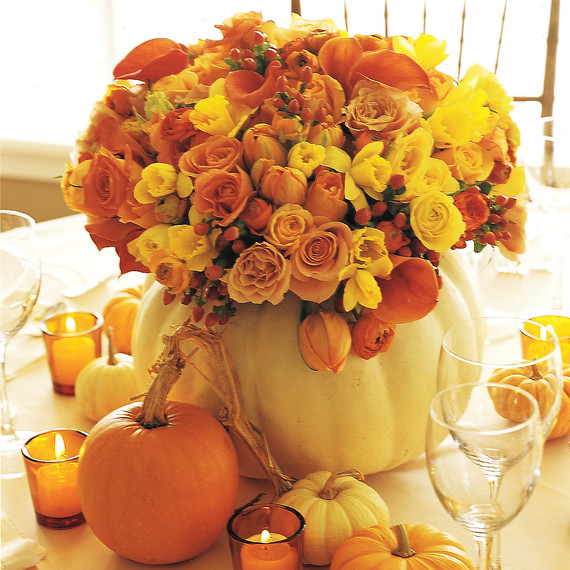 The Showstopper
A fall-time feast calls for an impressive centerpiece. Surely, a big pumpkin full of seasonal blooms will do the trick. Here, we arranged tulips, daffodils, calla lilies, and more blooms. Or, if you prefer a small-scale display, try gourd vases. Your living space may already have a few succulents resting in glass spheres or terracotta pots. Nestle them into these tabletop gourds and they will feel right at home.
Naturally, you'll want to extend the life of your pumpkin planter so it remains beautiful throughout the season. To prevent carved pumpkins from rotting quickly, try mixing three tablespoons of bleach with three gallons of water, submerge the pumpkin, and pat dry. Removing any remaining leaves and foliage from flower stems before arranging your buds inside a pumpkin vase will keep them spry longer as well as creating a water-solution. A mixture of two aspirins, a few drops of bleach, and a teaspoon of sugar for every quart of water will extend the flower's lives too. Also, preserving your fall blooms by creating striking dried flower bouquets will suspend the natural splendor for almost forever! 
Want to try it? Watch how to turn your pumpkin into a vase in this video: