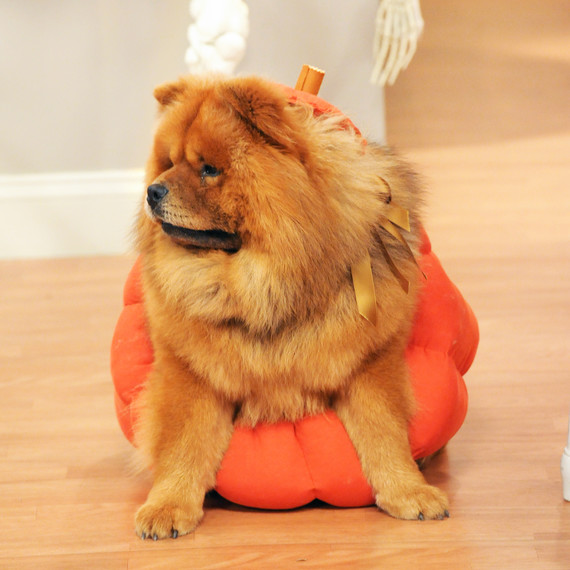 Fall is officially here: the leaves are changing, the kids are back to school, and the evenings are aglow with friendly (and frightful) jack-o'-lanterns. And that can only mean one thing: it's time to start pondering this year's Halloween costume. No, we don't just mean your costume, but a costume for your beloved pet. (You know, for all "Howl's" Eve — get it?) So, what bewitching look will your furry best friend be seen in this year? According to this year's Halloween survey conducted by the National Retail Federation, 16 percent of pet parents will dress up their cats and dogs in a Halloween costume. In polling them, they generated a list predicting this year's most popular pet costumes. Find inspiration in some of their predictions:
1. Pumpkin
What's plump and round and orange all over? You guessed it. Of course, our obsession with everything pumpkin has carried over into the pet department. Although, we have to say it: trendsetter Ghenghis Khan donned this quilted costume several years ago. A few stitcheds of sewing turns two basic T-shirts into one paw-fectly cute pumpkin costume.
[GET THE HOW-TO: Pumpkin Pet Costume]
2. Hotdog 
Maybe it's the simple idea of a dog dressing as a hotdog that makes this costume so beloved. But if you're looking for something more unique, try your hand at making a moth-dog pet costume — it's a little more haute than hot.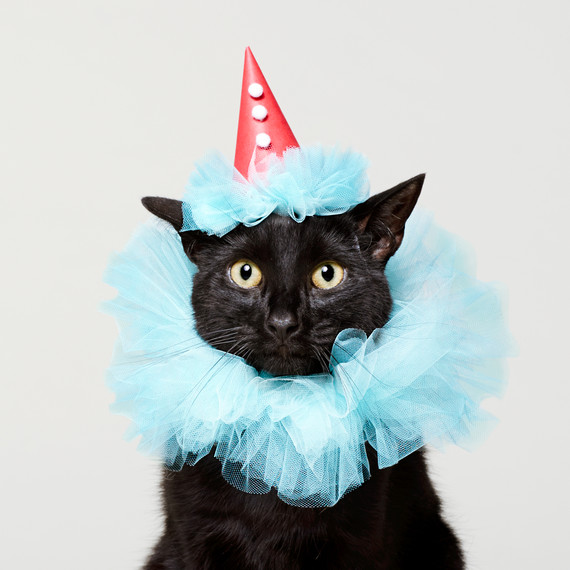 3. Dog, Lion, and Pirate
All vying for the third spot in the lineup: ironically, two of them are animals. Cats masquerading as dogs and dogs dressing as lions and pirates are still pretty popular. What about clowns? We're calling this one the "frill seeker."
[GET THE HOW-TO: Cat Clown Halloween Costume]
4. Bumblebee
What's cuter than a dog dressed as a bumble bee? How about a canine companion dressed as a flower? Easily, you can make this petaled costume. After all, who can resist a good group costume?
5. Devil
When it comes to Halloween costumes, the devil is in the details. Whether you want your pet to go as the number six most popular dog costume, devil or a homemade dragon it's up to you. Either way, it's good to be bad sometimes.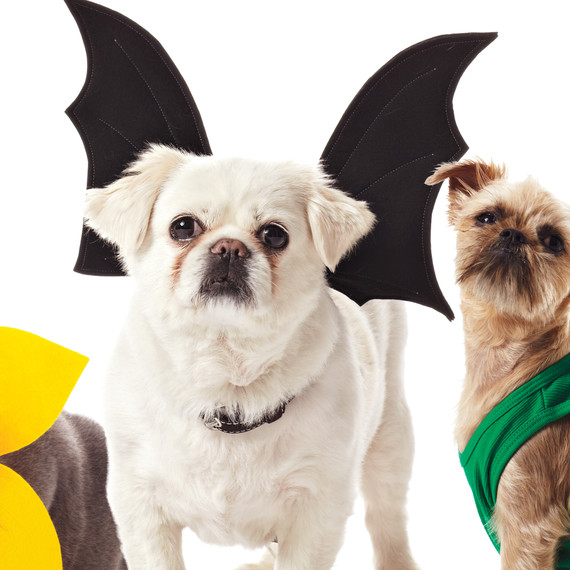 6. Batman 
Look who's come to the rescue: it's Batman! And while the superhero version is Instagram-worthy, these DIY bat wings are just as iconic, not to mention easy.
7. Ghost
Ghosts are iconic for Halloween, but don't underestimate the creativity of a homemade shimmering porkypine costume either. (You'll get bonus points for originality.)
8. Cat
Dressing your dog as a cat for Halloween or having your cat go as herself seems oddly brilliant, if not understated. But what about a spider? Surely, this idea would give even Spiderman himself a run for his money.
9. Witch
They're evil and green — witches made the list ranking at number nine in popularity. However, a homemade spikey pet lizard tank costume is just as good, if not better!
10. "Star Wars" Characters
Blockbuster hits continue to inspire us year after year. You know another movie that would make great inspiration for a dog's costume? "Jaws." Take the seaside plunge with a quick and easy shark-fin pet costume.
Feeling inspired? Watch how to dress up your dog as an adorable shark: