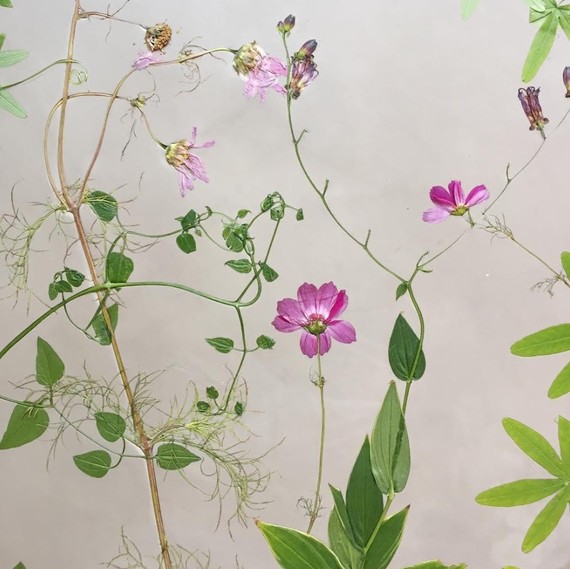 As the last of the summer fades away, we only wish that seasonal flowers could last forever. While pressed bouquets and tiny petals preserved underneath glass are beautiful alternatives, one artist has a better idea. Ronni Nicole is preserving her petals — or what she refers to as "floral fossils."
She calls them "floral-inspired fossil designs from living flowers." Pretty and pretty neat, right? At Martha Stewart Living, we asked about her process, work, and inspiration.
[FIND INSPIRATION: 30+ Nature Crafts for Using Flowers, Greenery, and Stones]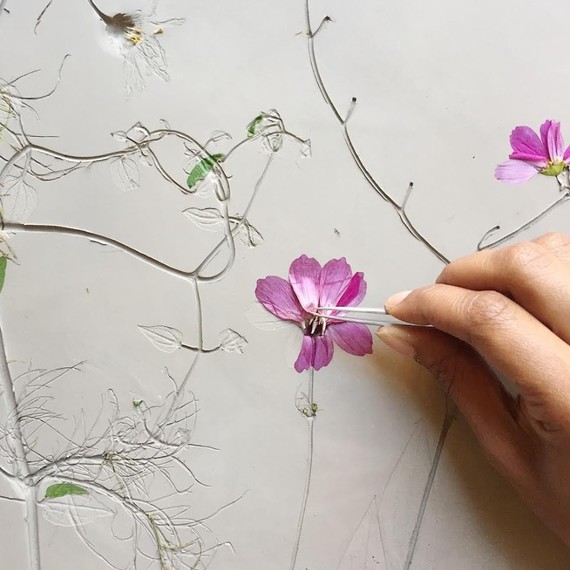 "Flowers are often received because of a special occasion, so I wanted to provide a way to save these moments and memories," she says. "My obsession started with herbariums, but has evolved into something more over the years. Sometimes, I get giddy with excitement knowing that I'm preserving bits and pieces of Mother Nature. We all age, but this form of preservation allows me a way to stop time in its place. It's like making a special moment last forever."
Her designs range from large wall-mounted fossils to small size pendants. She creates her designs from her home-based in Philadelphia where she resides with her husband and pets.
Actually, it's the hustle and bustle of the fast pace city life that inspires her to connect with nature and create something distinctive to her aesthetic and interests. "I make my art to help me slow down," she explains. "It's not something I can do quickly. I have no choice but to take my time. When done correctly, my technique picks up every single detail of the flower."
And she did this purposely: "I knew that my work wouldn't be showstoppers. They don't stand out or demand the attention in a room. Instead, their simple design and understated beauty blend into the soul of your home."
[LEARN: Pressing Flowers and Leaves]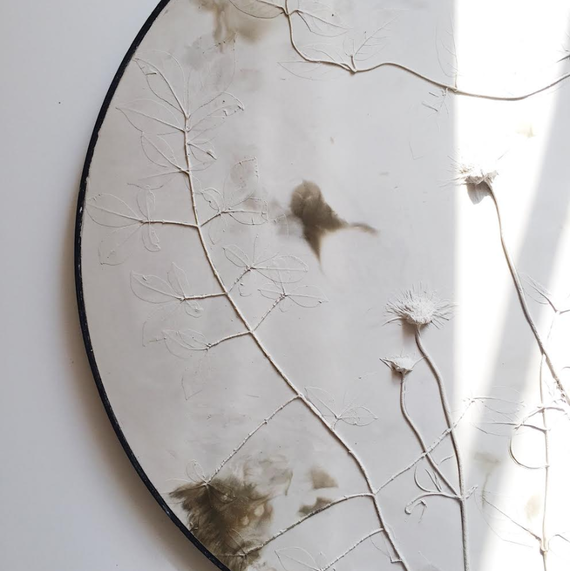 While picking flowers seems like a simple enough technique, the flower-to-fossil process is pretty in-depth.
"I make each fossil by hand," she says. "I start by rolling the clay by hand until it is smooth and even. This is a very important step if you want attention to detail. Once I have a smooth surface, I then lay each individual flower onto the hand-rolled clay. I play around with the design. I never rush it. Once I think I have a design I love, I step away. I take this moment to decompress. The designing part is fun but can be mentally demanding. You have to think in reverse all while imagining how they are going to imprint within the clay. By letting the flowers will just, a little, you will have a much easier time bending and to form them the way you want."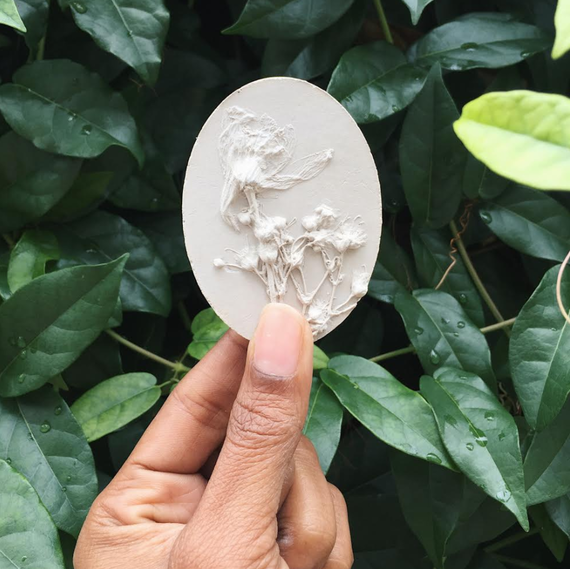 From there, she begins to press the flowers into the clay. She notes that the deeper the impression, the better the results. And when the flowers are removed, the clay will expose all of the beautiful details left behind. Then it's time to frame the design to pour in the plaster mix, typically using her signature frame shape: round. "I love the feminine soft quality it adds to the finished piece," she says. Next, it's time to mix the plaster and concrete with water. "I play with mixing ratios, depending on size and color," she says. "I like to push the limit with thinning out the mixture. The thinner the mix, the more details it will capture."
Of course, she confesses that mastering the art takes (a lot of) patience. "Peeling the clay away too soon is like taking a cake out before it's done," she says. And they're best left untouched in a dry area for five days to week in order to dry.
Like most artists, the final product is just as important as how it is used: "I want to know how they feel and how they interact within a home. My smaller fossil most often finds themselves hanging in my window area. When I catch the sun reflecting off them it takes me to my happy place."
Interested in seeing more of her work and behind-the-scenes work? Be sure to follow her on Instagram.
Feeling inspired? Watch how to make decoupage floral trays: