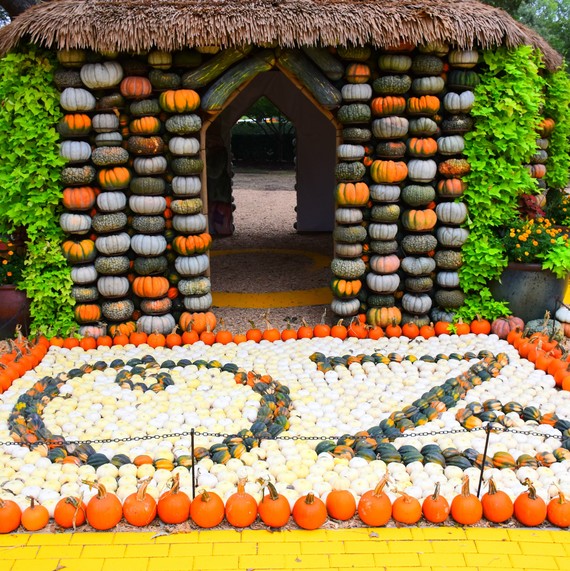 What would you find if you decided to follow the yellow brick road? Would it lead to new acquaintances such as a man made from tin and another made from straw? Perhaps it'd lead you to a bewitched orchard where the apple trees come alive. Or maybe it would lead you to something entirely different: the Dallas Arboretum and Botanical Garden where you will discover over 90,000 pumpkins, squashes, and gourds. (Oh my!)
One of the country's most acclaimed pumpkin patches is the Autumn at the Arboretum. Those who are continually enchanted by gourds, fall festivities, and a bit of autumn magic will take great joy in learning this year's theme: "Pumpkins, Squashes, and Gourds, Oh My!" based on "The Wonderful Wizard of Oz."
[FIND INSPIRATION: 60+ Pumpkin Carving and Decorating Ideas]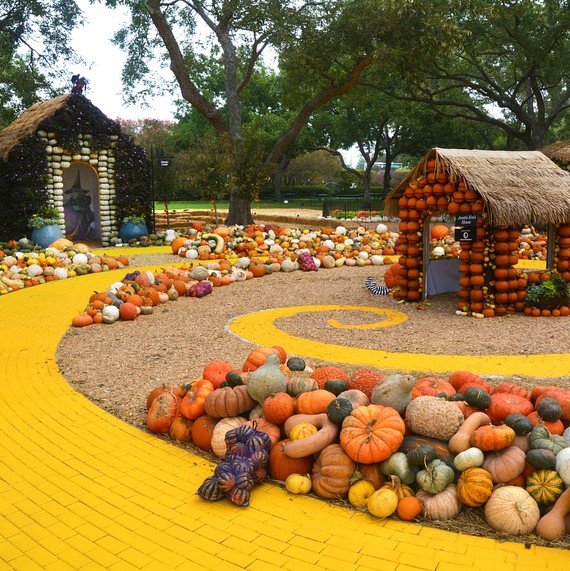 This will be the twelfth year of the Pumpkin Village and fall spectacular showcase as it covers an impressive 66 acres. The numbers making up this year's Arboretum is pretty magical too: There are 150,000 seasonal blooms, 90,000 pumpkins, gourds, and squashes in the Pumpkin Village, plus 3,000 ears of corn, 1,500 cornstalks, 900 bales of hay, 4 pumpkin houses, and 3 flying monkeys.
The Arboretum was designed and decorated down to every storybook detail as guests "travel through Pumpkin Village on an actual yellow brick road, spiraling through Pecan Grove with stops at each major occurrence in the story of Dorothy and her adventures in the Land of Oz — reimagined with pumpkins, squashes, and gourds."
[LEARN: 5 Tips for Picking a Pumpkin That Will Last Through October]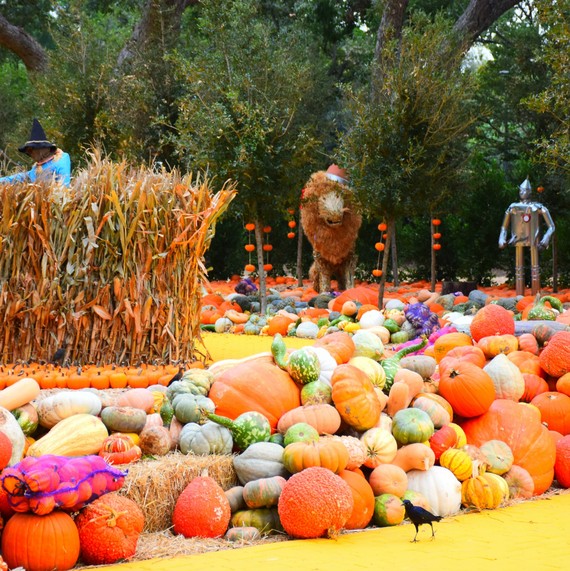 Guests can expect familiar vignettes including Auntie Em's House, Munchkinland, the Scarecrow's Garden, the Enchanted Forest with Tin Man and the Cowardly Lion, plus the Emerald City showcasing a carriage pulled by "a Horse of a Different Color" not to mention the Wicked Witch's Castle, which shows the hay bale maze mimicking the castle walls. According to the Dallas Arboretum, it takes 48 workers and 2,296 volunteers to build (and maintain) the autumnal displays. Last year, approximately 325,635 people visited... and this year's turnout is expected to be even bigger.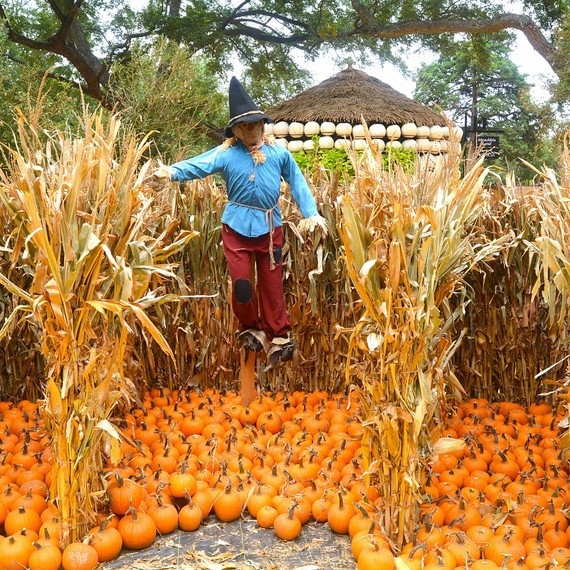 Aside from pumpkin and gourds, the festivities also extend to a variety of children activities and family photo opportunities. However, it's this year's theme that has all happier than a scarecrow in a cornfield. "Our visitors will love 'The Wonderful Wizard of Oz' theme at Pumpkin Village because many know this story," says Dallas Arboretum Vice President Dave Forehand. "So our 50-member horticulture team goes to great lengths to create that 'wow' factor." The event runs now through November 22.
Truly, there's no place like the Dallas Arboretum in the fall.
Feeling inspired? Watch how to carve a pumpkin: