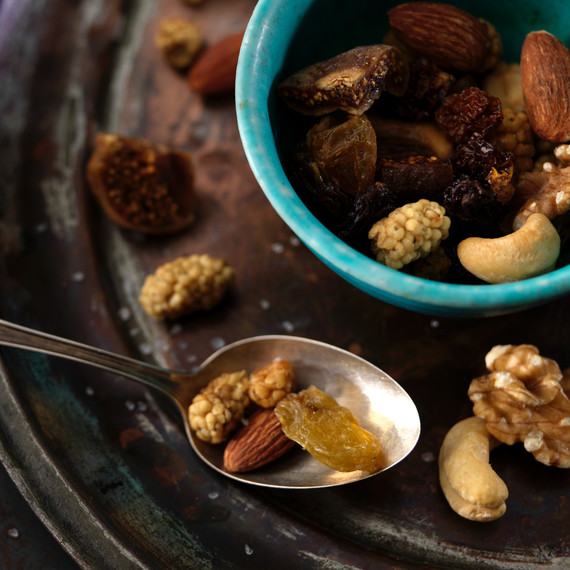 When Niloofar Mirani moved away from home, the first thing she missed was her grandmother's ajil, a traditional Persian nut-and-dried fruit mixture. While trail mix is the best way to describe it for Americans, ajil goes way beyond the usual raisins and peanuts, with ingredients like white mulberries and figs. Ajil is also so much more than a hiking snack in Iran.
Mirani says, "Ajil is extremely common in Iran. I equate it with sliced bread. Go to any Persian household, and you'll find bowls and bowls of it set out for guests. Fruit and nut shops are also everywhere in Iran, which is a testament to how popular ajil is, and the amount of selection they offer is just incredible." There are everyday mixes that are enjoyed year-round, as well as special-occasion blends with luxe ingredients like sugared almonds perfumed with rosewater for weddings and holidays. 
(TRY: Our Persian Almond Brittle with Rosewater Recipe)
According to Mirani, each Persian family has their own signature ajil. Her father learned how to make ajil from his mother, then recreated it once he emigrated to the U.S. so that Mirani grew up eating it as well. Once Mirani was living on her own, she got the recipe from her dad and started making ajil herself, seeking out the necessary ingredients at Middle Eastern grocery stores in Chicago or having her relatives bring them back from Iran.
Mirani received so many rave reviews anytime she shared the ajil with friends that she decided to try selling it. The challenge of making the mix on a larger scale was finding enough of the right ingredients -- local markets and suitcases stuffed with fruits and nuts weren't going to cut it. She spent two years sourcing the bulk ingredients, making sure they were as close of a match as possible to the ones her grandmother would have used in Iran.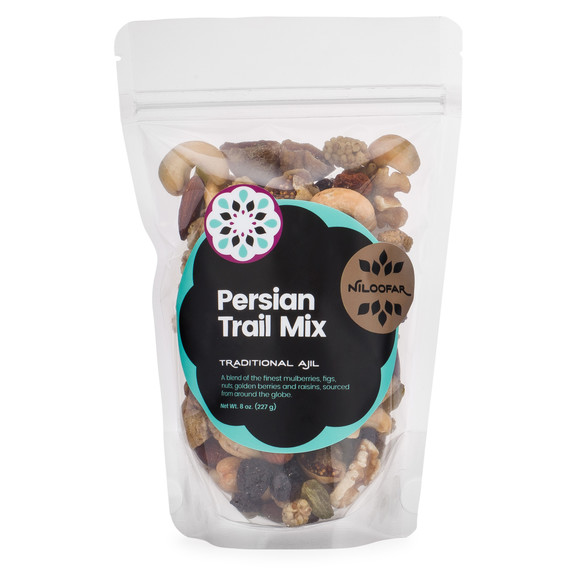 Her signature blend contains white mulberries and golden raisins from the Himalayas, figs from Turkey, golden berries from Peru, and dry-roasted cashews, almonds, and walnuts, plus black raisins, from the U.S. All the ingredients are shipped to a commercial kitchen in Winnetka, Illinois, where Mirani then blends and processes the ajil. She says, "I actually fill the bags and stick the labels on myself. It's a labor of love." The result is an addictive sweet-and-salty snack with just the right amount of tartness, thanks to the addition of golden berries (also known as Cape gooseberries). Not only is this small-batch production a one-woman show, but it's also Mirani's side gig -- she has a day job in PR.
(CHECK OUT: Our Best Nuts & Seeds Recipes) 
The trail mix is available online and at a handful of retailers, mostly in Chicago. Mirani says, "There's a relatively small Persian population in Chicago, but every time I do an event, the Persians come out of the woodwork, and they're so excited about the ajil and say they've been waiting for something like this. So that's been great -- I want Americans to like ajil, but it still has to be authentic."
She is currently working on a second line with dates and pistachios and eventually hopes to explore Persian spices and sauces. Mirani says, "My biggest mission is to introduce people to Persian food. I think it's really underrepresented in U.S. grocery stores, so I'd love to make Persian food more accessible for Americans."
(MAKE: Our Greatest Date Recipes)