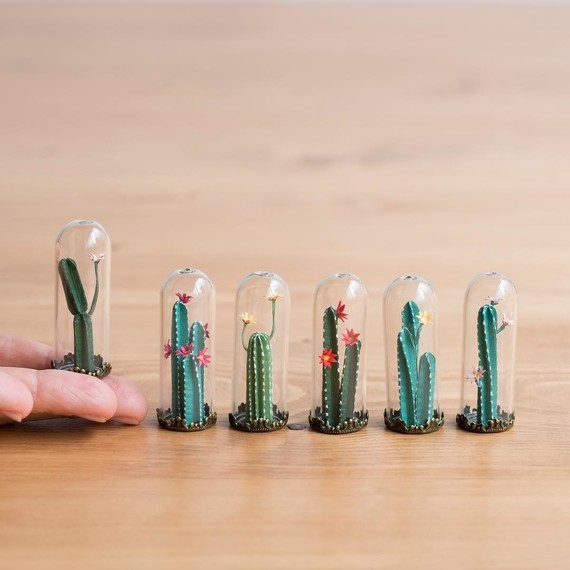 When it comes to transforming regular paper into life-like florals, we simply can't get enough of them! But one Spain-based artist, is taking the art one (small) step further. 
"I love making miniatures!" Raya Sader Bujana tells us. "It's very challenging, but I enjoy pushing myself to see how much detail I can get it." As a dedicated paper artist — since 2010 — and plant lover herself, crafting tiny botanicals quickly seemed like the best of both worlds. "Paper seems like an unlikely medium to a lot of people still," she says. "But it's so versatile. You can fold it, sculpt it, paint it, or cut it."
 
Originally studying architecture, Bujana eventually decided to drop out of her program in 2008 to to pursue her paper crafting passion. She still remembers her first creation: "It was a university art class assignment. I had to represent the Azuma house of Tadao Ando (a famous Japanese architect) creatively and I chose to work with paper," says Bujana. "I really loved making it! My teacher even kept it so I figured I must've done something right!" After that, she began experimenting with a variety of paper projects from models of athletes and food replicas to larger leaves and mini terrariums. 
[LEARN: 3 Secrets To Making Magical Paper Flowers]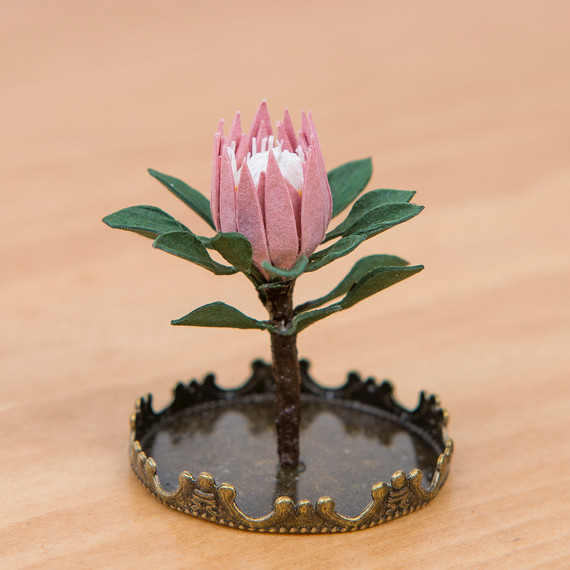 "I think it's [because of] my admiration and awe for leaves and nature," she explains. "I love sculpting them from paper, that was once flat, and curling the leaves to make them move. I find that it brings them to life!"
Bujana's paper pieces can take her anywhere from two to seven hours to complete, depending on the amount of detail she includes (and she doesn't need many supplies to do so). "I use bits of paper, my scalpel, a bit of glue — and lots of patience."
[SEE: More Of Our Favorite Paper Flower Artists Here]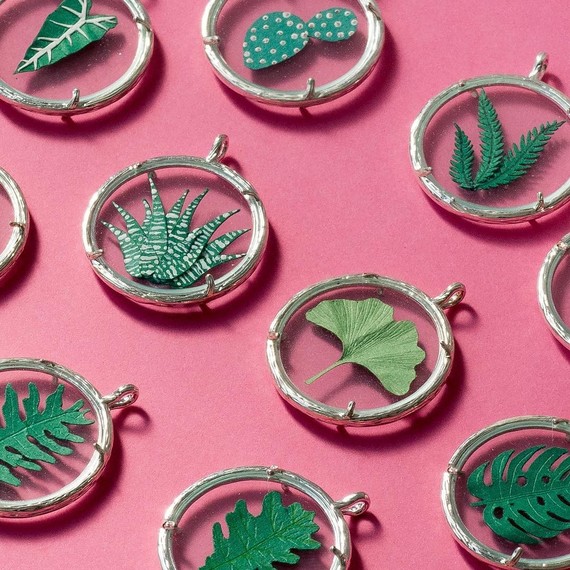 Once finished, Bujana's either exhibits her botanical art or frames, photographs, and turns them into pendants, all available on her Etsy shop (she also takes custom orders!) And when she's not working with paper... well, that doesn't happen too often. "By day, I do art direction and set design with brands," she says. "Usually, I work with paper for those too!" Check out Raya's other paper creations here.
Feeling inspired? See how you can make your crepe paper rose basket here: