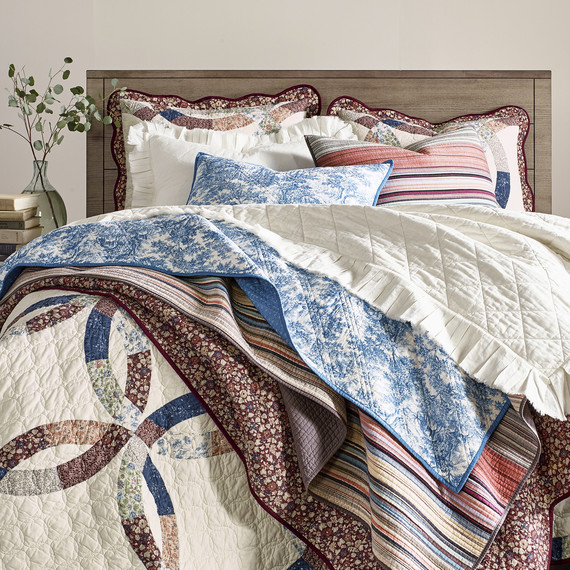 With summer beginning to make its exit, we're getting ready for cooler temperatures and everything cozy! One of our favorite ways to bring the feeling of fall into our homes is to update our bedding. The layered look has tons of personality and incorporates style and function that easily evolves with changing temperatures.
Martha has designed new selections of sheets, blankets, quilts, and more for her collection at Macy's that will help you achieve this stylish and modern look. Made from high-quality fabrics in colors and patterns that reflect a bit of her own personal style, Martha's bedding collection, along with these six steps, have you covered for Fall!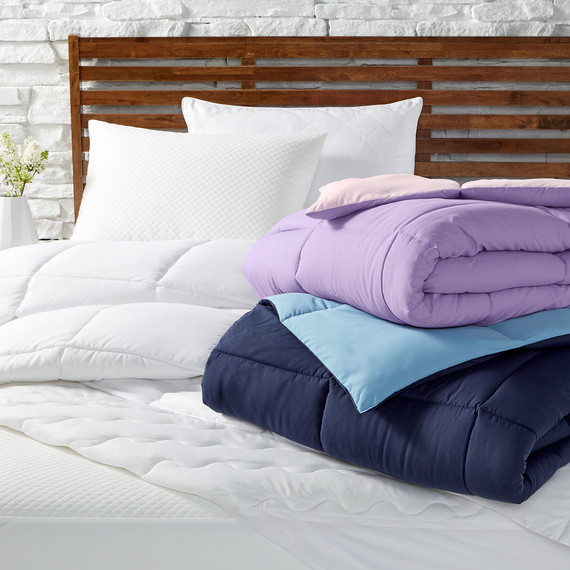 Step 1: Start with Support
Martha knows that a good night's sleep is one of the secrets to a healthy life, so she designed a bedding assortment for the Martha Stewart Essentials collection. Included are a range of mattress protectors, pillows, mattress pads, and reversible comforters that can be used to customize the best bed for your lifestyle at any budget. These aren't like your typical base layers and will keep your mattress in good condition by protecting it from any spills. Martha created this affordable collection because she knows every person needs the perfect foundation for their bed.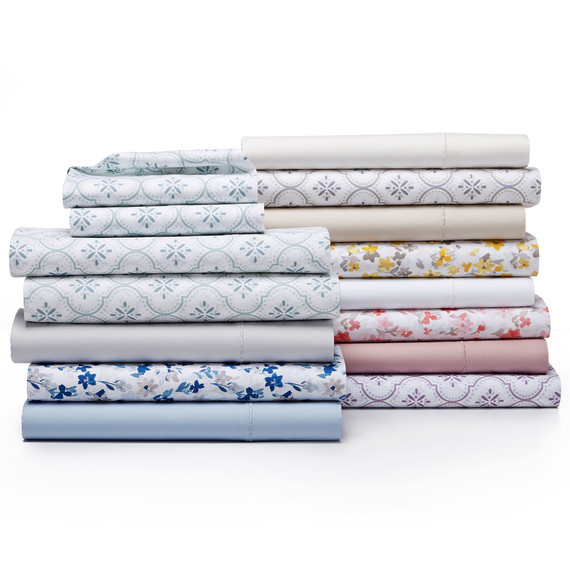 Step 2: Introduce the Basics
Martha's favorite choice for sheets is Percale, and it's what she uses on her own bed. She prefers Percale sheets because of their crisp, lightweight, long-lasting, and breathable quality. They'll transition with you from spring to winter and become your favorite sheets, too. Martha's Signature Percale Sheet Sets are 400-thread count and available in a refreshing color palette with a decorative hem design. Martha designed these sheets so you could experience the same features and benefits she loves in a Percale sheet at a higher thread count, but for an affordable price.
Martha Tip: Try adding a drop of lavender essential oil on your pillow or a spritz of lavender water on your pajamas to help you relax and fall asleep faster.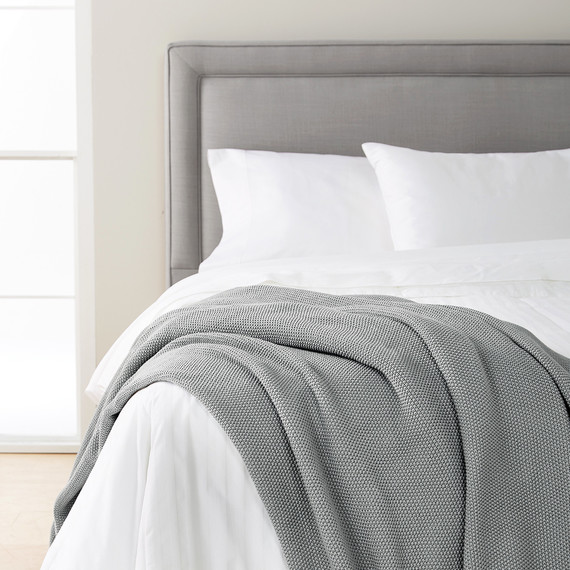 Step 3: Cozy Up
This next layer helps transition your bed from the balmy nights of summer to the cooler nights of fall. Martha has introduced new blankets this season that add a refined style to an otherwise utilitarian piece of bedding. Following Martha's ambition to feature polished designs at an affordable price point, the Cotton Seed-Stich Blanket has a luxurious quality and the Soft Fleece Blanket combines an upscale look with incredible comfort. The different textures and multiple colors tie back to this season's bedding, allowing you to create a cohesive look.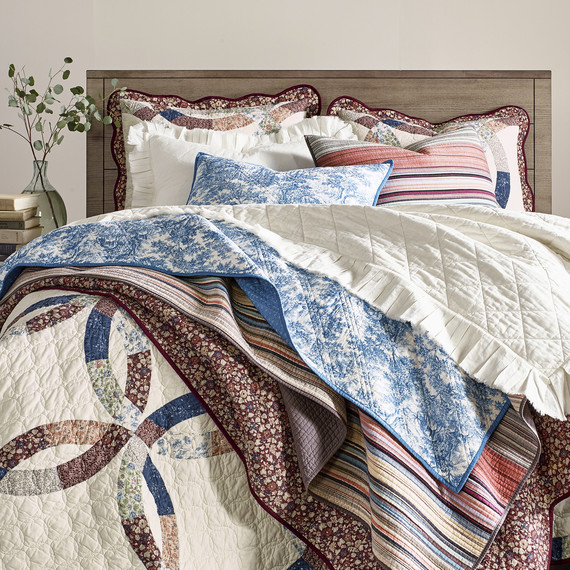 Step 4: Show Your Personality
Now that the bedding basics are covered, it's time to add a pop of excitement. Choosing a high-quality quilt at an affordable price from the Martha Stewart Collection allows you to create a beautiful, layered look without breaking the bank. A reversible design offers even more versatility in color and style. Fold the quilt over the head of your bed for a quick bedroom accent, or flip it over for a completely new look.  Even better, the quilts look just as great when used on their own during warmer seasons. Martha always remains at the forefront of design and enjoys exploring new materials and techniques. Her quilts honor traditional processes like patchwork, yarn dyeing, printing, and embroidery, so it's easy to find one that fits your own personal taste.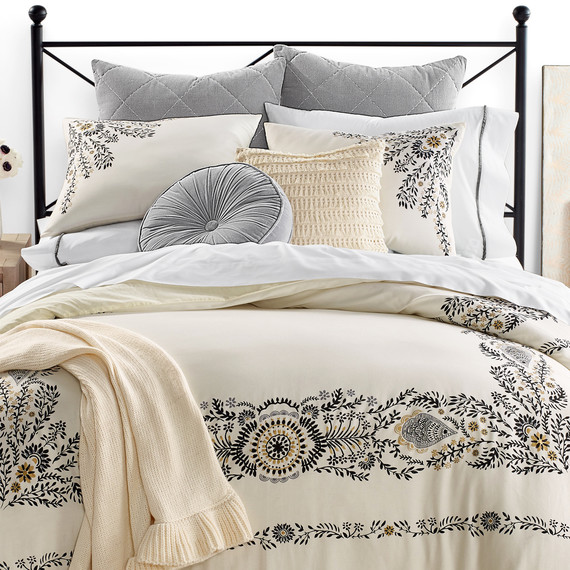 Step 5: Rest Your Head
The same way Martha uses decorative pillows to quickly refresh a couch, she also suggests using them to create a flawlessly designed bedroom. Martha took this idea into consideration when designing her Whim collection for Macy's. Her pillows add interest and texture while still complementing the rest of your layered bedding. They're made with classic decorating techniques, including stitched cording and dimensional carpet weave.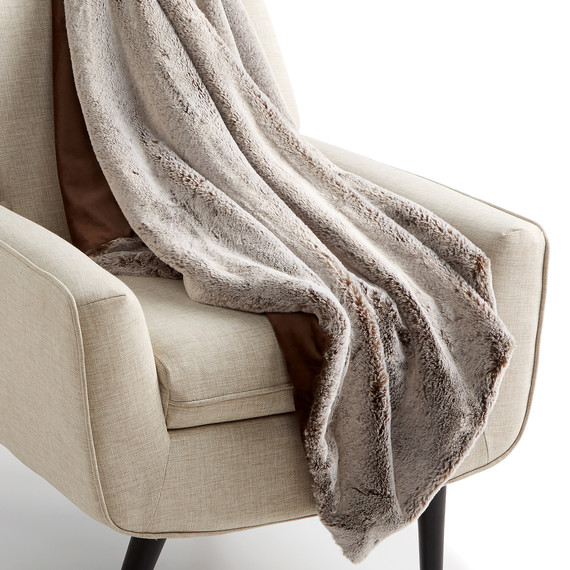 Step 6: Throw on the Finishing Touch
With a home in Maine, Martha knows the value of a good throw when the temperatures dip. Her newest selection at Macy's doesn't sacrifice design for function; the luxurious fabrics and faux furs will keep you warm through fall and into winter. At affordable prices, you can create a new look season-after-season. The neutral colors won't compete with the other elements of your layered bed, and the throws can also be used on their own in other rooms of your home.