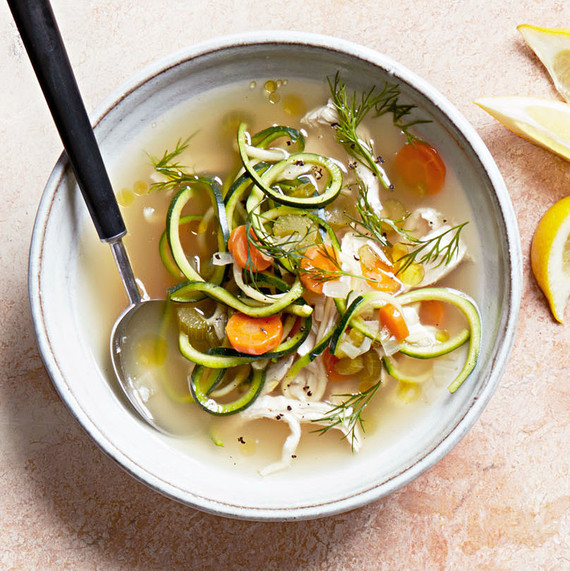 Next time you're craving chicken soup, skip the pasta and go for an extra serving (or two) of vegetables. Zucchini "noodles" add manganese, fiber, vitamin C, and a nice shot of green to this classic comfort food.
Get the Chicken Voodle Soup Recipe
Let's talk about the star of the show: voodles. I use a spiralizer to create long zucchini strands. (Yellow squash would also work in this soup.) If you don't have a spiralizer, use a mandolin to slice thin planks, then thinly slice each plank into long noodles with a knife. For tender vegetables like zucchini and squash, you can also use a julienne blade "Y" peeler. And the easiest option out there is to buy packaged vegetable noodles. You can find these in the produce section of many grocery stores.
I love how quick you can get this on the table -- think weeknight chicken soup vs. the long-simmered weekend edition. Bring chopped onion, carrots, celery, and boneless, skinless chicken breasts to a simmer in chicken stock. Gently poach the chicken until it's just cooked through, remove, and shred into large pieces. (Keeping the pieces large protects the meat from becoming tough.) 
Return the broth to a simmer and add the voodles. Cook until they're just tender -- be careful not to overcook. Like pasta, you want them a bit al dente. Return the chicken to the soup and top with chopped dill. The best part is squeezing each serving with fresh lemon juice -- it brightens up the whole bowl. And adding a drizzle of olive oil gives the broth body (and makes it taste like it simmered for longer than 15 minutes.)
This is a fast, incredibly satisfying, new way to serve up chicken soup that everyone will love.
Get the Chicken Voodle Soup Recipe
Tune in every Sunday for a new Healthy Appetite video from Shira Bocar.
Watch Shira make voodles and the best quick chicken noodle soup you ever tasted: