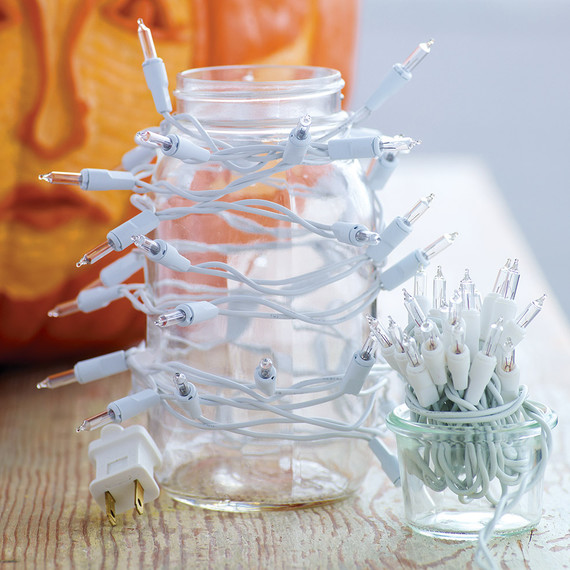 If we've proven anything over the years, it's that there are literally hundreds of ways to decorate a pumpkin: You can carve it, etch it, paint it, drill it, or embellish it with trimmings from your notions drawer.
Lighting, however, is one of our go-tos.
For the best results, look for a pumpkin that suits the particular size and shape of your chosen template. Also, be sure to look for one that's firm all over -- soft spots near the stem or base can indicate premature rot. Place pumpkin on its side on a flat, stable work surface. Use keyhole saw to cut a circle through the base or the top of the pumpkin. (If lighting with electric twinkle lights, cut the hole in the bottom; if lighting with a candle, cut at the top for ventilation.) Reserve the cutout. With fleshing tool, remove seeds, stringy pulp, and a thin layer of flesh from inside of pumpkin. A clean, smooth interior reflects light best.
[FIND INSPIRATION: 30 Days of Pumpkins]
If lighting a large pumpkin with mini lights, wrap a glass jar with a strand, securing one end to jar with masking tape. To light a small pumpkin, arrange strand's bulbs into a bouquetlike bundle and place wires in a glass jar or ramekin. Use a 25-light strand for small and medium pumpkins, and a 50-light strand for larger pumpkins.
If using lights, place jar on reserved cutout base of pumpkin, then place pumpkin over lights. (Make sure the lights don't touch the inside surface; this can be a fire hazard.) Secure base cutout with T pins.
Once the pumpkin is lit, you may want to do a few touch-ups: If the light shines unevenly through her face or the moon behind her, the flesh may be thicker in some spots; simply scrape away a little more wherever it appears darker.
Need a visual? Watch how to carve a pumpkin — from start to finish — for a truly magical display: