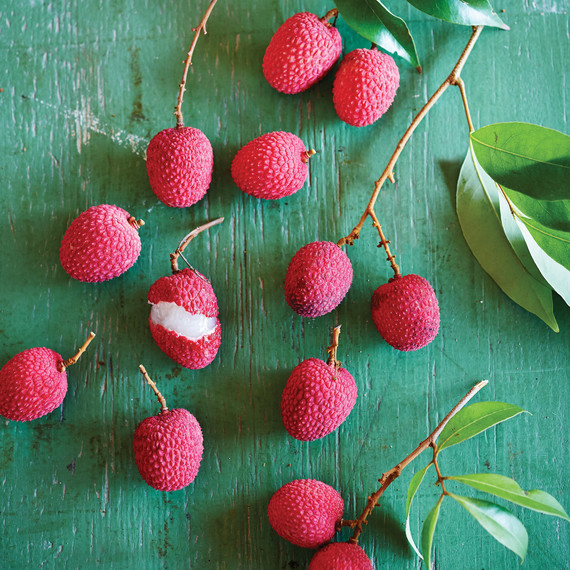 While there's always a place for canned lychees (especially in a throwback martini!), they can't compare to their fresh counterparts. Free from the borderline-cloying sugar syrup that accompanies the canned versions, fresh lychees are super fragrant, have a more distinctive sweet-tart flavor, and boast a crisper texture.
Native to southern China, where they have been grown for 2,000 years, lychees are also now cultivated in the U.S., at farms in Florida, California, Texas, and Hawaii, as well as throughout Asia, Africa, Australia, and parts of South America and Central America. The fruit peaks in May and June in the U.S., but thanks to the different growing seasons in each region, it's increasingly available year-round.
Look for lychees at Asian or international grocery stores. The fruit is about the size of a ping-pong ball and has a rough, pebbly rind that ranges from reddish pink to bright fuchsia. Be sure to select lychees that are already really colored (the redder the rind, the sweeter the fruit!) because they stop ripening once they've been harvested. Brown spots on the shell are fine as long as the shell is not cracked or shriveled. Fresh lychees have a pale, almost translucent white interior and an inedible dark brown pit at the center.
Lychees can be stored, unpeeled, in the refrigerator for up to two weeks or in the freezer for up to six months. Remove the rind just before eating or using in a recipe. If serving as is, peel from the stem down to keep the lychees whole, or let guests discard the shell themselves. If adding to a dish, peel the fruit, halve lengthwise, and remove the pit before using.
3 Fabulous Fresh Lychee Recipes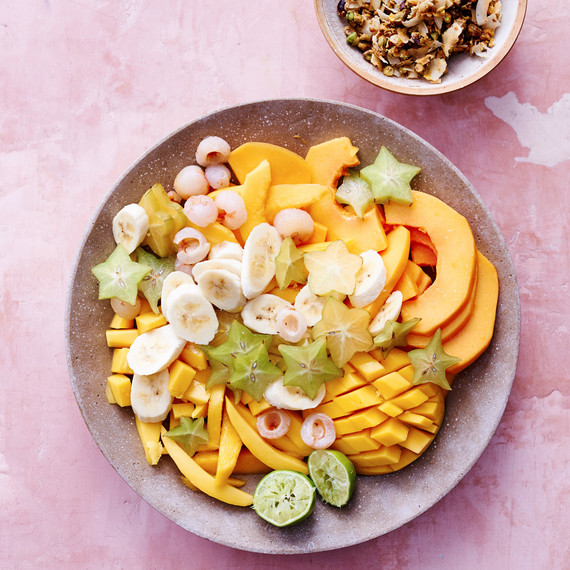 Tropical Fruit with Coconut-Pistachio Crunch
Fresh tropical fruit needs little embellishment to shine. Here, lychees are teamed with mangoes, papaya, star fruits, and bananas and served alongside a sweet-and-spicy coconut and pistachio topping that's baked until golden brown.
Get the Tropical Fruit with Coconut-Pistachio Crunch Recipe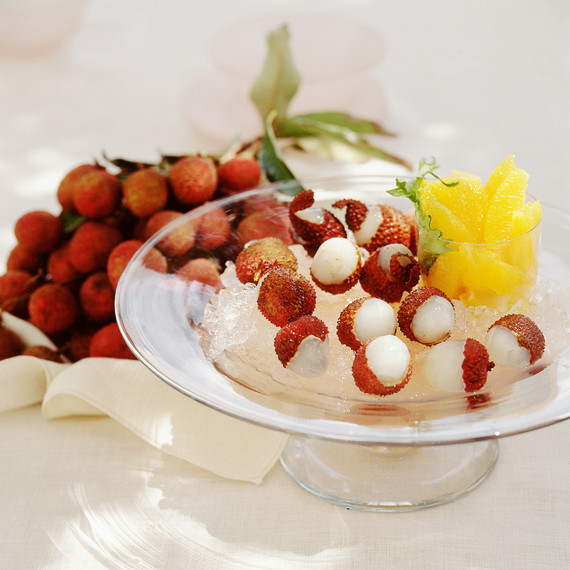 Iced Lychees
Chilled lychees make a simple yet show-stopping dessert when presented on a bed of crushed ice. Add a splash of grapefruit juice to the ice to give it a subtle pale-pink hue.
Get the Iced Lychees Recipe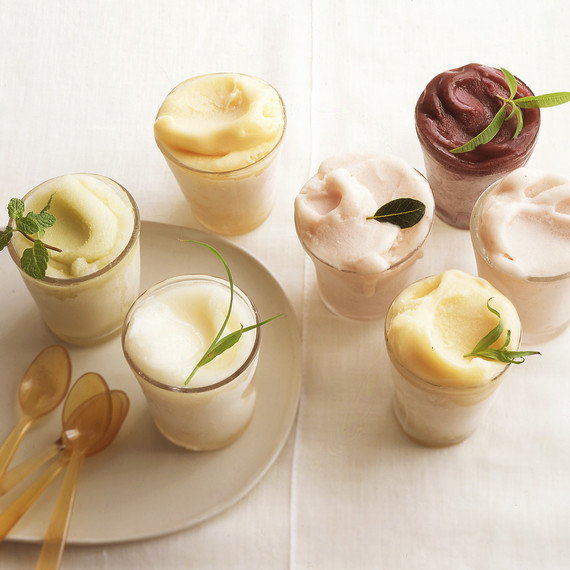 Lychee and Lemongrass Sorbet
Fresh lychees are amped up with lemon juice and homemade lemongrass syrup in this refreshing four-ingredient sorbet. It makes an excellent palate cleanser or light dessert.
Get the Lychee and Lemongrass Sorbet Recipe
Watch our Kitchen Conundrums expert Thomas Joseph demystify lychees and other tropical fruit, including rambutans, passion fruit, dragon fruit, finger grapes, and sweet sop: