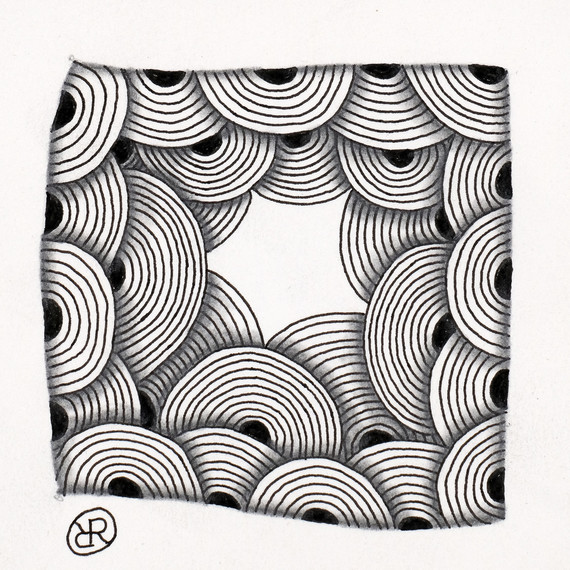 Ever caught yourself doodling on a notepad, moving across the page as you go, slowly tuning out the world? There's a word for that: you're "tangling." And you're not the only one who finds it meditative. 
In fact, the Zentangle method, or the act of drawing patterns (and filling those patterns in with more patterns!) has been used by thousands of people worldwide as a form of self-help art therapy. "It's a mindfulness art form," one of Zentangle's founders, Rick Roberts, tells Martha Stewart Living. "And because it's so simple to do, accessible, and easy to understand, it appeals to many different kinds of people from wellness communities and prisons to grade schools and corporate offices."
[FIND OUT: The Surprising Benefits of Adult Coloring Books]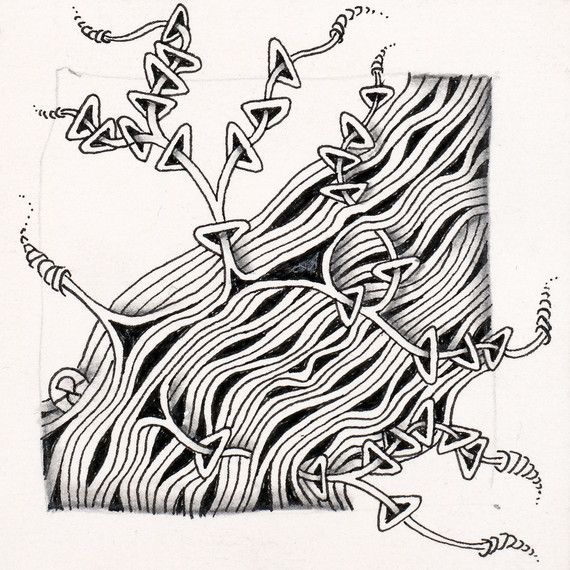 It all began when his partner and fellow founder, Maria Thomas, caught herself immersed in adding patterns to a manuscript one afternoon in 2003. "I was drawing background patterns behind each letter and fell into a sort of trance," says Thomas, a calligrapher and former stationery shop owner. "It wasn't until Rick came in the room that I snapped out of it!"As she began to describe her experience, Roberts, who had spent years practicing meditation, realized she had been meditating without even realizing it "She experienced the same effect that people seek when practicing meditation while simultaneously creating beautiful art with simple strokes." After this shared ah-ha! moment, the two knew they had to share their findings with others. 
Today, you can find Roberts and Thomas speaking, teaching classes, and even training others to become Certified Zentangle Teachers (there are over 3000 currently spreading the therapeutic art form across 40 different countries!)
[LEARN: Why Crafting is Actually Beneficial For Your Health]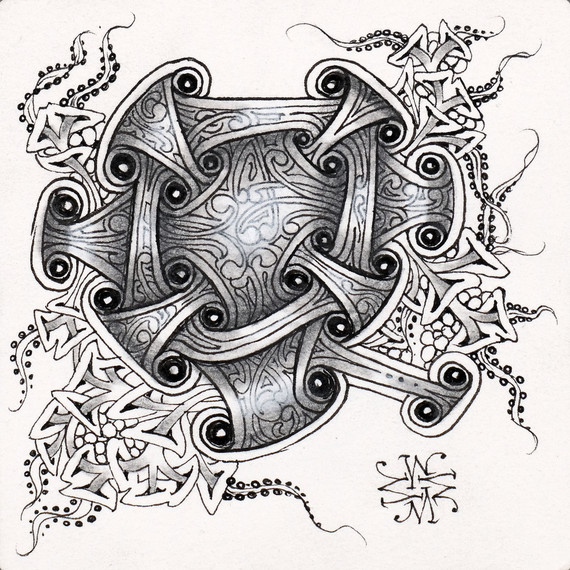 "It's for people who want to be creative but maybe have always felt they had limited resources, skills, or experience," says Roberts. After all, you only need a black pen and paper in order to "tangle." While you're free to use colors if you'd like, the Zentangle method traditionally sticks to black ink. "We focus on patterns as colors. This way, you don't worry about picking and matching colors and can concentrate on the patterns you're making."
And these patterns are more than just pretty pen marks. Ikuko Acosta, Ph.D., and Director of the Graduate Art Therapy Program at New York University tells us, "Repeating something, like lines or colors, for even 30-40 minutes has the function of neutralizing anxiety and anxiousness. As humans, we often associate our feelings with our visual environments. Repetitious behaviors can therefore be very calming."
Compared the coloring phenomenon, Roberts describes the Zentangle method to be truly empowering for anyone and everyone. "Any art that puts pen to paper can be a wonderful thing! But with Zentangle art, you are the one putting down the lines, not just coloring them in."
Feeling inspired? Watch as Rick and Maria show you how to "tangle" here: